J and C met me for their gorgeous downtown San Francisco engagement photos. We started near the Ferry Building, taking advantage of the big building and the beautiful blue wall.
p.s. Thinking about your own engagement photos? Click through here to read my recommendations for the 25+ best engagement photo locations in California!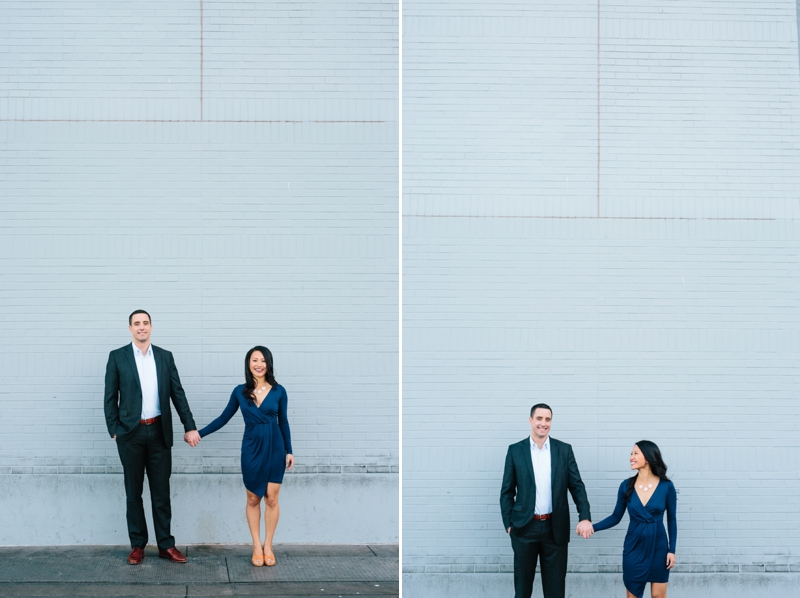 Aren't these two just so dang fashionable?! Loved working with them!
This is one of my favorites from the day. No straight faces, no seriousness, just happiness and laughter.
We really wanted to capture the bustle of downtown San Francisco and the fun that happens at the Ferry Building on the weekend, so I had them stand still and we were able to capture a bunch of shots of people moving through the space. I combined the images in Photoshop and I am so happy with the way these turned out. So fun!
Of course, we couldn't pass up the light and the green trees across the street in the park. We only had the ray of light for a moment, but dang was it pretty!
How freaking cute are these two!? The answer is so cute. Obvi.
Love this one, with the urban feel of San Francisco behind them.
It was a little bit windy, but both Cooper and mostly Janie (in her dynamite dress!) were total troopers. A little wind ain't got nuthin' on her!
Another favorite image from the day. So much is perfect about this. So much.
We headed up the hill to catch sunrise from one of San Francisco's famous little parklets. I loved the way the Bay Bridge lit up pink and golden in the background.
Not to mention, San Francisco has some dang cute little homes and apartments! It was a ton of fun photographing Janie and Cooper in front of the colors and vintage details of these old homes.
Perfect.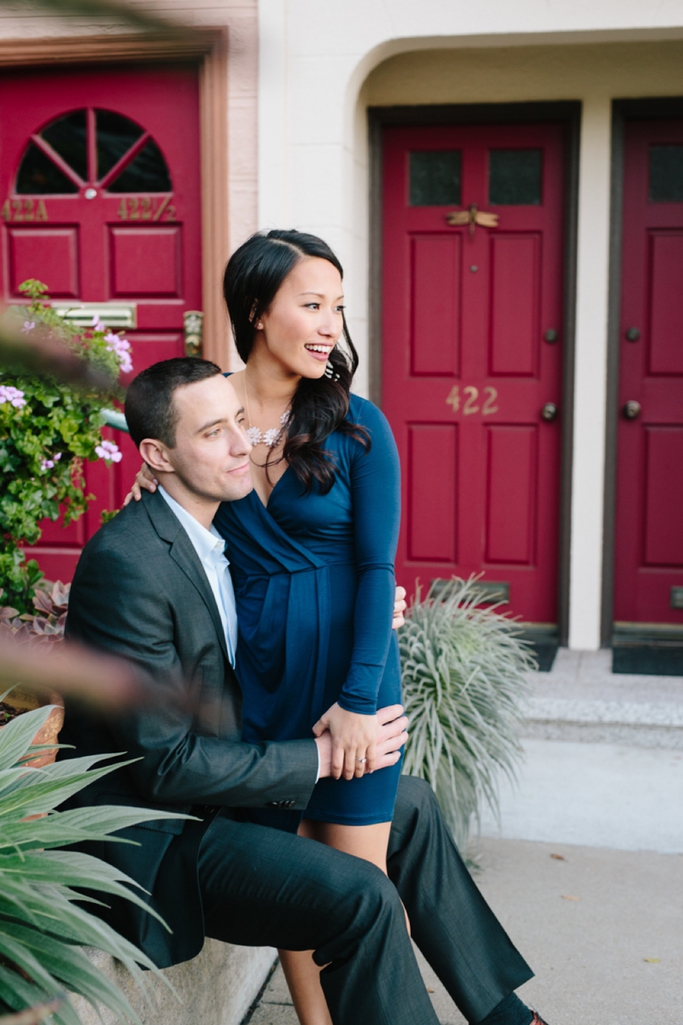 When we saw this pretty bougainvilla bush climbing the wall near the steps above, I knew it was just right for a few portraits of each of these two alone. They looked great in front of the camera today and they'll look even better in front of the camera on their wedding day, if that's even possible.
Hellooooo, beautiful! Janie, you are going to make a stunning bride! Cooper, you ready for that?! ;)
Of course, I know Cooper will clean up better than well, too. He's so relaxed and has such a natural smile; he can't help but put the rest of us at ease, too!
There's that sunset…
… and that super rad pair. ;)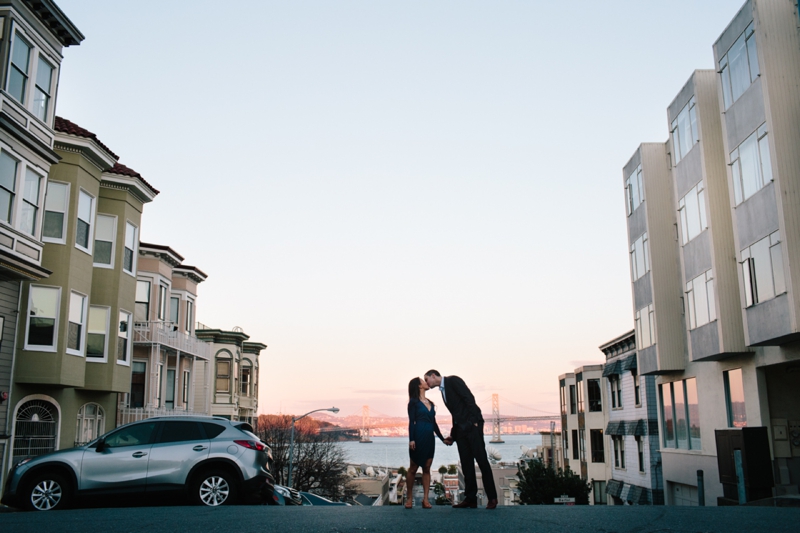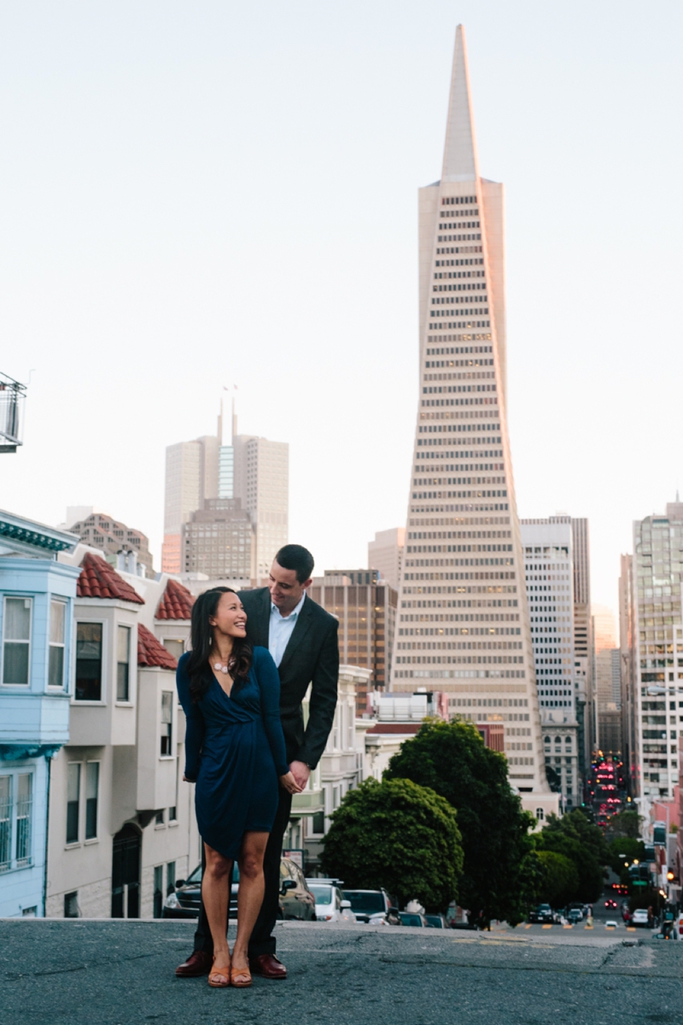 Janie requested a few shots in front of this green wall and I couldn't have picked a better spot myself. These shots actually ended up being some of my favorites from the day; great eye, girl!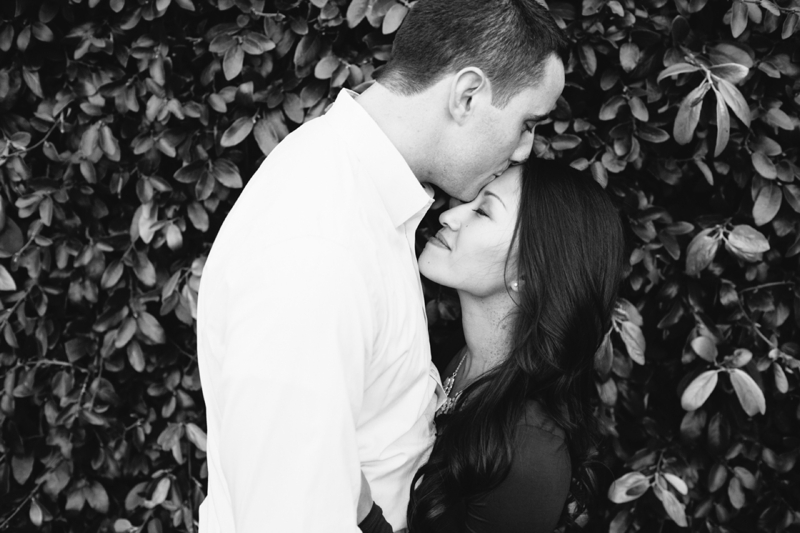 So sweet. So so sweet.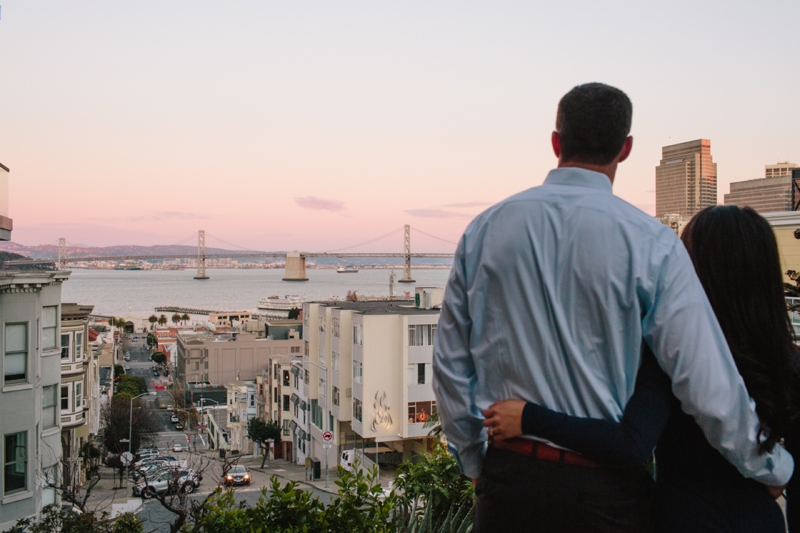 Last but not least, we ended the day in Chinatown. With the lanterns hanging from the sky, the bright as day shop windows, and the bustling one way traffic, it was fun creating a dreamy, romantic evening street scene. We may have gotten one or two dirty looks from drivers, but hey, it was worth it!
As an added bonus, the tree of us stopped around the corner for some of the best pho I've ever eaten… So good! It was the perfect hot meal to wrap up a windy session and we had fun chatting without me putting a camera in their face, haha! :)
Janie and Cooper, it was an absolute blast to spend the day with you and I cannot wait to hang out with you again for your wedding! You two are a ton of fun, full of smiles and good conversation, and I am happy to count you two not just as clients but as friends, too! :)
For more engagement photos and sessions, see here. For more Berkeley Botanical Garden weddings that I've photographed, see here. (It's where they're celebrating, later this year!)