I was SO excited to be a part of Erinn and Ben's San Francisco City Hall wedding the other week. I've known Erinn since I was nine years old and so getting to be a part of such a special day in her life was exciting and such a big honor. I am so excited to share a selection of their photos with you today.
One of my favorite parts of San Francisco City Hall weddings is getting to see everybody arriving, getting excited, saying hello and giving hugs. Lots of hugs and plenty of big smiles all around. This was made especially exciting by the fact that Erinn and Ben actually live in Germany full time and this was the first time they had been back to the USA in about a year and a half – and the first time that each of them had met the others' family!
Next was the waiting. Erinn and Ben got all checked in and ready for their ceremony. There's always so much going on City Hall and the corridor where you wait yields some sweet photos. 
Love this one. So cute.
Sweet moments before they made it official.
And then they headed up to the rotunda, ready to start their ceremony surrounded by friends and family. <3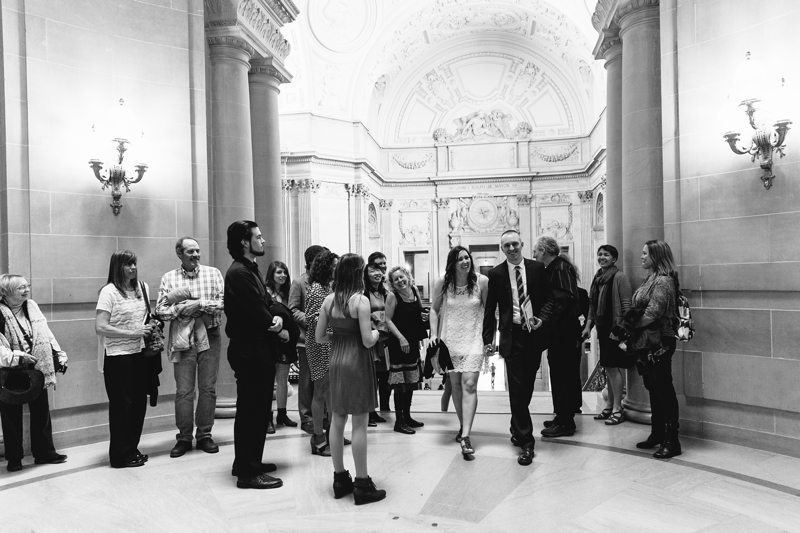 The rotunda at San Francisco City Hall is such a beautiful place to get married.
And their first kiss! Officially married! Yay!
hah! Such a fun moment. 
Right after the ceremony we did all of the family photo combinations. Here is a small selection.

Ben's momma was SO cute: so bubbly and full of big smiles. These candid moments are a few of my favorite images.

After family portraits, their guests headed off to the reception to get everything ready and to get their little party started and I took Ben and Erinn upstairs for some pretty portraits.
How pretty are these sweet kisses?! Love!
It's hard to go wrong with this stunning building, too. Wow.
The way the light comes in is dreamy. And the view from the top balcony across the building is perfect, especially when you have the place to yourself on a Wednesday afternoon!
Another favorite of mine.
Also stunning in black and white. That building! So many good shapes and design to frame Erinn and Ben.
Here's one for the mantelpiece.
Beautiful. <3 
Next I asked Erinn and Ben to head to the other side of the building so I could get some stunning photos of the whole building. I'm obsessed with how beautifully these turned out! Wowow.

Then I joined them for some sweet, cuddly portraits in the sunshine.
Erinn, showing off her bling!
Love the shadows and light in this one.
How perfect are Ben's socks?! V perfect.
These in front of the simple wall make me happy. 
Aren't their rings stunning? Love the sparkle from Erinn's rose gold engagement ring.
These last shots are my favorite from the whole day. Swoon.
And, of course, a closing shot on the stunning and iconic City Hall stairs! Yay!
Erinn and Ben, thank you both so much for having me along to celebrate and document your wedding day. It was such an honor to be part of something so special and so fun. Congrats again! XO
For more San Francisco City Hall wedding photography, see HERE. To get in contact about having me capture your love, see HERE.