I am so excited to share Priya and Dave's San Francisco engagement photos today! We met up for photos in the neighborhood where they met and started their relationship. It was so much fun wandering around the historic San Francisco apartments, remembering the early days when they fell in love and dreaming of moving back to San Francisco one day.
p.s. Thinking about your own engagement photos? Click through here to read my recommendations for the 25+ best engagement photo locations in California!
We started in front of this gorgeous home with the overflowing greenery and the paint job that matched Priya's dress perfectly.

Doesn't Priya have stunningly gorgeous hair?! Obsessed with how she had it styled for the photos.
These two are so cute together; you can see how easy it is for them to be together and how happy they are sharing their lives.
Precious. <3
I couldn't get over what a gorgeous day we had together, too! Wandering the San Francisco streets here was such a treat!
These are a few of my favorites from the shoot. Especially that one on the right! Whoa, you two! So fierce.
But just to balance out the fierce… a little playful, too! Love this one. So whimsical.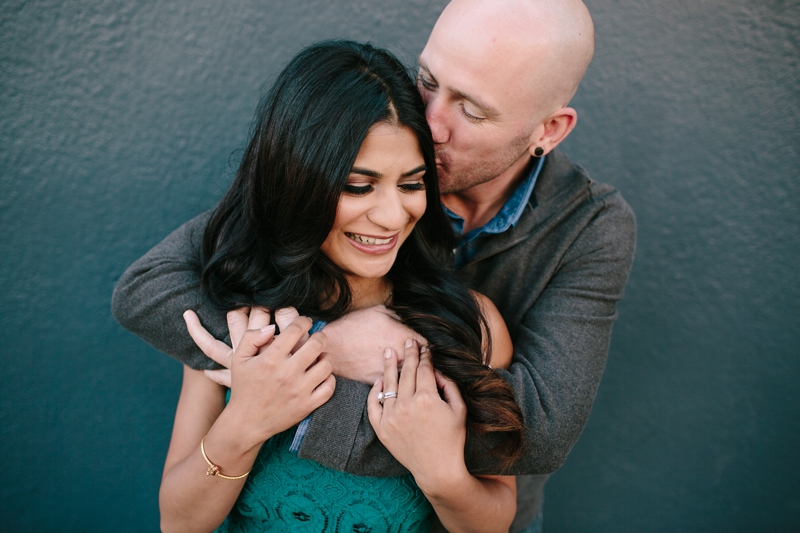 Of course, these ended up being my absolute favorite shots from the entire day. Another stunning back drop that perfectly matched Priya's dress. I LOVE these… and the super sweet and super in love couple totally makes it for me! xo
Love these smiles!

On the corner where they met and started their lives together. I kind of feel like this is a moment out of a classic film, full of promise and excitement.
This, too. Such a classic beauty you are, Priya! And Dave, you clean up damn well yourself, too! :)
Drop dead gorgeous. Whoa.
On their old doorstep. <3
And a few more to be nostalgic. <3
Oh man, LOOK at that dreamy diamond! I love the three bands with their own sparkling gems. So so pretty.
And then some images in the park near their old home. This is the panhandle end of Golden Gate Park; a little strip of perfection in among the wonderful old homes.
Here's a fun #vanlife shot just because San Francisco. :)
Priya and Dave, thank you so much for a wonderful afternoon in San Francisco! I had so much fun touring around your old neighborhood and seeing the place where your relationship started. Love it!
Can't wait to celebrate with you for your wedding! xo
For more engagement photography I've done, see HERE. To browse all of my work, including wedding photography, see HERE.