Sangeetha and Varun's moody beach engagement photos make my heart happy. After lots and lots of rain this winter, we took a chance on a cloudy day and I, honestly, couldn't be happier. Gorgeous clouds, lovely cliffs, a sunset that peeked through the clouds and lit up the sky. Plus we spotted DOLPHINS dancing off the coast, which is the most fun.
I love doing moody beach engagement photos in this location: It's a gorgeous spot all around. I love the beach, long and with lots of sand, stretching out below the red cliffs. I love the way they change color as the sun sets and as the clouds roll in. I love the way that you can see the beach from the cliffs or from the sand below, how it changes the place depending on where you are. I love the moodiness of the grey ocean on a day like this one, when the cloud cover changes the color of everything (and honestly, they couldn't have picked better outfits to match the vibe of this day for their session).
All that and these two are the cutest, so we had a ton of fun hanging out and enjoying the evening, capturing this time in their lives and their love with these moody beach engagement photos. xx
p.s. Thinking about your own engagement photos? Click through here to read my recommendations for the 25+ best engagement photo locations in California!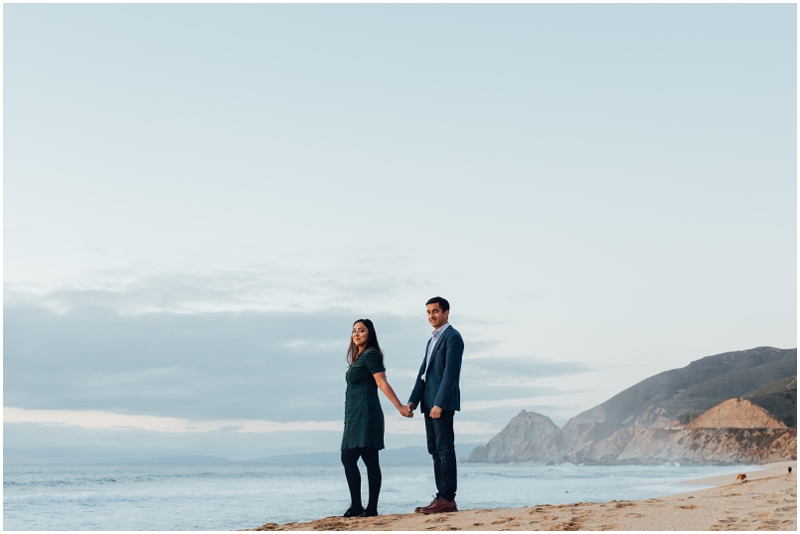 Location: Half Moon Bay, in Northern California (where I grew up!)
Browse more engagement photos that I've captured here in my engagement photo portfolio and on my blog. You can find a few that I think you'll really love here, including other Half Moon Bay engagement photos: Molly & James – the same spot on a very sunny day | Paris engagement photos, just because that's always fun | Mt Tamalpais engagement photos on a sunny (but freezing cold!) day in Northern California
See more from me, a Half Moon Bay wedding photographer here. Browse all of my Half Moon Bay engagement photographer galleries here.