Nicaragua Wedding
I am so so excited to share this gorgeous and simple Nicaragua wedding (elopement!) with you today. These two had the sweetest day, with sunrise portraits around the colorful city of Granada, Nicaragua, a gorgeous and relaxing day on the most stunning property in the city (Casa Violeta and Tribal Hotel), and then a beautiful and traditional Nicaraguan dinner party under the banana leaves (in a little spot we like to call Banana Alley!).
It's sweet, it's romantic, it's colorful. Their pup was along for the photos (the cutest lady, named Osa, which means bear!), the pool is absolutely perfect, the colors of all of the buildings in Granada, Nicaragua are gorgeous.
The bouquet was foraged and designed by me, which was so fun to bring together and share with M&M!
Enjoy the photos and let me know when you're ready to chat about your own elopement or wedding in Nicaragua!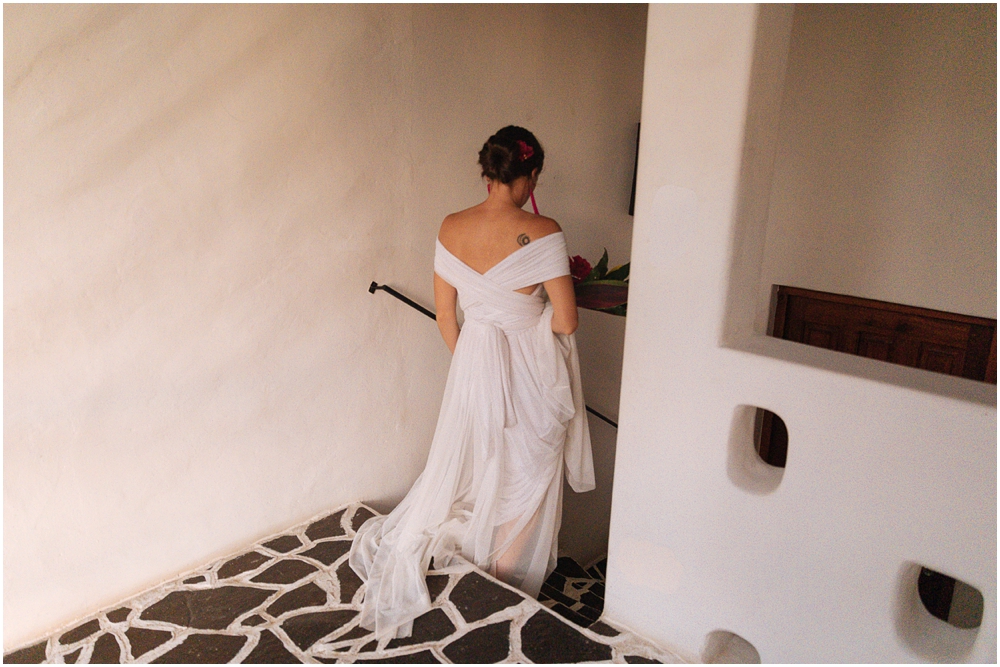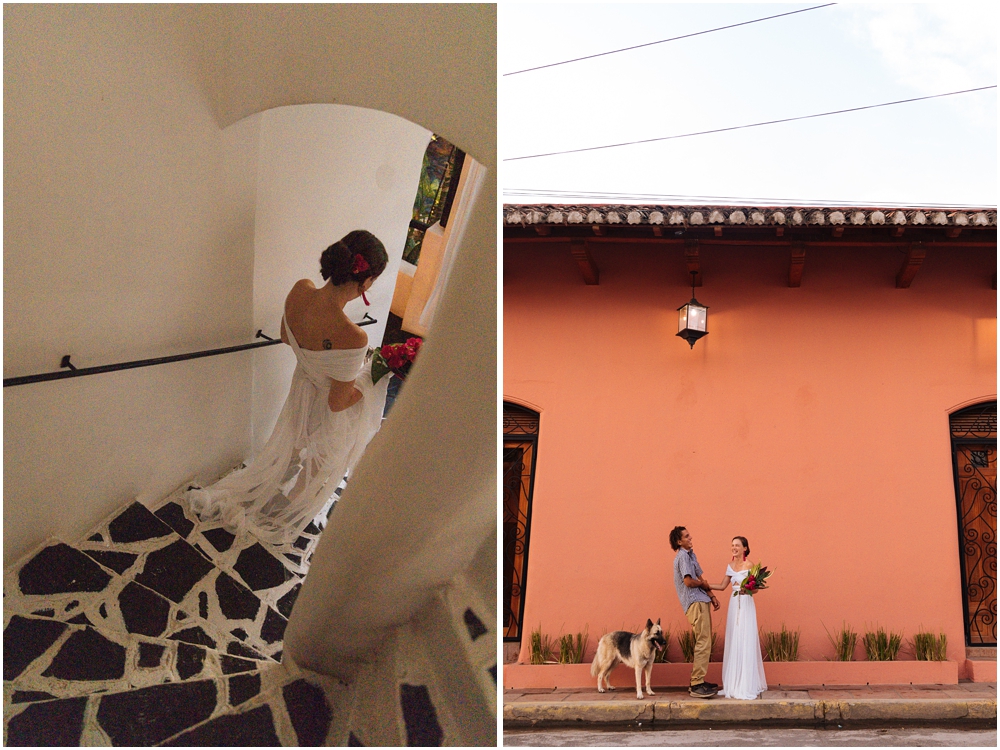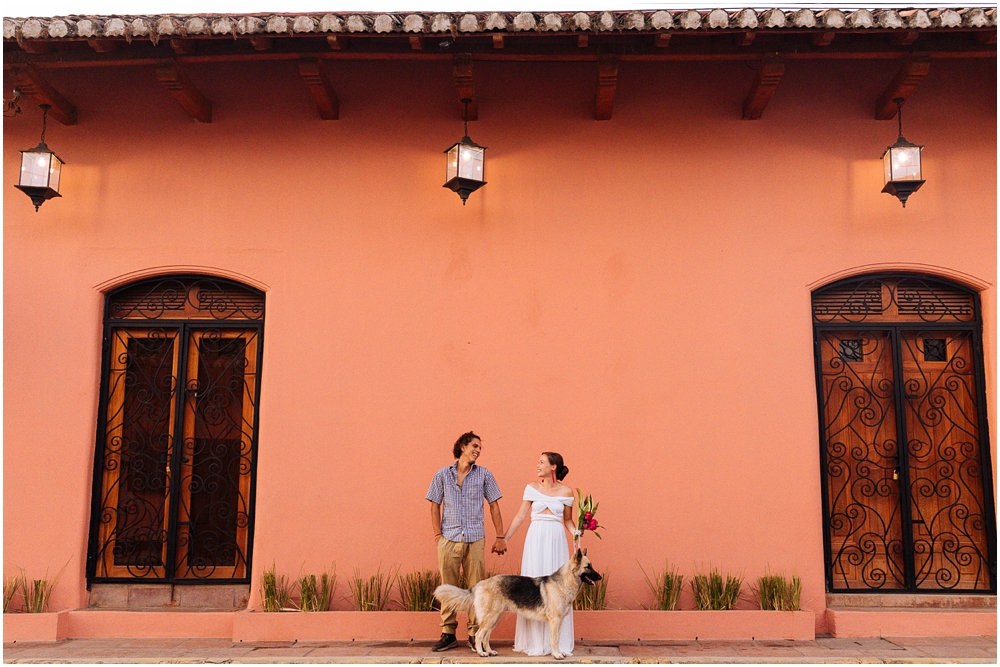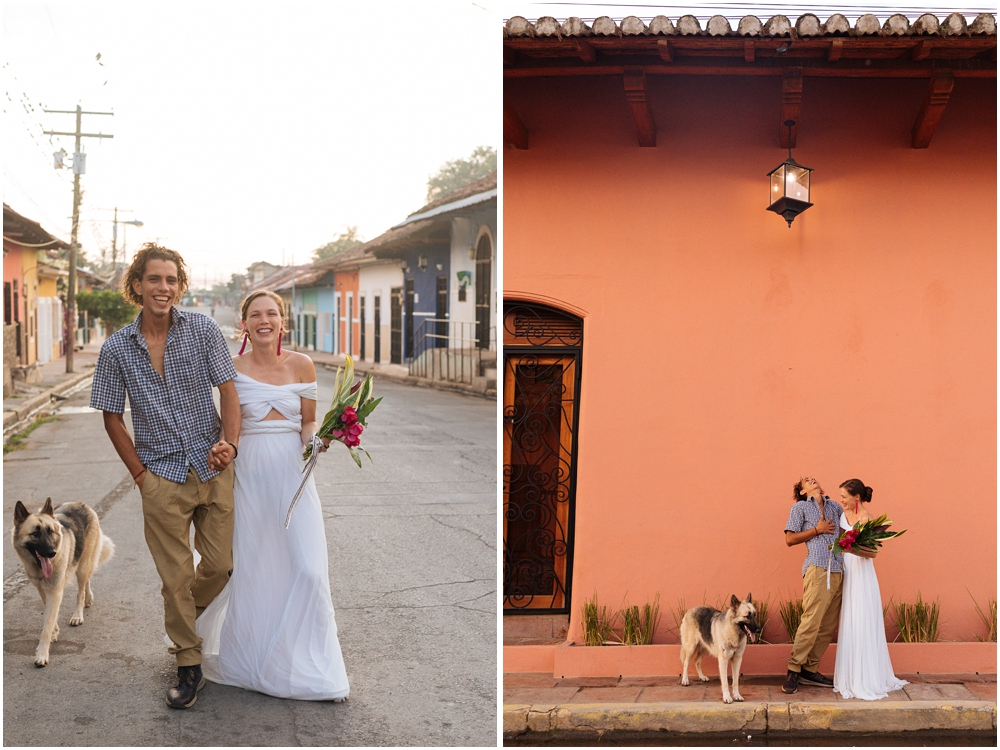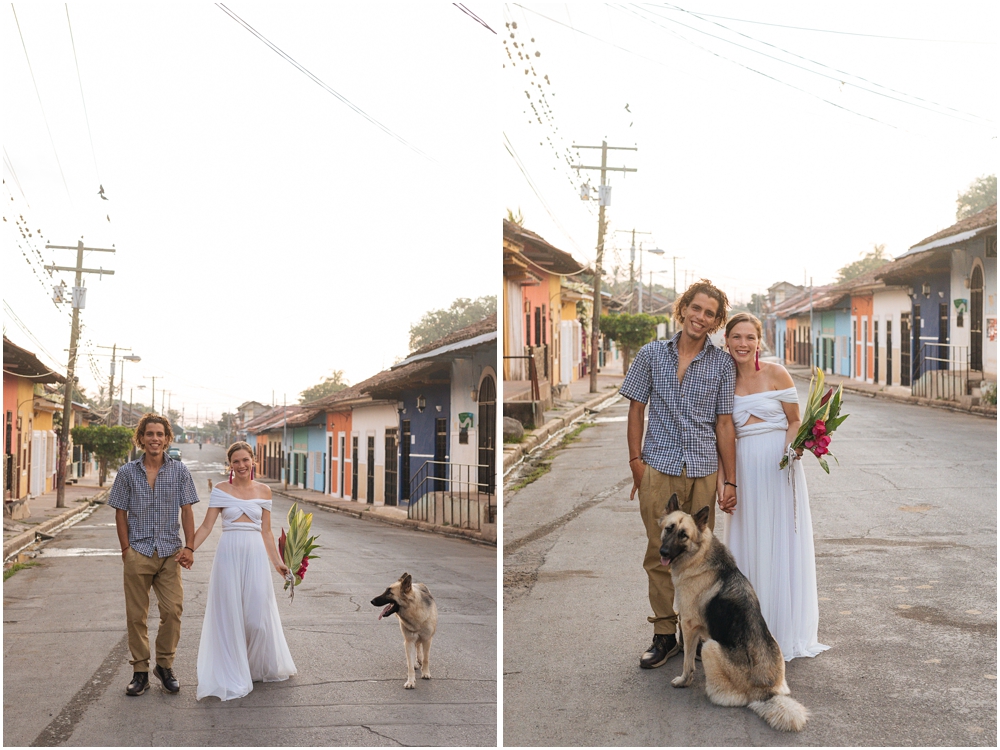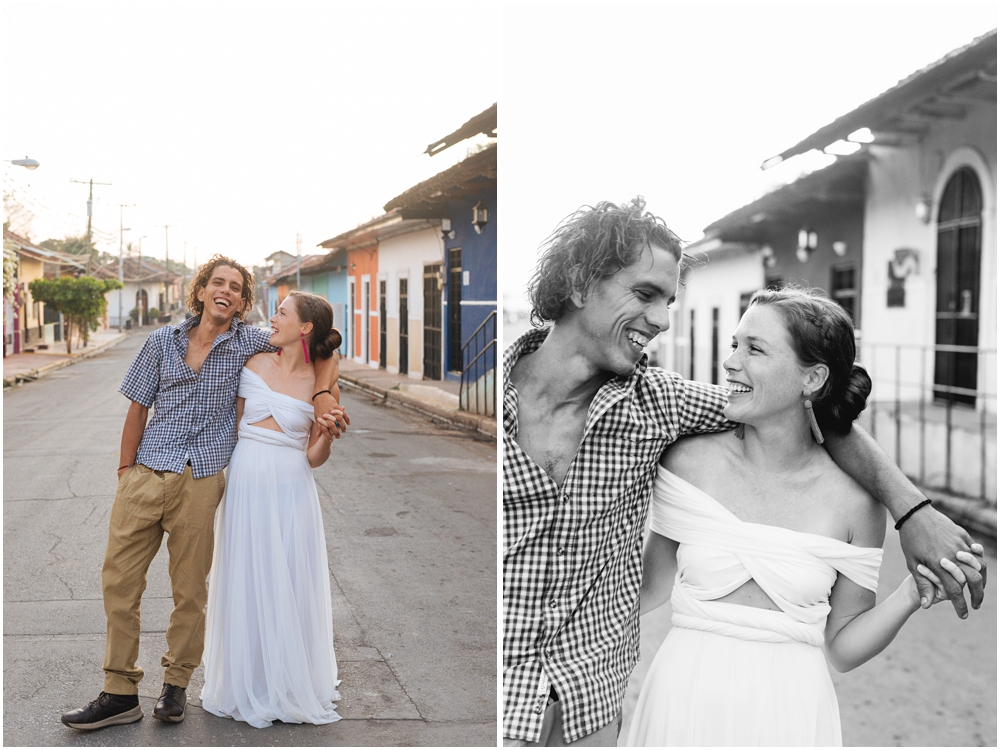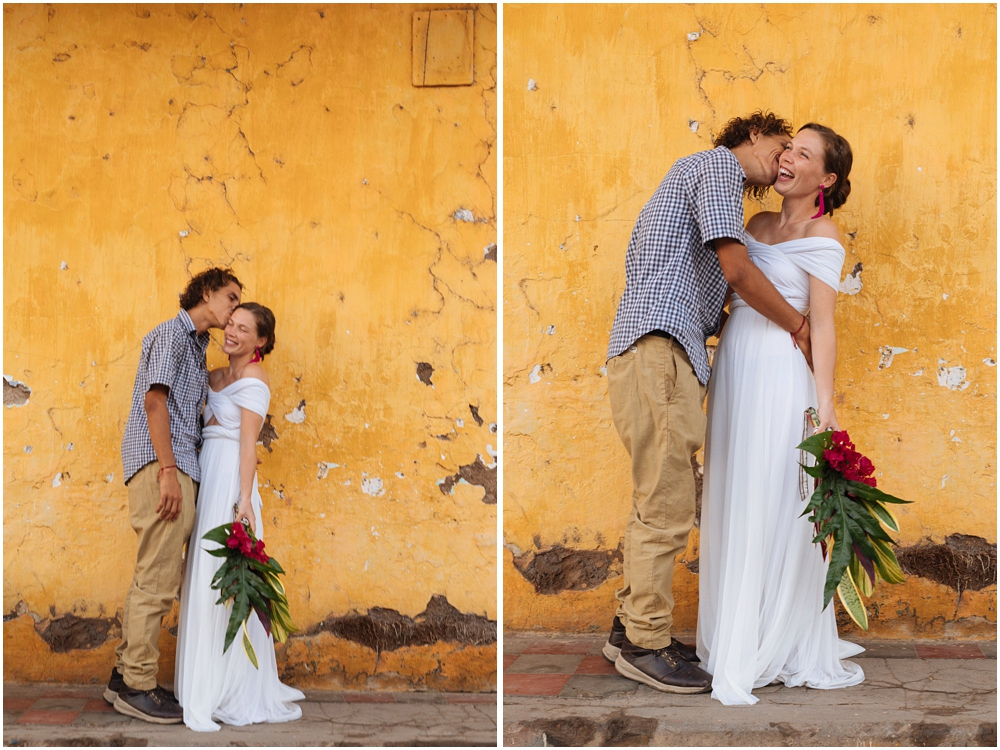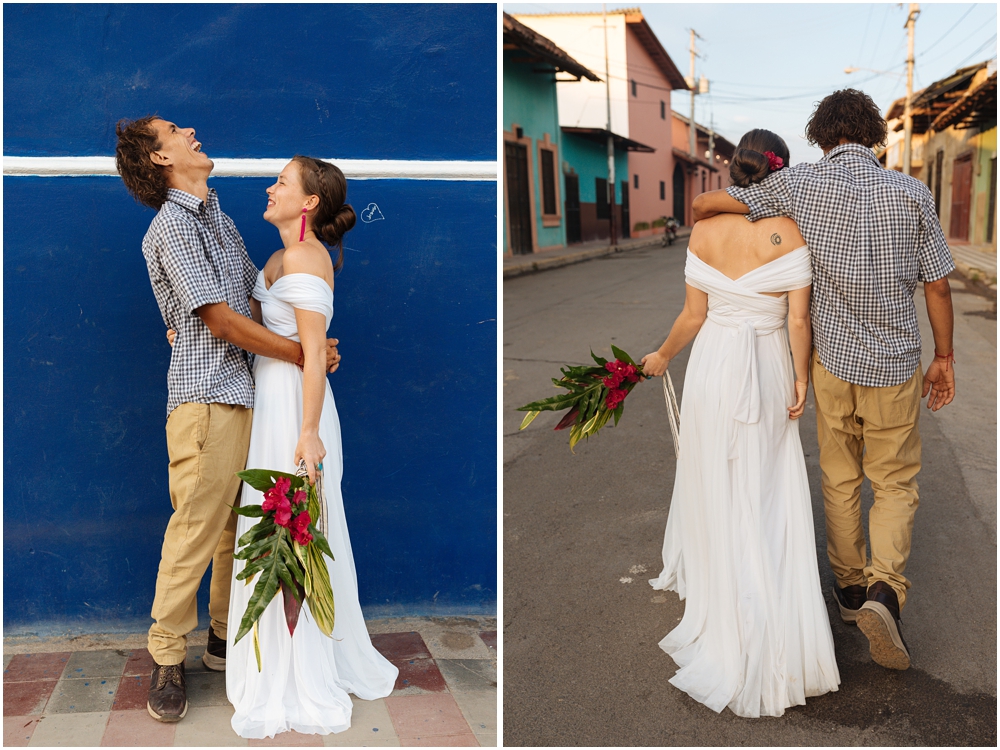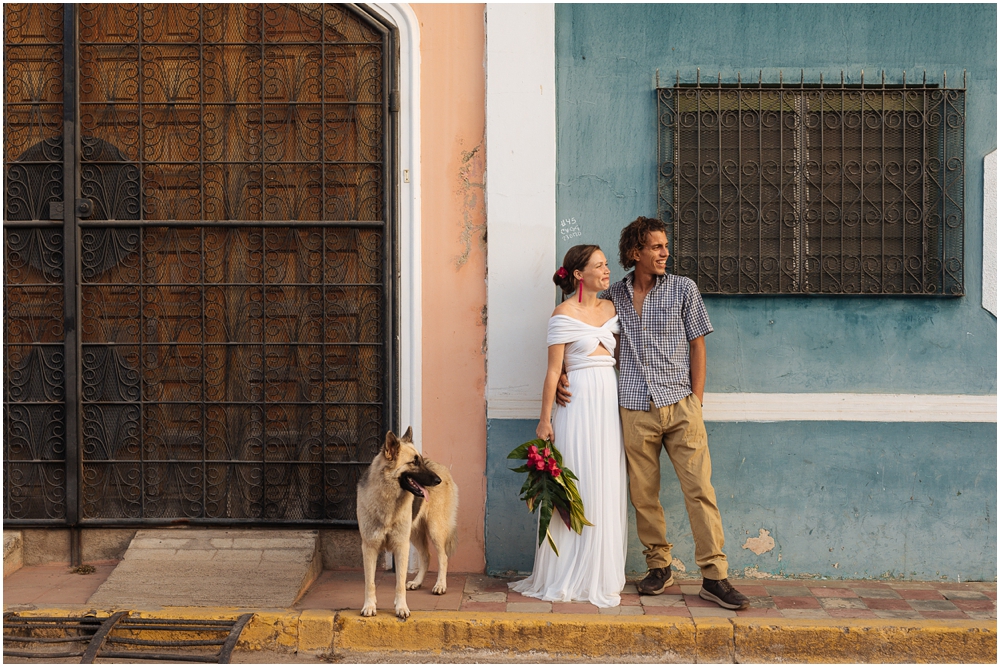 Intimate wedding reception ideas
This gorgeous intimate wedding reception under the banana leaves and palm trees in "Banana Alley" was the perfect tropical wedding reception vibe. I loved having the intimate dinner here with guests, who were all served "caballo ballo," a traditional Nicaraguan style meal served in the face pots that's similar to a taco bar style meal. A delicious, almost family style dinner under the stars for a perfect Nicaragua intimate wedding reception idea!
Granada, Nicaragua
Granada, Nicaragua, is the perfect place to host your Nicaragua wedding or intimate elopement! A colonial city, Nicaragua has tons of color, gorgeous buildings, and beautiful streets. The main church in the main square is a beautiful bright yellow color and the entire city is bustling and lovely, So many stunning backdrops to explore and take wedding photos with your love!
Nicaragua is a country of volcanos and lakes (tons of both of them!) and before or after your wedding you can do a ton of gorgeous sightseeing around the country to see the beautiful volcanic views!
If you want to combine your Nicaragua wedding with your honeymoon (the double adventure is one of the most fun parts of a destination wedding or destination elopement!!!), I can highly recommend a beautiful catamaran ride out of San Juan del Sur in the South of Nicaragua, on the Pacific Ocean. With stunning private beaches accessible only by boat, you can bring your guests along for the perfect day in the sun.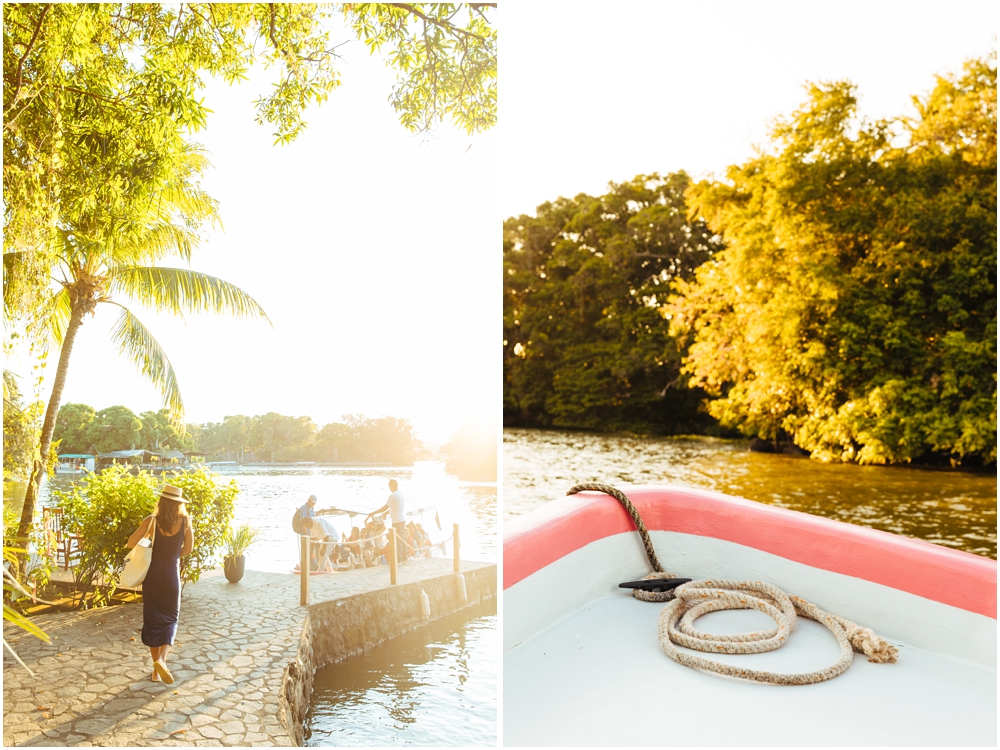 Where to host a wedding or elopement in Nicaragua
Casa Violeta and the Tribal Hotel in Granada, Nicaragua, are perfect spots to host your Nicaragua wedding or elopement. With ten rooms total between the two properties, both designed by the same team, you can rent out the whole space for a gorgeous, private hotel and villa experience. Stunning design, these spaces have graced the covers of Travel and Leisure Magazine, among others. Comfortable, beautiful, and design swoon worthy, these spaces are sure to inspire you and help you rest and relax: The perfect way to prepare and unwind before, during, and after your wedding in Nicaragua.
Tribal Hotel, Granada, Nicaragua
The Tribal Hotel in Granada is located on Calle Cuiscoma, de la Gaviota Media Cuadra al Lago, Granada, Nicaragua. Their phone number is: 011 505 2552 0037
Find the Tribal Hotel on their website here (where you can book directly). You can also find them on Trip Advisor here, if you want to see their stellar reputation.
Casa Violeta, Granada, Nicaragua
Casa Violeta is located juuuust around the corner from the Tribal Hotel (truly a 3 minute walk) on a gated, private walkway.
Find The Casa Violeta's website (you can book directly) right here. They are also on AirBnB here. Find their Instagram here.
Browse More Elopements Here