The Best Oakland Wedding Venues: Where to Host Your Wedding Celebration in Oakland!
There are some incredible Oakland wedding venues! Take advantage of San Francisco's warmer neighbor and host your wedding across the Bay. There are so many great venues in Oakland: Urban, forest, hip, funky, chill, or super upscale. There's a spot for everybody! (For logic and ease, I've also included Piedmont wedding venues and Alameda wedding venues in this list!)
As a wedding photographer since 2008, I've photographed at so many of the best wedding venues in Oakland (and elsewhere across the bay!) and I've put together this round up so that you can browse, see photos, and learn more, no matter what kind of wedding venue you're considering!
Not totally sure where you want to get married yet? You can also browse my list of the best Berkeley wedding venues, the best San Francisco wedding venues, and a round up of the best redwood wedding venues in California!
Rock Wall Wine Company
Okay, okay, I'm technically starting with an Alameda wedding venue, but I think it's okay. This gorgeous winery tasting room is on an old military base and has tons of wide open space, epic views of San Francisco, and a large indoor space to host your perfect celebration, no matter the weather. If you love the industrial look, want to balance that with your flowers and other decor, and love a good, scenic sunset… all paired with excellent wine and a big dance floor, this is the right venue for you!
The inside of the Rock Wall Wine Company barrel room, all set up for the wedding reception.
Browse a Rock Wall Winery wedding.
Rock Wall Wine Company is technically in Alameda. They're located at 2301 Monarch St, Alameda, CA 94501.
Redwood Regional Park
Host your wedding ceremony (and reception, if you'd like something a little more chill!) in Redwood Regional Park. Reserve one of the picnic areas, set up a simple arch, and say your vows under the redwoods. You can host a pretty big group here and it's so pretty!
Temescal Brewing
This lovely tap room doesn't host a ton of weddings of private events, but their patio is gorgeous, their beer is good, and you can bring in food. They have tons of space and it's a great spot to host a chill, super fun, very pretty wedding reception.
Browse a Temescal Brewing wedding.
Temescal Brewing is located on Telegraph near Berkeley at 4115 Telegraph Ave, Oakland, CA 94609. Learn more on their website.
Dunsmuir Hellman Historic Estate
I love this historic estate! Get married in front of the oak tree or the old house, take photos across the extensive and beautiful property at golden hour, and then boogie the night away in their great club house. Looking for something with tons of personality, character, and space to host? This is the right wedding venue for you!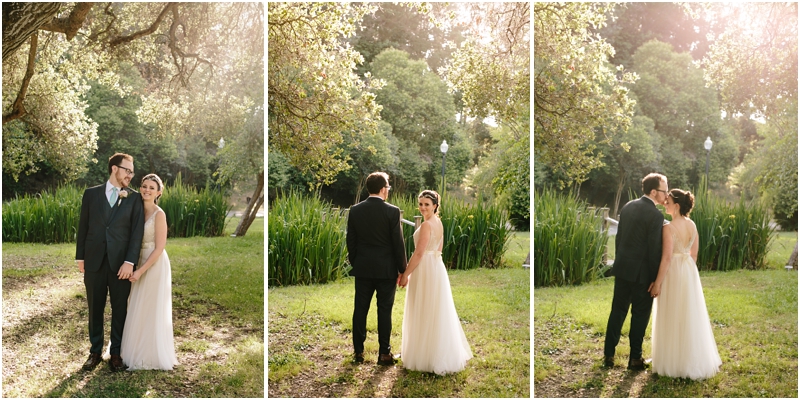 Browse a Dunsmuir Hellman Historic Estate wedding.
Piedmont Community Hall
I love this quiet wedding venue tucked away in Piedmont. With a ceremony site in front of the redwoods, a gorgeous brick outdoor patio for your reception, and an indoor space to be warm while you dance the night away, it's the exact right spot for a gorgeous wedding that doesn't require changing locations a bunch once you arrive. Plus, it's all beautiful in its own right, so you can bring in as much or as little decor as you'd like!
Browse a Piedmont Community Hall wedding.
Preservation Park
The historic homes that make up Preservation Park give this Oakland wedding venue tons of character. Tucked away in a little gated community/office park, it's quiet in the middle of the city of Oakland, with lots of space to host your party. Ceremonies usually take place on the podium with receptions held either in the main road/garden area or inside one of the buildings if you'd prefer to be a little warmer. It's cute, it has lots of personality, and it's right downtown!
Browse a Preservation Park wedding.
The Little Kitchen
This little Oakland wedding venue is tucked away up in the hills and best suited for a more intimate wedding, but it sure is cute. With tons of great decor, incredible food (they're a catering company, after all), and a sweet little outdoor patio, it's the perfect spot to host your intimate wedding (I'd say no more than 15 to possibly 25 guests will be comfortable here). If you're envisioning a big dance party, this probably isn't your spot, but if you're more excited by a foodie dinner with your closest people and a sweet first dance on the outdoor patio, followed by desserts and conversation, this is your Oakland wedding venue.
Piedmont Community Church
A second excellent wedding venue in Piedmont! This sweet spot is a great place to host your reception. There's a patio outside for cocktail hour and a lovely indoor space for dinner and dancing. With the gorgeous architecture of the space you won't have to worry too much about decor, but can focus on bringing in your favorite special touches.
Browse a Piedmont Community Church wedding.
Browse more Wedding Tips and Venue Lists!