Off the Beaten Path Wedding Napa
Natalie and Michael had the most beautiful Off the Beaten Path Wedding Napa this October and I am absolutely thrilled to share these photos with you. A big thanks to Off the Beaten Path Weddings – Mary Ellen, Gloria, and Pablo, you are absolutely fantastic at what you do. The entire day was planned and designed to perfect and everything, from the moment of arrival to the dancing at the end of the night was pulled off flawlessly. Thank you!
Of course, also a special thanks to Lili Durkin for having me along to capture this magical day. It was SO much fun to work with you and I cannot wait to see this wedding published! :)
As guests arrived, Off the Beaten Path Weddings was ready and waiting with a fancy spiked or not spiked Arnold Palmer. It was already hot out in the vineyard, so this was the perfect way to keep guests happy while the girls got ready and as the ceremony was about to start.
The ceremony was held under this fabulous Oak Tree, right in the middle of the vineyard. Natalie and Michael dubbed it the "Sacred Tree," which was really cute. It's a beautiful, old tree. Lots of history in this one. Lots. Such a magical place to get married!
The super sweet flower girls were Natalie and Michael's nieces – so adorable! I especially loved the flower headpiece the eldest one wore. She was also SUCH a rockstar, keeping track of her littlest cousin all day and helping her throw petals before the bride walked down the aisle.
One of my favorite moments was when the bride and her father arrived at the ceremony. He drove her up the hill in a beautiful, blue vintage car. The best moment was when he started honking, all the way up the hill! Guests erupted in happy laughter and the two arrived in total joy. Definitely a memory that they'll treasure.
So sweet. And can we talk about the back of Natalie's dress?! Freakin' amazing! She looked so effortlessly beautiful in it!And they're married! The ceremony was short, sweet, officiated by a friend of the family, and full of happy smiles. Natalie and Michael were actually celebrating ten years of dating at their marriage, so these two were thrilled to be married.
Right after the ceremony, we took some fantastic bridal party portraits in the vineyards. I LOVE working in Napa and vineyards in general because there is usually SO much room – it makes for a great time with the bridal party and the couple, plus guests can head down to the cocktail hour while family portraits and sweet moments like this happen in the vineyard.
Also, can we talk about those fantastic bridesmaid dresses?! Natalie was SO relaxed all day and during the planning of her wedding. She totally didn't mind what the ladies wore and they each picked their own bridesmaid dresses. It was SUCH a stunning combination to see them all in beautiful, long dresses but each with their own vibrant colors and floral feel. I loved it!
Their sweet bouquets were the perfect compliment.

After we finished portraits with the bridal party, we had some time with Natalie and Michael just the two of them. It was perfectly timed as golden hour in the vineyards and the portraits we got of the two of them are my favorite! They're so relaxed and happy together, so in love, and their outfits and personal style in the golden, sunlit vineyards was just jaw dropping.
We headed back to the Sacred Tree, too. The way the light filters through the leaves and lights them up makes my heart stop. hah! <3
Pure magic.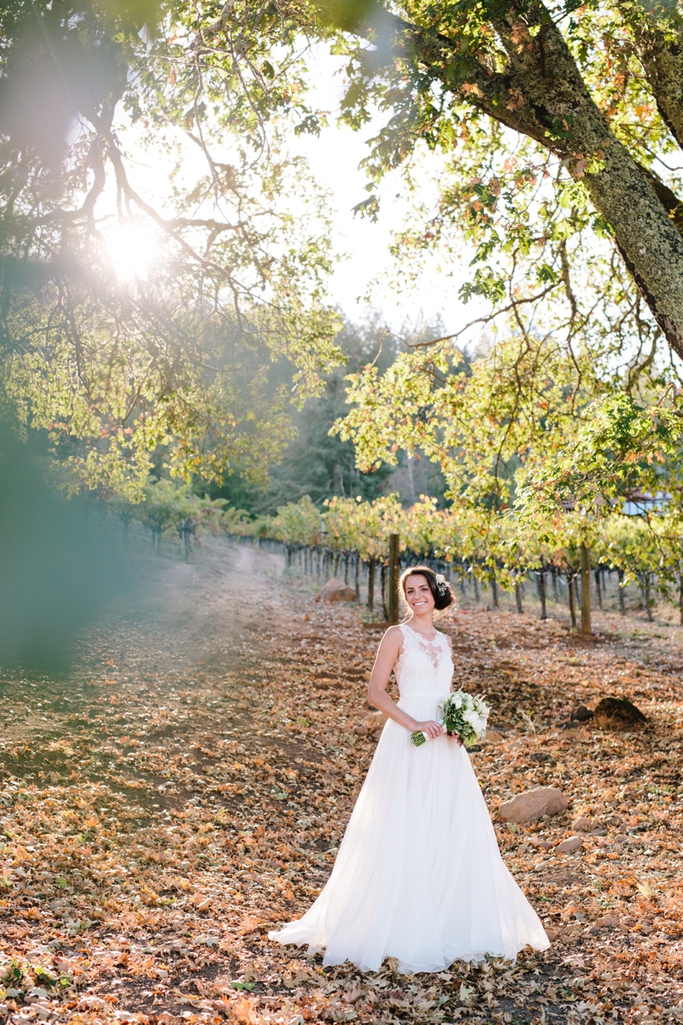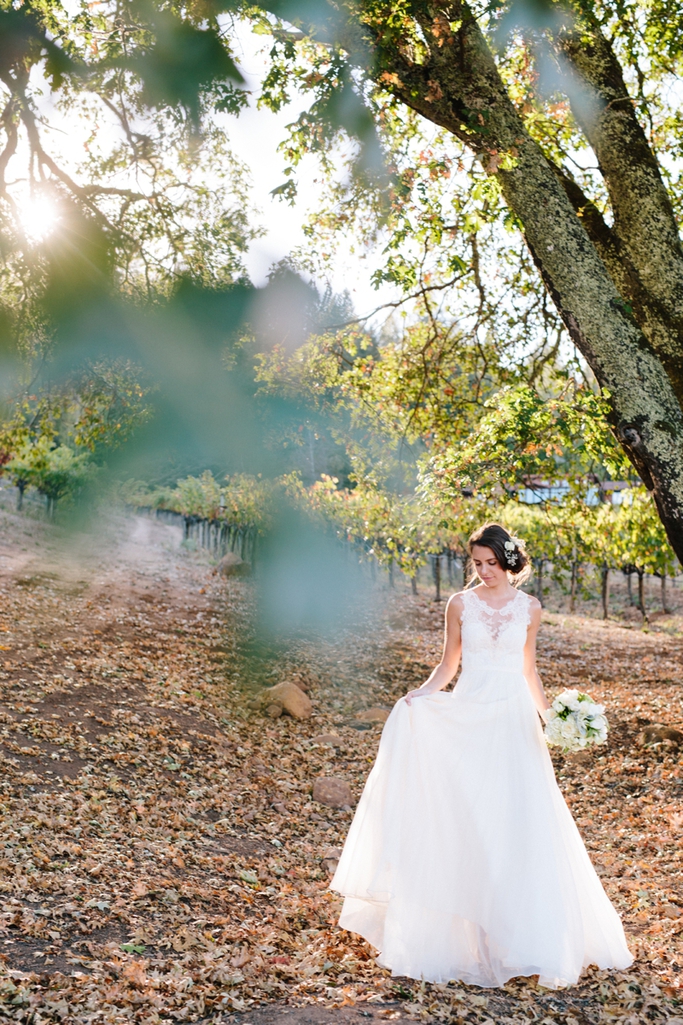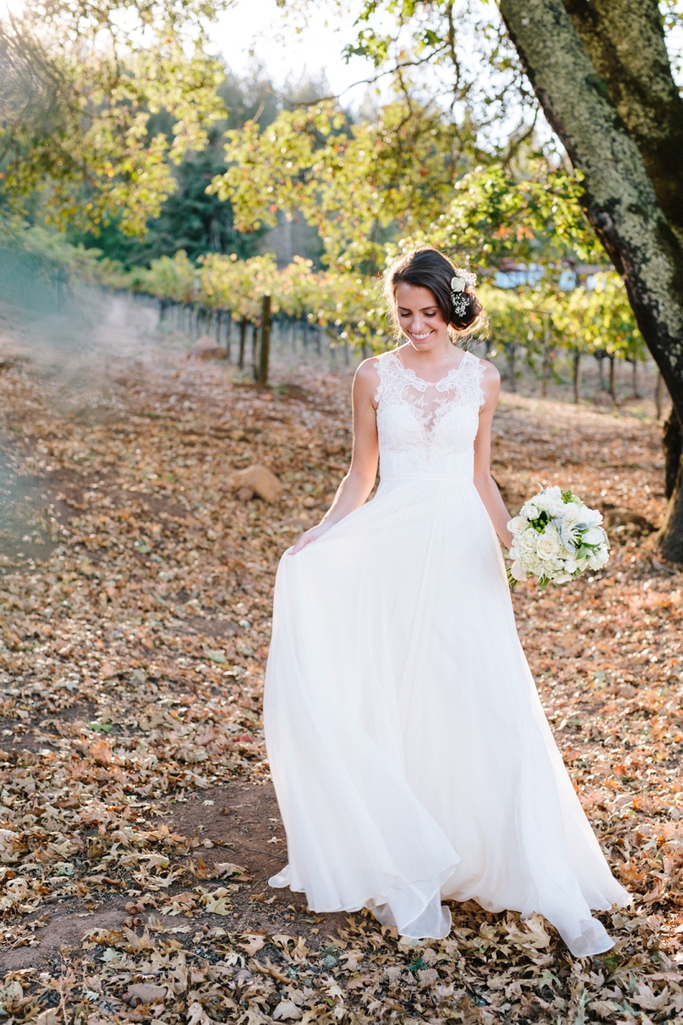 Here's Natalie in her super stunning dress. It flowed so well, looked amazing on her, she was totally comfortable, and she could dance in it, quite well really. Such a great combo of things to get in a wedding dress. I loved it!

And her flowers… So lovely!
Michael's bouquet was also the perfect pop of color on his sharp, navy suit. Fantastic.
I love all of the portraits we did of these two, but I must say… My absolute favorite are probably these next to the car. A vintage car makes one of the most magical props, especially when it fits perfectly into the color scheme of the day and the couple are avid vintage car aficionados. (Michael actually proposed to Natalie on the way to the Monterey Vintage Car show when they headed out to the West Coast last year from their home in New Jersey!)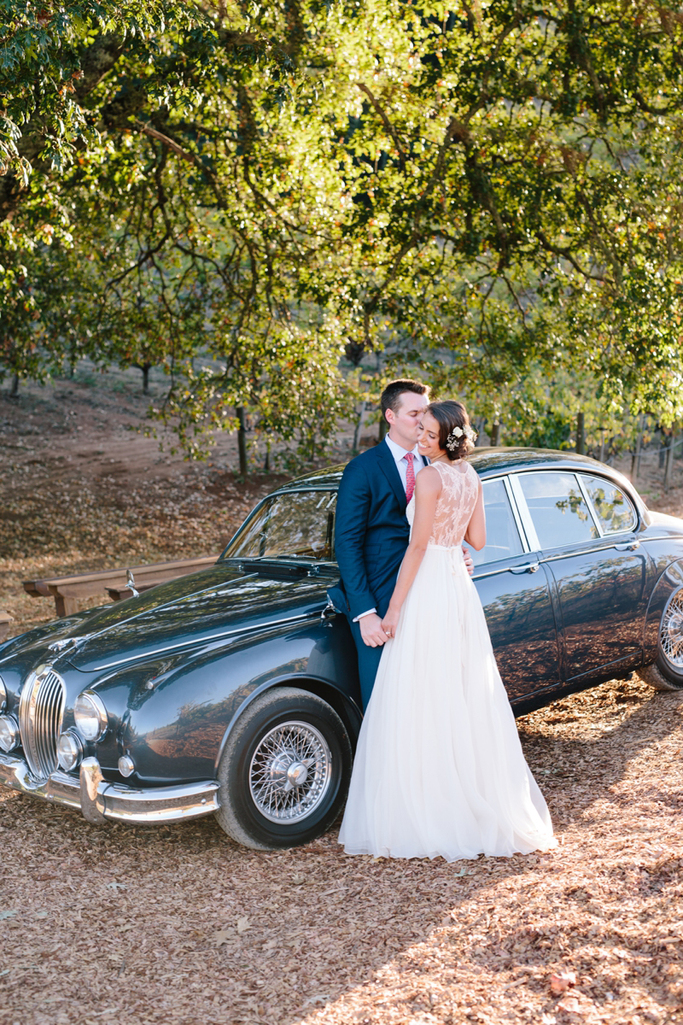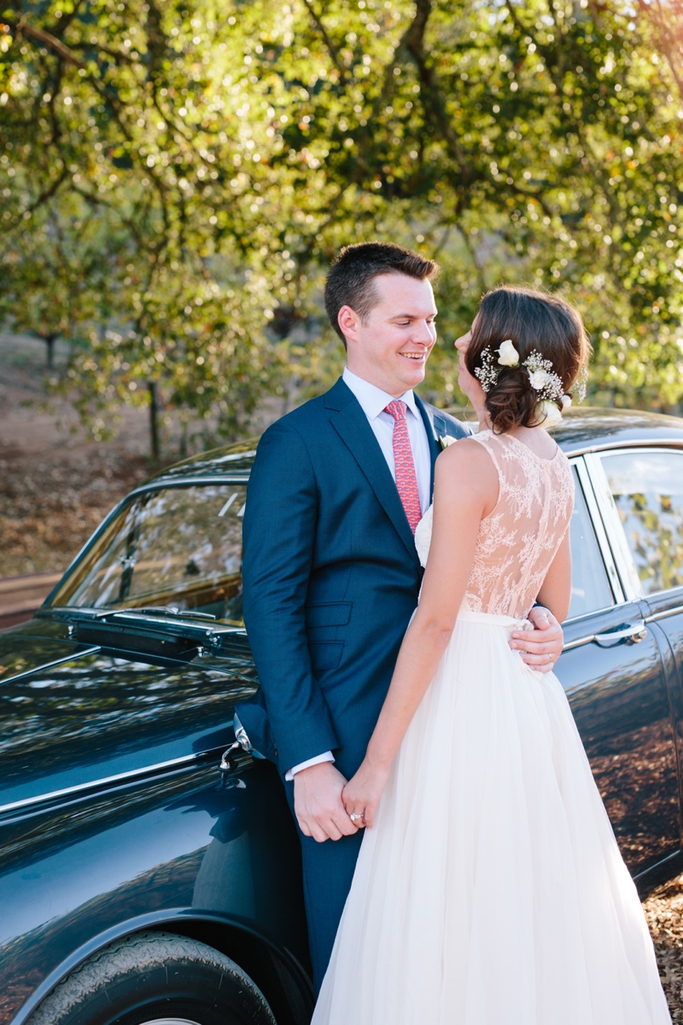 Everything really came together for these photos – the light, the trees, the couple (obviously), and the car. Love! xo
We also stuck Natalie and Michael in the back seat for some super sweet, romantic kisses in the car. I love this image, through the window, with the tree reflecting off of the glass. It's almost like a double exposure image!They really were all smiles, all day… :)
And then a few more classic and formal photos… Win!
And then we were done! Natalie and Michael headed down the road to their party!
But before they entered, Natalie posed for a few quick urban shots in front of this fantastic wall, full of texture.

Gosh, her hair was truly stunning! It looked SO effortless, which we all know is a hard look to really make happen, and the flowers in her hair were a total dream. I love that she opted for these blooms instead of a traditional veil.
Cocktail hour was held in the vineyard. Guests loved taking photos in front of the vines and the light was just divine!
And delicious, too! The appetizers were fantastic – prepared well and presented even better. Yum!
Gloria of Off the Beaten Path Weddings is a total MASTER with pen and ink. She hand lettered every sign you see, all of the dinner seating cues, and more. These are SUCH a beautiful way to share with guests the menu for the evening and get them seated in the right place, all while adding to the vibe of the event. I was so blown away by her handiwork.
Simple place settings allowed the space to be the real decor. The space, and the beautiful wooden tables.
Wow, right? A dinner reception in a California redwood grove is definitely an evening to remember. Lit up with twinkle lights and set at a variety of round and square tables, this reception set up might have been one of my all time favorites.
The girls all changed into cowboy boots for the evening. They wanted to walk around and DANCE all night and their beautiful heels just weren't going to cut it. I LOVED this idea. Such a brilliant way to stay cute and functional all evening.

Toasts under the redwoods to a couple that has been many many years in the making. So many sweet, funny, and touching moments!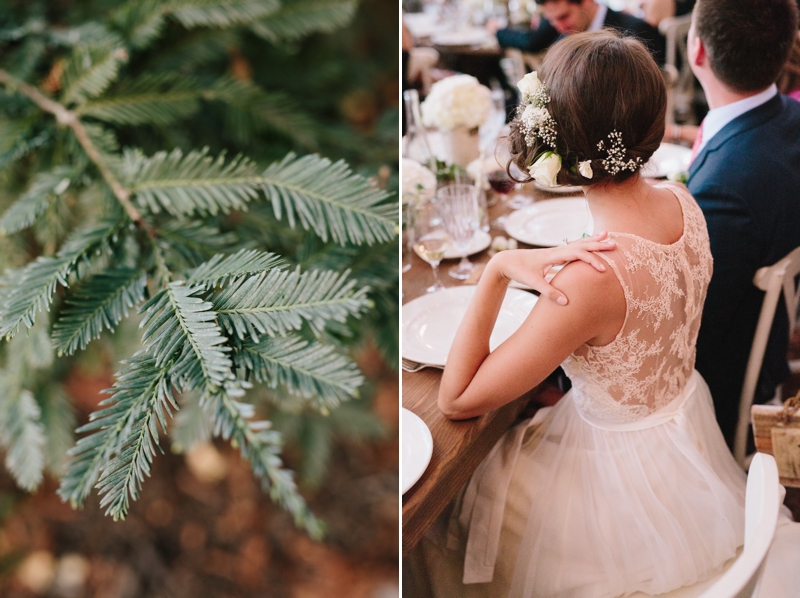 There wasn't a dry eye in the house! I'll let the next few images speak for themselves. This was a beautiful, Kinfolk-esq dinner party. Guests had an amazing dinner in an absolutely beautiful setting. The sun went down, the twinkle lights came up, and it was smiles and laughter and good wine all around, late into the evening.
Have I mentioned yet how absolutely amazing the food was?! The Off the Beaten Path Weddings team is AMAZING and the catering they provide is absolutely first class. Some of the team that they work with are used to cooking and/or serving at The French Laundry (yes, THE French Laundry) and the food, served partly plated and partly family style was one of the best meals I have EVER had. Seriously. Best I've ever had.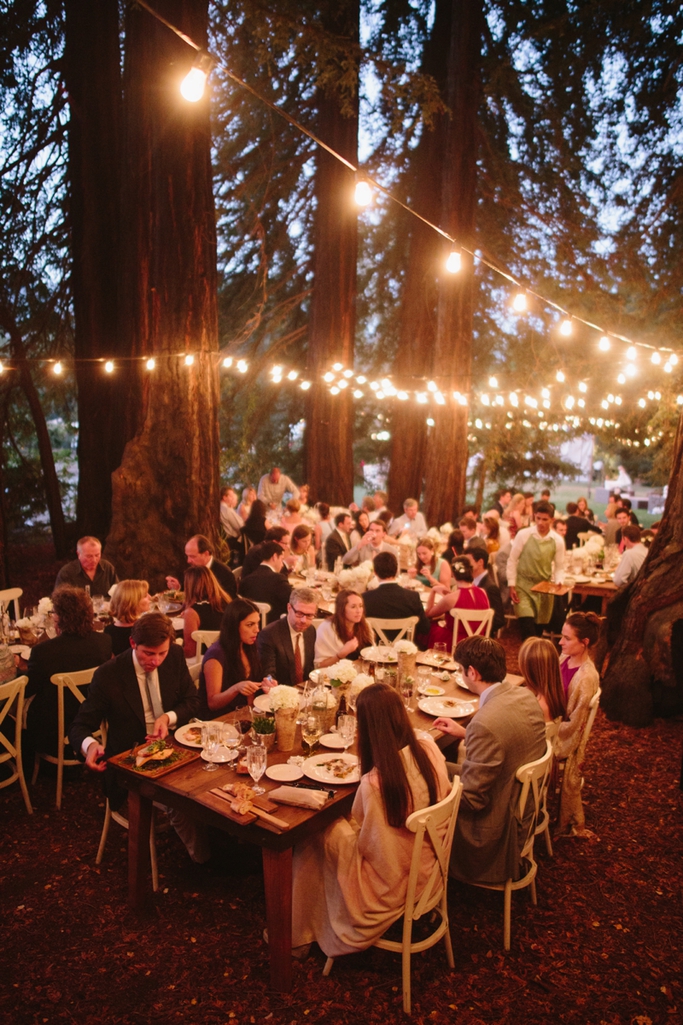 Add to that the fact that Mary Ellen is a professed slow food movement aficionado and true foodie, you can only imagine the quality and style of food that guests enjoyed under these stars. It was a five star meal and a true dinner party to remember for years and years.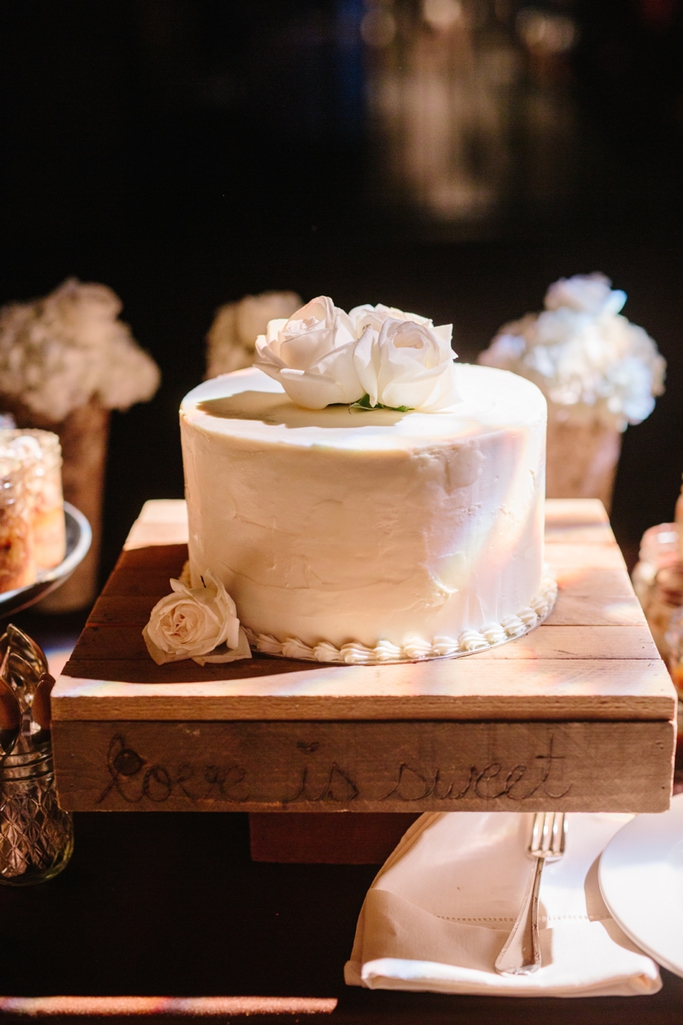 As dinner finished up, guests headed over to the dance floor, snuck in next to the wine barrels. The cake was delicious and served alongside peach cobbler in a jar, tiramisu in a jar, and decadent brownies (in a jar) with high quality carmel sauce. There was also a full espresso bar and hot chocolate stand on hand to keep guests warm and ready to party all night. And, if that weren't enough, a fantastic LIVE BAND was on hand to keep things rocking all evening long. It was truly a party to remember.
Natalie and her father had the sweetest first dance together. They're close and it really shows.

And that's it! A party to remember. Amazing! Many happy congratulations to a long and happy life together, Natalie and Michael! May the best always be yours.
See more weddings I've photographed right HERE and see Info + FAQ about having me photograph YOUR wedding right HERE.