Firehouse 8 Wedding
Photographing Nicole and Karsten's San Francisco City Hall wedding and Firehouse 8 wedding reception on Valentine's day was a total dream. Nicole found me almost a year ago through a mutual friend of ours and her and Karsten booked me almost right on the spot; I am so glad they did because everything about their day was a ton of fun to be a part of.
We met at City Hall for photos on the beautiful steps. They met up with friends and family here in the afternoon and it was all smiles and some teary eyes as everybody got ready to head into the building and start the celebrating.
Nicole works for Public Bikes and her coworkers brought a few of their bikes in for props. It was really fun to play with these and the images from these moments are a couple of my favorites.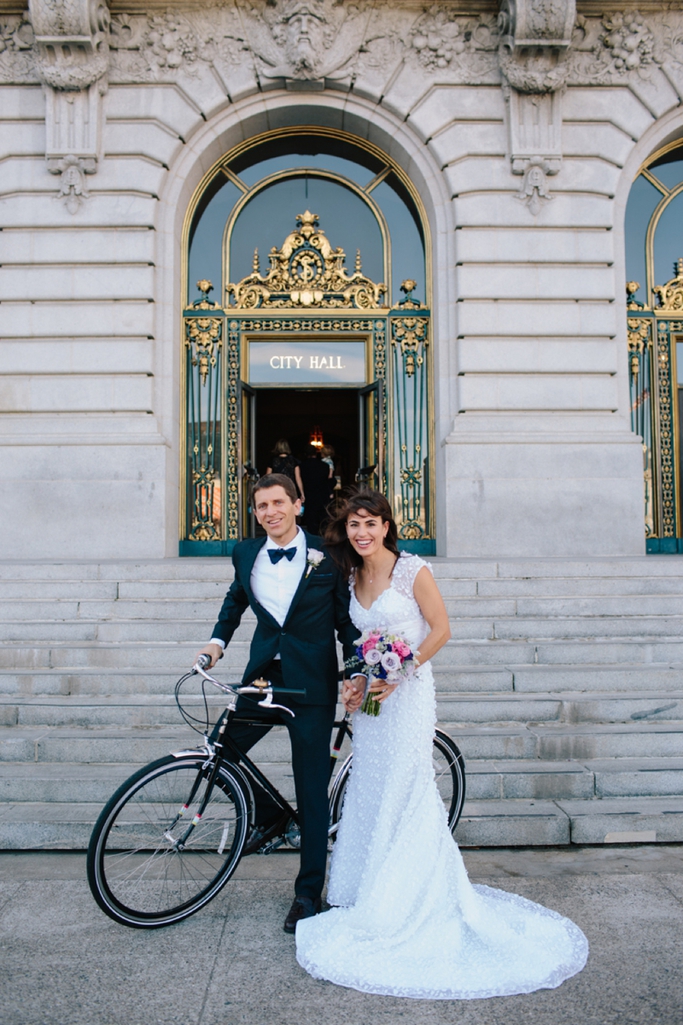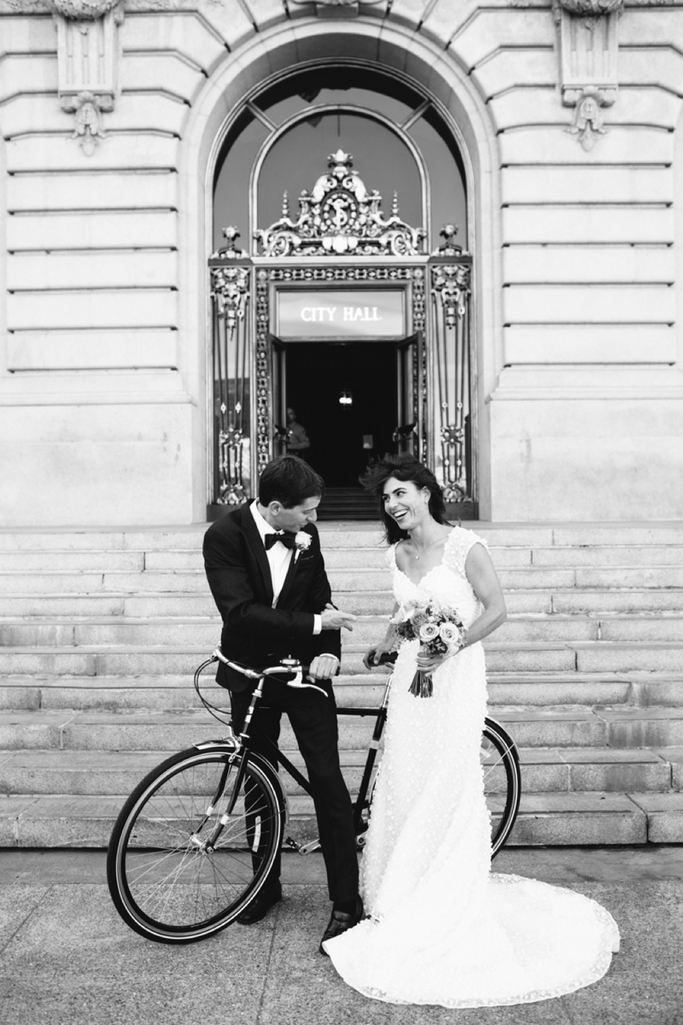 A few sweet family photos on the steps.
It's basically a rule that you can't get married at SF City Hall without a photo in front of these doors.
And then we headed inside for the ceremony!
Nicole's dress was Oscar de la Renta. If there's a rule about photos in front of the door at a City Hall wedding, then it's also true that there's a rule that you must also take photographs on the amazing staircase in the middle of the building. It's hard to get this area to yourself, but between a bit of waiting and a lot of wedding day luck, we were able to secure a moment on the stairs to ourselves.
Doesn't Nicole's dress (Oscar De La Renta!) look absolutely incredible? I love the way the stairs help show off her train. The dressed looked amazing on her and the detail of the fabric was absolutely gorgeous.
These two had a ton of friends and family there to celebrate. It was fun to have everybody hanging out, chattering away, exclaiming over Karsten and Nicole, and just generally helping out without the craziness of a traditional wedding day (not that those aren't amazing and a ton of fun, too. they are! but this felt different and it was wonderful).
For a City Hall wedding, you get your number and wait in line to meet your officiant. It's a little nerve wracking and exciting to be in a hall full of a couple different groups waiting to get married.
After they were checked and scheduled for the ceremony, we had a few minutes to photograph them in the incredible space that is City Hall. The light in here is always incredible and pair it with those columns and the white of the marble? It's a beautiful place to be.
A specially requested shot by the groom. Karsten, I love this image! Great suggestion.
I'll let the ceremony images speak for themselves: A sweet, intimate, meaningful ceremony and vows to love each other forever, through better or worse. Everybody was teary eyed.
It's official!
Nicole and Karsten did a fun little steamer exit from the rotunda. Nicole said afterwards that it was one of her favorite memories and I hope these image help her to relive it. Personally, this would be there ceremony photo I frame, but maybe that's just me. Either way, incredibly beautiful moment full of so much love and happiness.
After the ceremony, many congratulatory hugs and tears and kisses, and a few more photos, we jumped in the car. Not any old car, mind you, a very specific one. This vintage Rolls Royce, in white, drove the newlyweds around the city and acted as one of my favorite photo props ever. Such a blast to drive through SF in this beauty – everybody calling out congratulations to Nicole and Karsten and shouting things like, "Nice car!"
Here they are looking exceptionally happy in the backseat.
And here, with a view of the city behind them. It was the most incredible day this weekend – hot, sunny, none of that famous wind or iconic fog. Right in the middle of February, it truly felt like summer!
Obviously we also captured some simple portraits. I really love these.
This is the moment when I called Nicole 'Karsten's wife' for the first time. "Oh! I am! You're the first!" she exclaimed. It was the sweetest moment.
Looking handsome, Karsten!
Nicole, you're a dream.
Also, your flowers were absolutely stunning. Love the colors and types of flowers so much. What a perfect bouquet!
I captured this moment because I know the steps of San Francisco are really something. All the little staircases in this city can really be a point of pride for locals.
Also, the light, the dress, the flowers, and Nicole's hair. Swoon.
We pulled over by one of their favorite little grocery stores just to grab some shots in front of this mural.
… and with that awesome car!
So fun.
The gentleman who drove us around was really just that: a true gentleman. A grandfather and bay area resident, he drives this vintage car around every weekend, celebrating with lovely couples one one of the most important days of their lives. Not such a bad job if I may say so myself! ;)
Nicole looking lovely through the window of the car.
Following a perfect day in the city, we had a perfect sunset. We caught the last of the light in Alamo Square and it was fun to wander between all the local folks enjoying the sunset, drinking a glass of wine, or just chatting at the start of the holiday weekend. (Valentine's Day!)
Obviously we took a few snaps in front of the famous painted ladies. How could we not?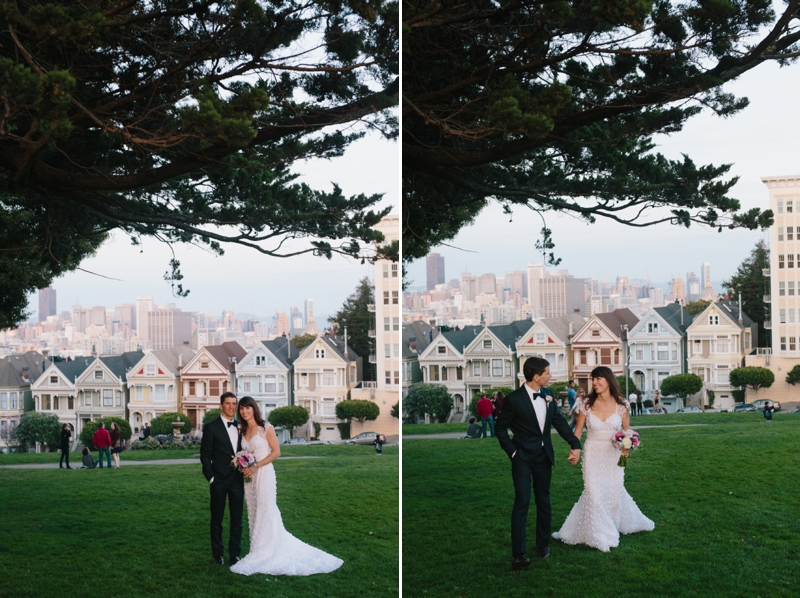 On Saturday night, we headed to Firehouse 8 to celebrate with a party. These two went all out, celebrating with friends, and the whole evening was a ton of fun.
There was a cute puzzle that all the guests worked on in bits throughout the evening. When it was completed, it showed a photo of these two right after Karsten proposed. So fun.
The decor at Firehouse 8 was spot on. So pretty!
Instead of a traditional wedding cake, they opted for a variety of pastries and snacks from the famous San Francisco bakery, Craftsmen & Wolves. Everything from mini eclairs to a hearty and sweet nut tart to little chocolate squares were absolutely delicious and got eaten up all night long.
Instead of a traditional guest book, Nicole designed this sweet, bike themed canvas for everybody to sign.
The reception had so much going on, wherever you were. This little travel scrabble sat on a table upstairs, right near the Valentine's Day card writing station.
The newly weds gave a great toast and told the story of how they met and fell in love, illustrated by photos. Between that and the toasts, we had another round of 'not a dry eye in the house.'
After toasts, there was a swing dancing lesson. Yep, you read that right, a swing dancing lesson. Everybody grabbed a partner, learned some moves, and then danced the night away to a live band. It doesn't get better than this!
The caricature artist upstairs created incredible drawing after drawing on his electronic artists pad. I want to shoot a wedding where he's working again! So much fun and all of the portraits came out so well.
He drew them on his tablet/artists pad while guests looked on on the computer screen he had set up next to his desk. When he was done, he printed the final drawing on a lovely little 5X7 card. It was such a fun souvenir/favor from the wedding!
The band was really fantastic. They played jazz and swing and got people dancing all night long.
And then our groom got up there and played a song with them! It was a really fun moment; as a long time fan of their music, it was a total blast for him to perform with them.
And then we sang Nicole birthday. It wasn't just Valentine's Day, it wasn't just her wedding day… it was her birthday, too! Happy birthday, lovely!
Some more dancing…
Delicious ice cream tacos made on the spot by hand. (I had a coffee ice cream one – so so good!)
I'll close the photos from this wedding night out with one shot of their rings. Simple, beautiful, and unique. Love!
Nicole and Karsten, it was an absolute honor to be a part of your day. Thank you so much for having me and many wishes for a wonderful life full of love and happiness! xo
For more San Francisco City Hall weddings that I've photographed, see here.
Vendors: Photography – Simone Anne, Ceremony – San Francisco City Hall, Reception Venue – Firehouse 8, Pastry Catering – Craftsmen & Wolves, Ice Cream Catering – Rockos Ice-Cream Tacos, Caricature Artist – Jon Casey, Swing Dance Instructors – Jean and Bromley, Band – Gaucho (Jazz), Hair & Make-Up – Taylor Monroe, Dress – Oscar De La Renta from Glamour Closet, Shoes – Rebecca Minkoff, Suit – Ted Baker