Best San Francisco Wedding Venues
I am excited to bring you a comprehensive list of the best San Francisco wedding venues with photos, insights, links, and more, to help you narrow down your search for the perfect spot for you two to get married. As a San Francisco wedding photographer who has been in business photographing San Francisco marriages since 2009 (over ten years of experience!), I've photographed weddings all over the city and can give you the ins and outs of many of your new favorite options.
Not totally sure where you want to get married yet? You can also browse my list of the best Oakland wedding venues, the best Berkeley wedding venues, and a round up of the best redwood wedding venues in California!
1. The Westin St. Francis
The Westin St Francis is a gorgeous wedding venue, with a big ballroom that has epic views of San Francisco. Have a ceremony in the ballroom, head downstairs with your guests for cocktail hour while your team flips the room, and then re-enter the big ballroom to see how it has been transformed for a classy, fabulous, and magical wedding reception.
A big space, you can have a large wedding here. Their team will take care of you here, with everything from decor to catering, and you just arrive and have an amazing time. This is a good spot for a late night wedding: No need for an after party here as you can stay and party quite late!
A great San Francisco wedding venue for a black tie affair and a live band!
Browse a gorgeous Westin St Francis wedding.
The Westin St Francis is located in downtown San Francisco at 335 Powell St, San Francisco, CA 94102.
2. The Fairmont San Francisco
The Fairmont San Francisco is another wedding venue with epic views of San Francisco. Really really pretty, with a stunning ballroom and a lovely rooftop garden. Do a first look or portraits on the roof with views of the city.
Stunning location, full service wedding team, and ultimately a super classy place for a gorgeous black tie wedding!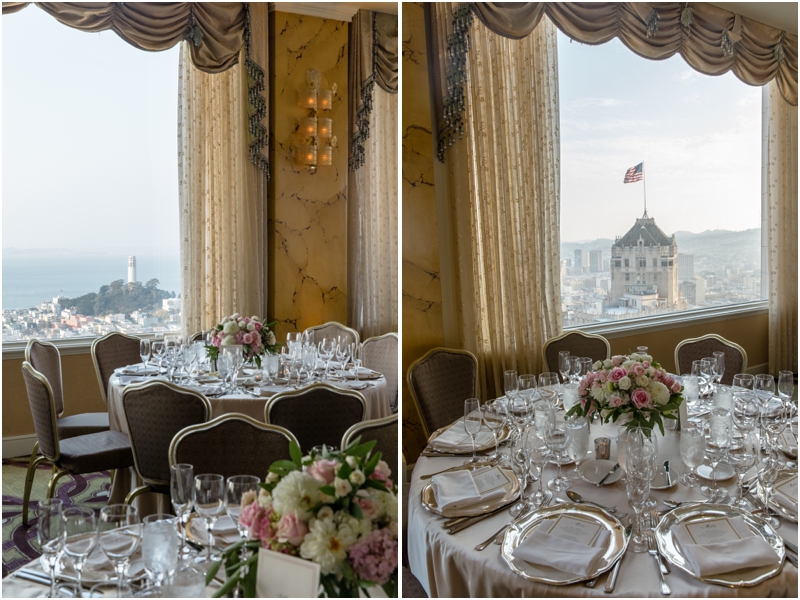 Browse a gorgeous Fairmont San Francisco wedding reception.
The Fairmont San Francisco is located near Grace Cathedral at 950 Mason St, San Francisco, CA 94108.
3. Grace Cathedral
Have your San Francisco wedding ceremony at Grace Cathedral if you're looking to incorporate all of the magic of San Francisco's most famous historic church. With tall arches, stunning windows, and an inclusive ethos, this is a lovely place to say your vows.
Do note that they have pretty restrictive photography guidelines and will give your photographer only three places that they can stand, so your ceremony photography will be a little bit limited. But no worries! I can show you a full gallery from a ceremony at this beautiful church and you can see exactly how lovely a wedding here can be!
Browse a Grace Cathedral wedding ceremony.
Grace Cathedral is located at 1100 California St, San Francisco, CA 94108.
4. Stern Grove
This redwood grove and cute yellow clubhouse are a suuuuper cute wedding venue here in San Francisco. If you want something simple and romantic with an intimate space to celebrate with your guests, this is it. Get married under the old growth redwoods and then celebrate with your guests in the sweetest historic home. A truly lovely spot for a sweet, relaxed, and super fun wedding!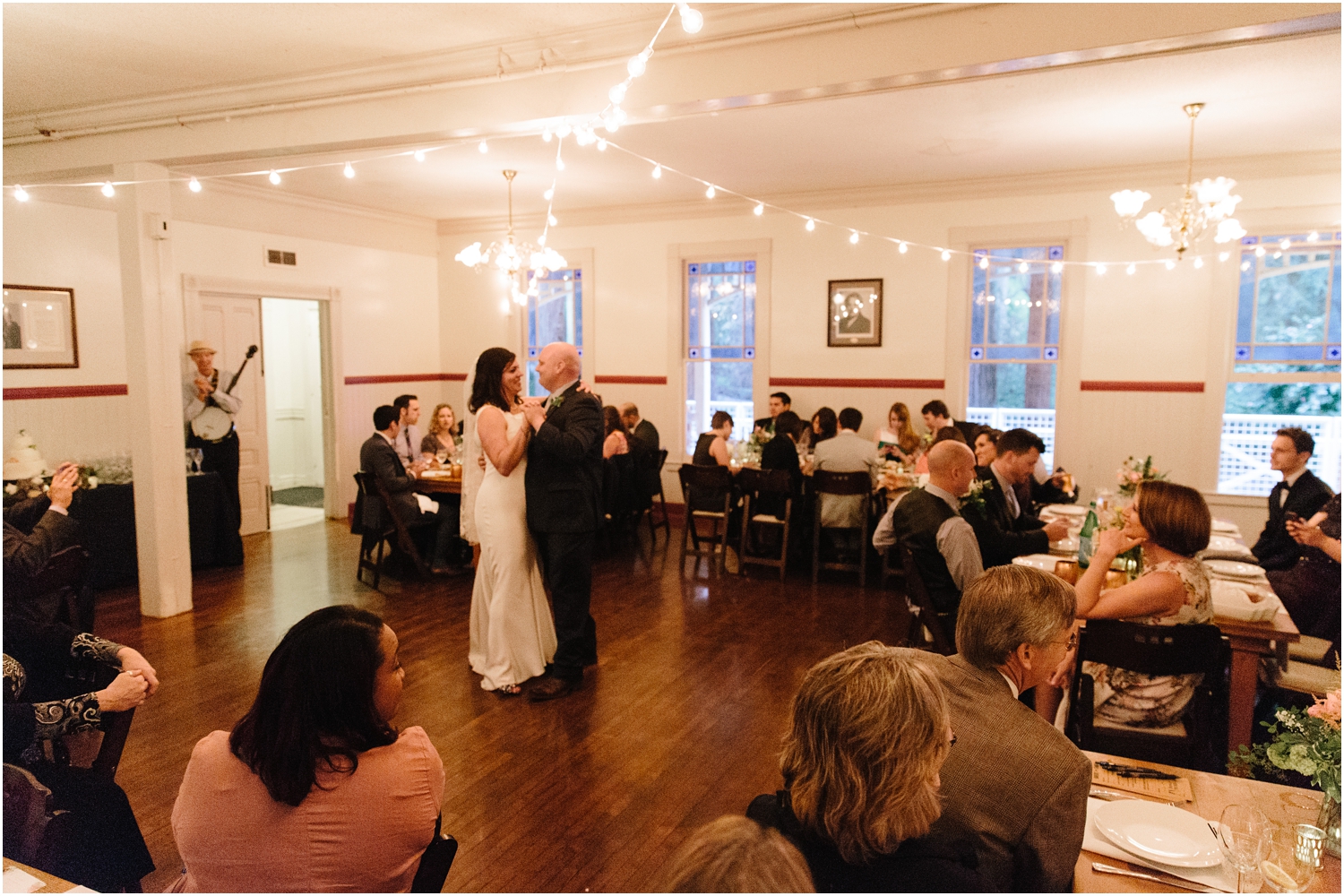 Browse a Stern Grove wedding.
The Stern Grove Trocadero Clubhouse is located in West Portal/the Sunset at 19th Ave & Sloat Blvd, San Francisco, CA 94132.
5. San Francisco Yacht Club
The San Francisco Yacht Club has a lovely reception room for a beautiful bay side wedding in San Francisco. Entertain your guests with a relaxed reception here: Perhaps a tapas style dinner with guests enjoying themselves at cocktail tables? There's a lovely overlook of the Bay and you can have the cutest getaway to your honeymoon weekend in Sausalito or somewhere else along the bay when you get in a boat at the end of your reception and speed away!
Browse a San Francisco Yacht Club wedding reception.
The San Francisco Yacht Club is located at 98 Beach Rd, Belvedere Tiburon, CA 94920.
6. The Cliff House
With sweeping views of the ocean and proximity to Ocean Beach and Land's End, this is a gorgeous spot for a wedding reception in San Francisco. A simple reception hall will fit all of your guests and keep them cozy even on a cold or rainy day.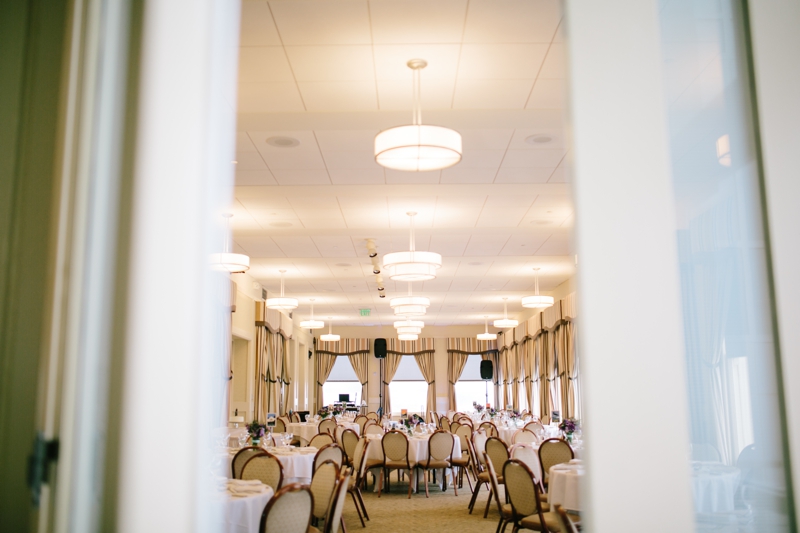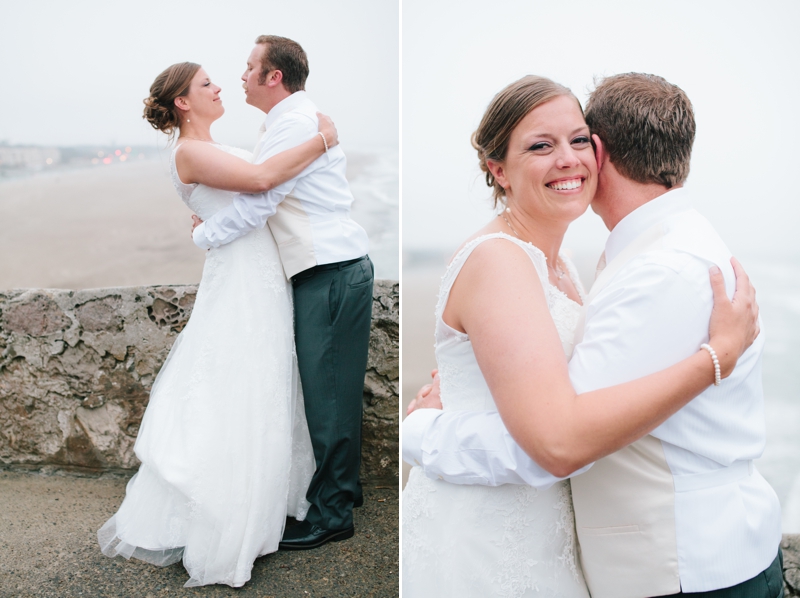 Browse a Cliff House wedding reception.
The Cliff House is located above the northern end of Ocean Beach near Land's End at 1090 Point Lobos Ave, San Francisco, CA 94121.
7. The Shakespeare Garden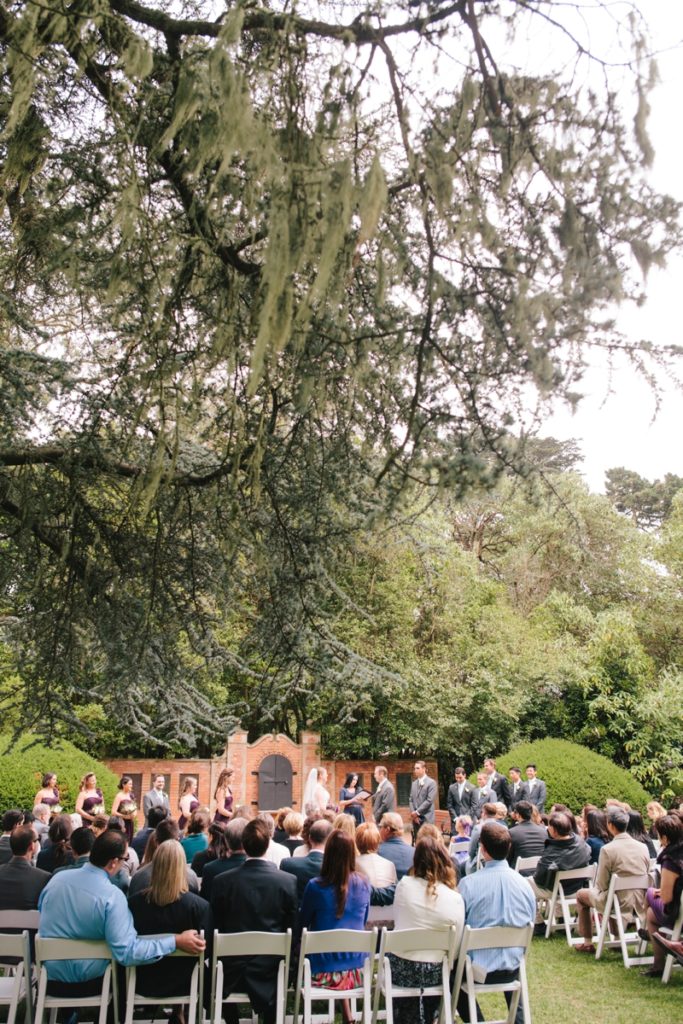 Browse a Shakespeare Garden wedding.
The Shakespeare Garden is located inside of Golden Gate Park near the California Academy of Sciences at 335 Martin Luther King Jr Dr, San Francisco, CA 94118.
8. The Golden Gate Club
A beautiful spot for a classy wedding, with a gorgeous glass room for the ceremony. The main reception room has tons of space and room for a large dance floor, plus the windows have a lovely view and the entire venue is perfectly lovely.
Browse a Golden Gate Club wedding.
The Golden Gate Club is located in the Presidio at 135 Fisher Loop, San Francisco, CA 94129.
9. On the Bay: Commodore Cruises
A fun and easy way to host a wedding (as long as none of your important guests get sea sick!): A beautiful boat ride on the San Francisco Bay. Sail out towards the Golden Gate Bridge, under the Bay Bridge, with views of San Francisco, Alcatraz, and more. Time it right for sunset over the water and the twinkle of the city lighting up at dusk. Absolutely gorgeous!
Browse a Commodore Cruises wedding.
Commodore Cruises happen on the San Francisco Bay with views of the San Francisco Skyline and Golden Gate and Bay Bridges, but the landing is located in Alameda at 2394 Mariner Square Dr, Alameda, CA 94501.
10. Julia Morgan Ballroom
The Julia Morgan Ballroom is a gorgeous, dark, classy ballroom full of dark wooden details and tons of class. With lots of room for hosting guests in a gorgeous space, it's an absolutely lovely spot to have a fancy black tie wedding. There's absolutely room for a wedding band here or a big dance floor.
Browse a Julia Morgan Ballroom wedding.
The Julia Morgan Ballroom is located in the Financial District / Downtown San Francisco at 465 California St, San Francisco, CA 94104.
11. Asian Art Museum
The Asian Art Museum in San Francisco (in the Civic Center area) is actually housed in the old location of the San Francisco Library and is absolutely beautiful. With a similar feel to San Francisco City Hall, there is tons of space for a stunning, high class wedding here, with lots of gorgeous spots to sneak away for portraits.
Browse beautiful wedding photos at the Asian Art Museum.
The Asian Art Museum is located in Civic Center, across from San Francisco City Hall and next to the library at 200 Larkin St, San Francisco, CA 94102.
12. San Francisco City Hall
San Francisco City Hall has to be the prettiest spot ever for a civil ceremony, possibly anywhere in the world. And couples do come from all over the world to get married here! Have a regular ceremony here or have a one hour ceremony here (rent out either the Fourth Floor North Gallery or the Mayor's Balcony for a longer ceremony of your own design and private space).
Take photos with the stunning windows, the epic huge staircase, and the sunny fourth floor gallery with its tall arched ceilings. The gold and navy design on the door frames outside are beautiful and a classic photo with the "City Hall" door is the best memento from your celebration.
Have your reception lunch or dinner, well, anywhere! Stable Café, a picnic in the Botanical Garden, Wayfare Tavern, Firehouse 8… and many many more! :)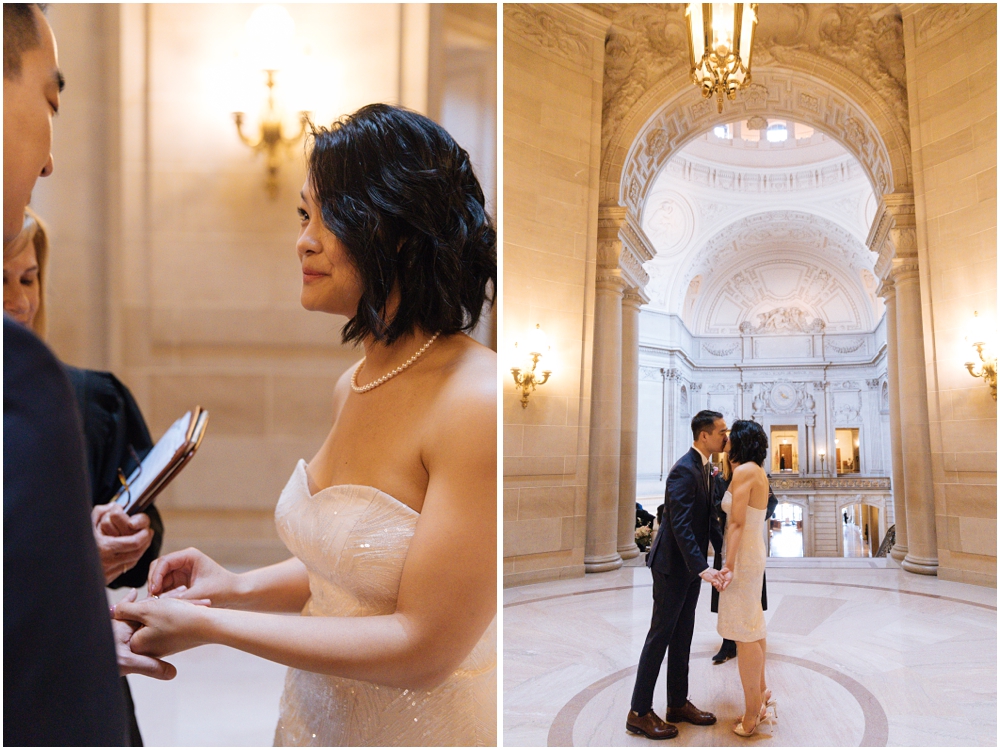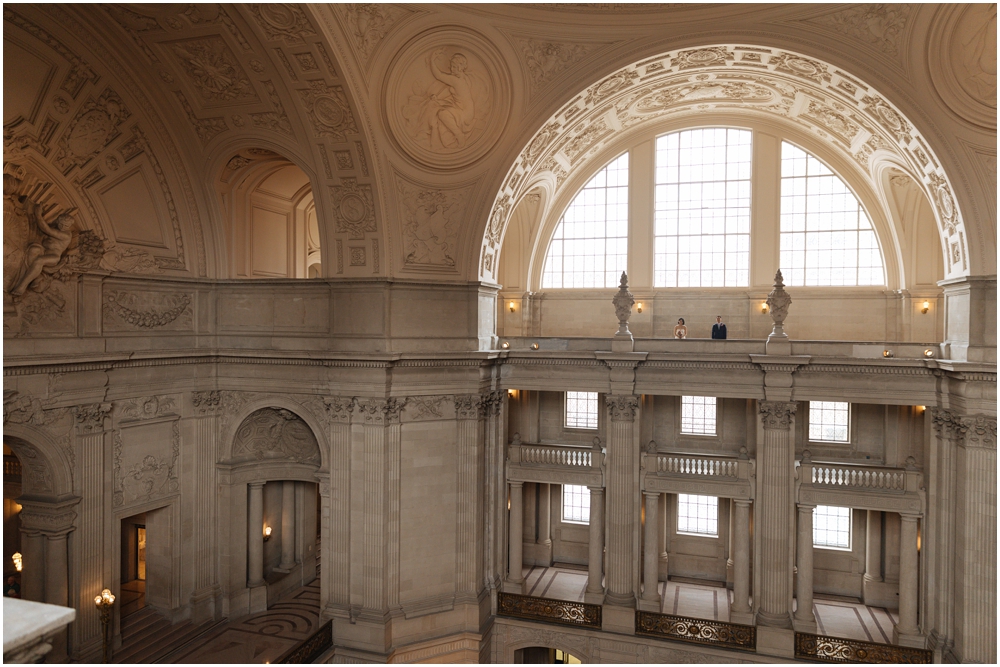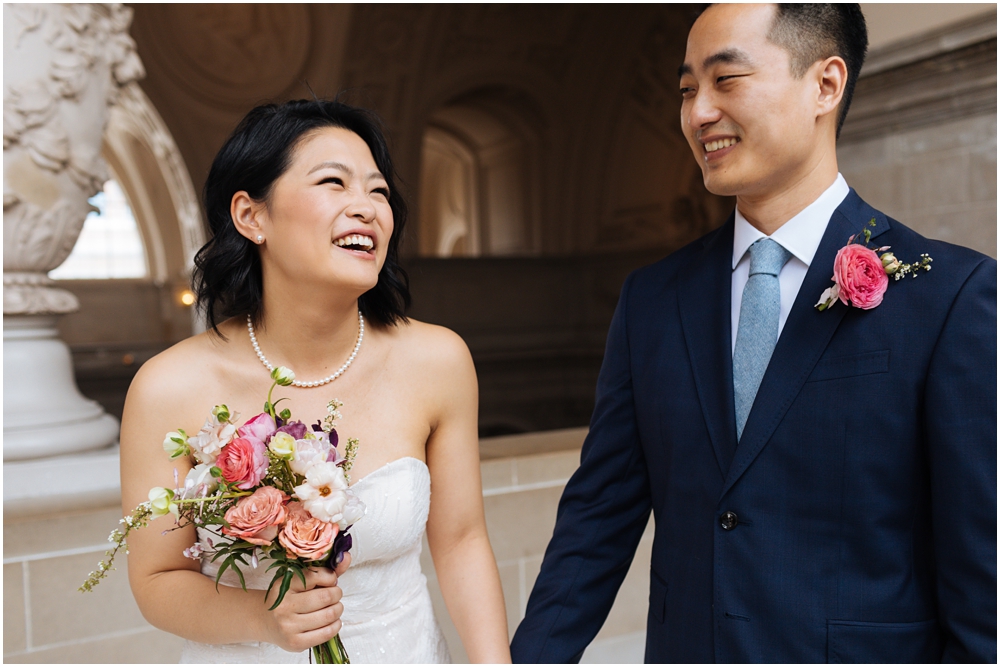 Always a favorite, you can browse San Francisco City Hall wedding photography portfolio and individual San Francisco City Hall galleries here.
San Francisco City Hall is located in Civic Center, around the corner from Hayes Valley, at 1 Dr Carlton B Goodlett Pl, San Francisco, CA 94102.
13. The Winery SF
With stunning views of the San Francisco skyline, the Winery SF is a gorgeous place to host a wedding. With a large warehouse and barrel storage area that's gorgeous for your reception, you won't have to do much to make this place shine (it's already lovely as is). Have any kind of celebration you want, from laid back and relaxed to upscale and stunningly beautiful. No matter what you choose, the wine will be delicious and your guests will rave about what an incredible time they had at your special day.
The Winery SF is located on Treasure Island at 30 Avenue G, San Francisco, CA 94130.