Brad and Semira's Thomas Fogarty Winery Indian wedding in Woodside was SUCH a good day. From the rainbow that graced their ceremony, to the dance that surprised their friends and family, Brad and Semira had a meaningful day AND a ton of fun on their wedding. It was a total honor working with these two!
When we arrived at the Thomas Fogarty Winery, the sun had just broken through the clouds and was shining bright on the vineyards.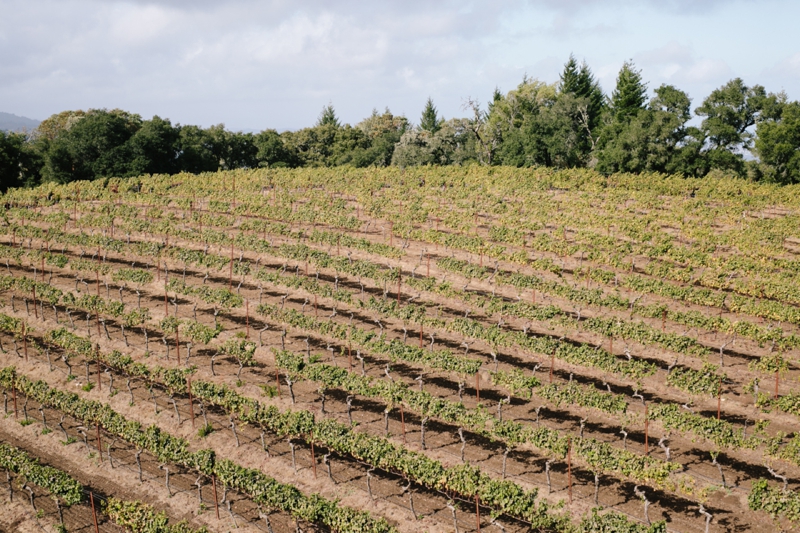 There was actually a rainbow, just above the amazing view of the San Francisco Bay! See it? So magical.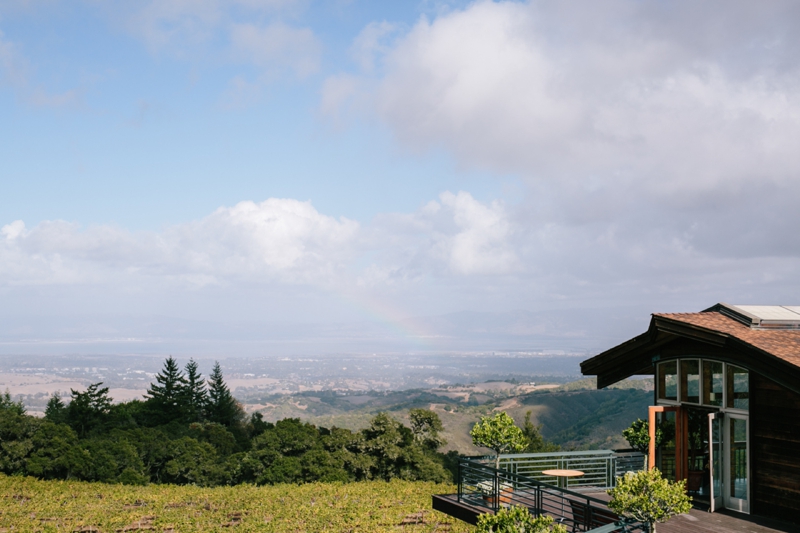 I love the getting ready room at this venue. Lots of natural light, tons of space, and a big window with a private view of the winery and the bay. Here's Semira's sister getting ready.
Aren't Semira's flowers beautiful!? I loved their bright, Fall colors. So pretty and vibrant! Brad had the sweetest card ready for Semira, too. It put her in happy tears just before they saw each other for the first time.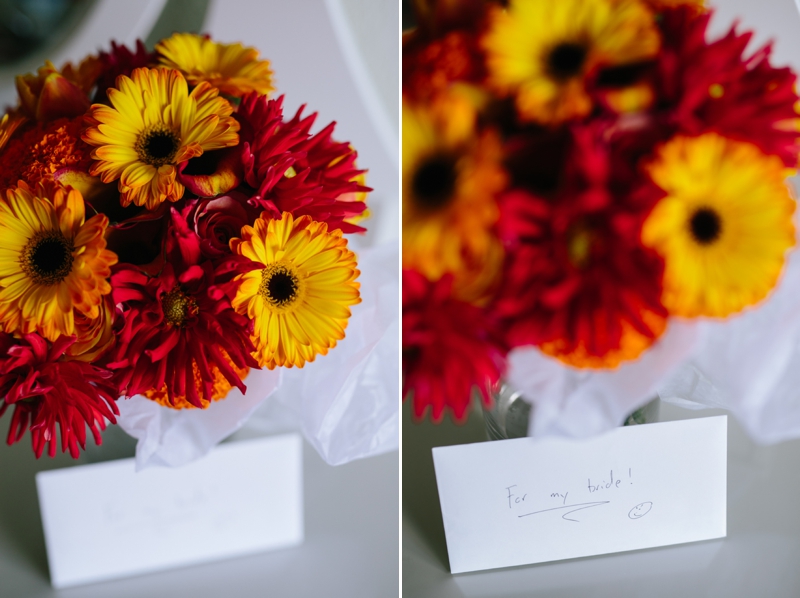 Semira was so happy and relaxed, despite everything that goes on during the morning on a wedding day. She just bursted with excitement and kept saying, to me, her mom, herself… "I can't believe I'm putting my wedding sari on!"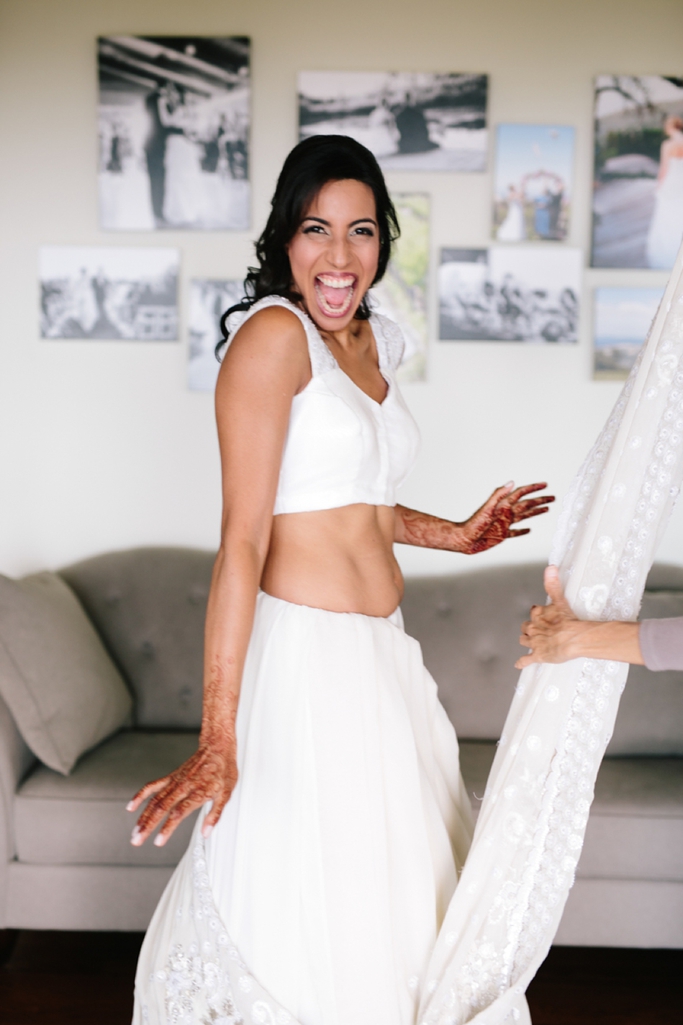 Special thanks to her mom for doing so much to help Semira get dressed. She looked radiant.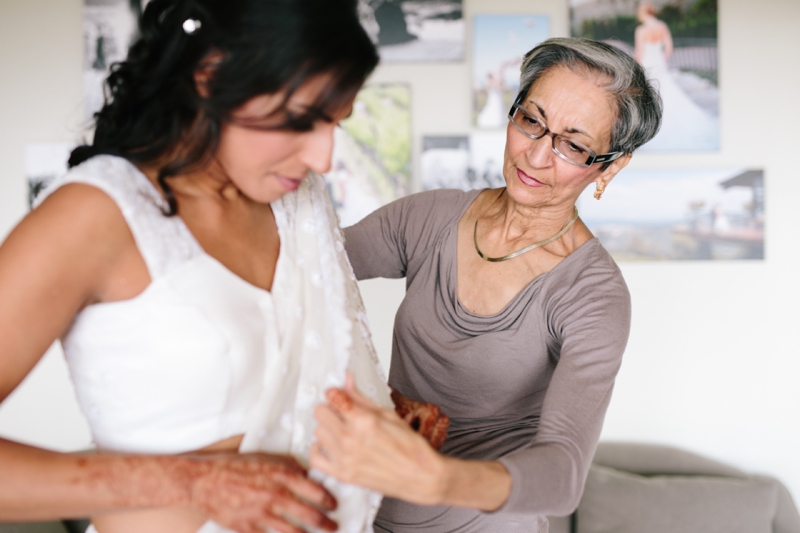 It's actually tradition in Semira's family culture to wear a white sari on her wedding day. It was especially fun since their wedding was a combination of a traditional American wedding ceremony and a traditional Indian wedding ceremony, too. It felt like yet another nod to both cultures. But, really, the most important part was how fabulous she looked! I loved this "dress" so much.

Brad and Semira opted to see each other before the ceremony in a "First Look," but they also didn't make a big deal about it. They just wanted to see each other and have a minute before they said their vows. <3

I am so happy they did!
Semira had beautiful henna decorating her hands and feet. Did you know it's traditional for the groom's initials to be hidden in the design? Brad's was… and he had to go on a mini henna treasure hunt to find it. Fun!

Another bright pop of color on Brad's jacket!
Here are their rings! Semira opted for three delicate pieces instead of a single band. It's such a nice idea and it looked beautiful.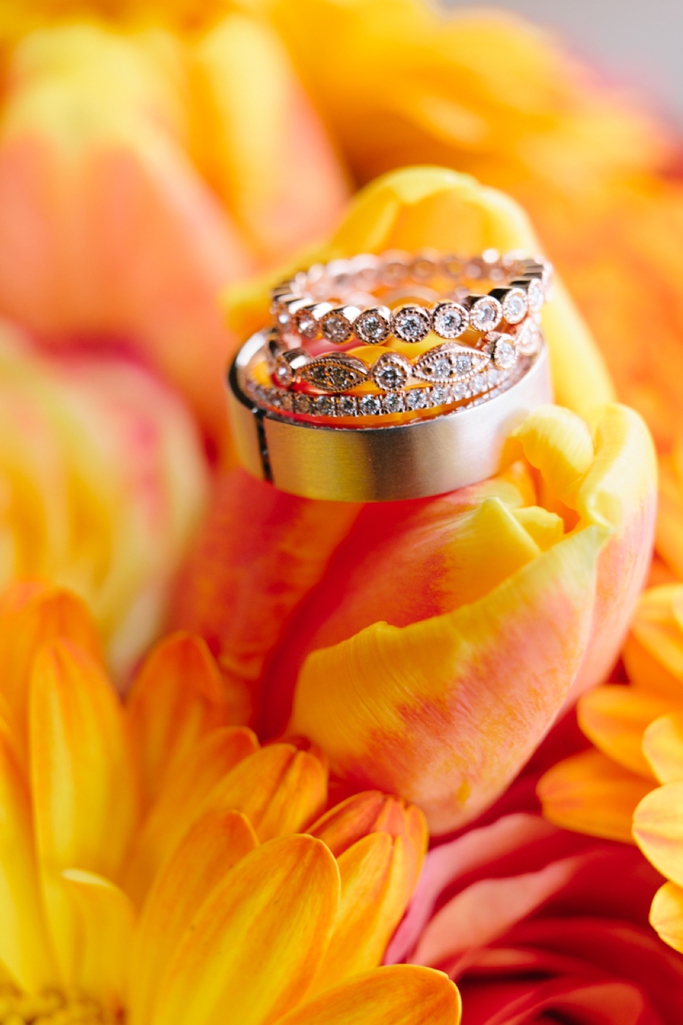 Here they are, looking happy and ready to be married! 
The sky, post rain, looked epic all day. Clouds like this almost seemed the norm, which was a ton of fun.
Here's their beautiful ceremony set up. Special thanks to Satra of Events by Satra for doing such a fantastic job on the set up and smooth running of the day. I've worked with her and her team previously, on Jenn and Tom's pretty blush wedding, and it's always such a wonderful experience. Thank you for being you, Satra!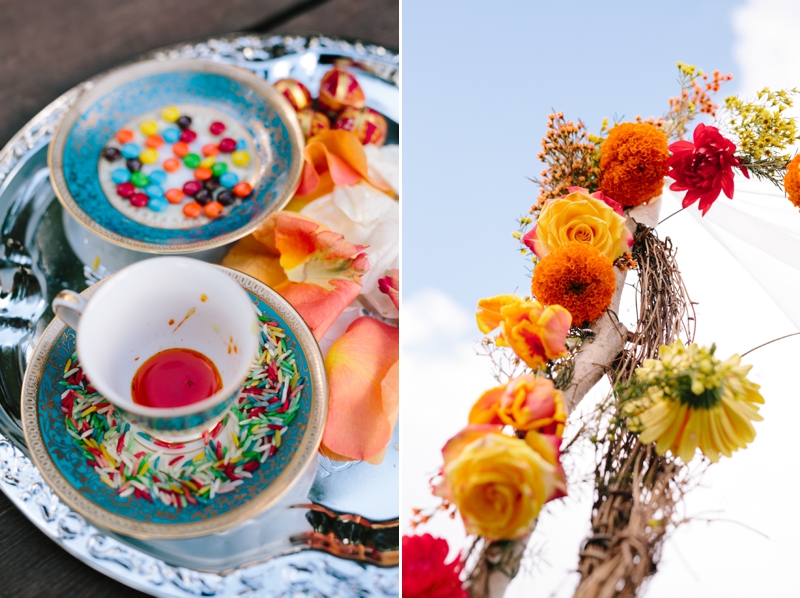 Brad's brother, Jeremy, officiated the day. This was extra special because a few years ago, Brad officiated Jeremy's wedding! My favorite moment was when Jeremy read some of the things Brad had said to him on his wedding day about love and marriage. It was a beautiful ceremony, full of personal details.

The kids were toooo darn cute carrying in the rings. So adorable!
But the best was when Semira and her dad walked in. Their friends had special ordered hats for the day, which you'll see in pictures from throughout the wedding, that said "We <3 Bradmira." The photo below is the exact moment when Semira saw the hats for the first time – she couldn't stop laughing! And then she did and, full, of joy and surrounded by wonderful friends and family, she headed down the aisle with her dad. It was such a great entrance. 
I loved when the rainbow popped out again during the ceremony. So beautiful! And how many people can say they were married under a rainbow?! Not many; it's a pretty magical thing to have happen to you on your wedding day!
Brad and Semira both wrote personal vows to each other. These two have been dating a while and have been on many adventures together as a couple. Their vows were beautiful.

Woohoo! Congrats again, you two!
Right after they finished the more traditional American wedding, they headed into a short traditional Indian ceremony.
I loved how this brought in their parents and a few wonderful well wishes for their life together.
And then, while guests headed in for a snack and a drink, we took a few minutes for portraits.
Here's Brad, looking extra sharp. 
And with his brother & officiant. And with his dad. I'm actually cheating here: we got the images of him and his guys done ahead of the ceremony, which gave us some extra time for the party right afterwards. But still. I love these. 
We didn't have a long list of formal portraits, but Semira did special request a photo with the kids in the family. It turned out to be just the moment when none of them wanted to be separated from their mom's and, I gotta say, the image on the left is one of my favorites, just because it makes me laugh. On the right, we brought the momma's back in for a happier photo. It's funny how quickly the tears disappear again! ;) So funny.

We definitely wanted to take advantage of the grounds, so after we finished family portraits, I had a moment with Brad and Semira for some images of the two of them together.
First, let's appreciate those beautiful flowers! Passiflora Designs did such a beautiful job on the flowers – they really lit up the day and provided a beautiful addition to Semira and Brad's outfits.
Hey, you two. Lookin' cute!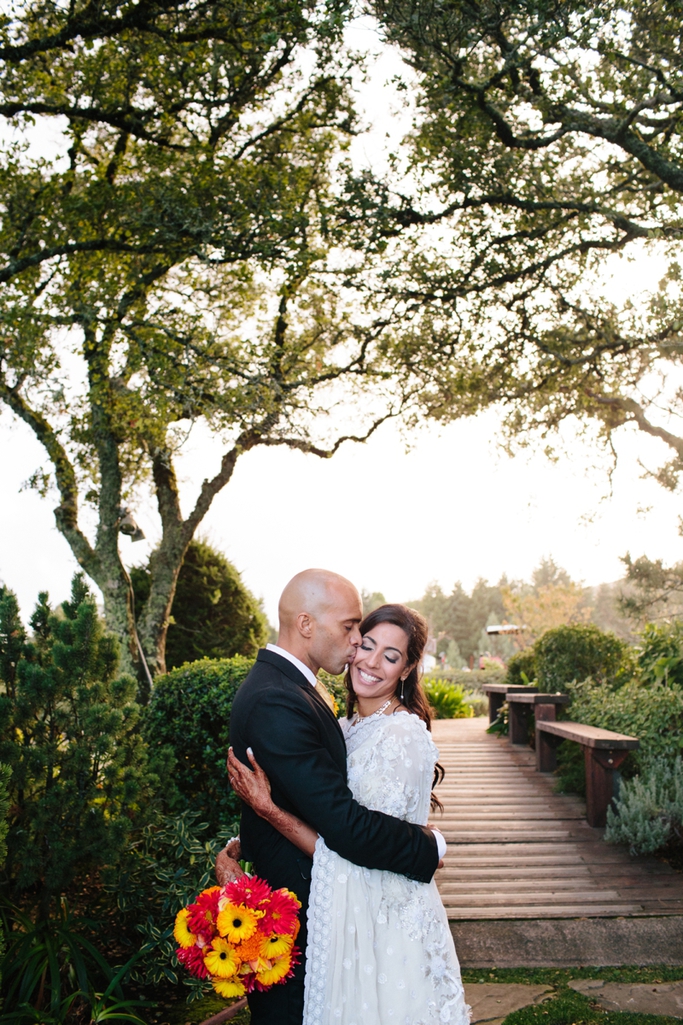 I love these sweet moments that we were able to capture. The light was absolutely magical through the clouds. I loved the way it lit them up in golden light, streaming through the trees.
I would never ask a couple to do this on purpose, but because it unfolded naturally, it's one of my favorites. Semira couldn't really walk through the dirt and mud that was the vineyards after the rain, but she's not afraid of a little dirt, loves being outside, and definitely wanted images among the grape leaves. So? Solution? Her husband carried her. It was a total win. 
And then, ominous skies outside, we headed indoors for the reception. While this winery usually hosts dinner on their patio outside, this evening, that just wasn't going to happen. No matter! The entire team did a fantastic job bringing the party inside and if I hadn't been told, I never would have known it was supposed to happen otherwise. Beautiful!
One of their friends took charge of the mic and introduced each of the toasts with wonderful personal stories and moments. He honestly did one of the best jobs I've ever seen of keeping guests entertained and focused. 
And now, for the first time as husband and wife, the Mr. and Mrs.!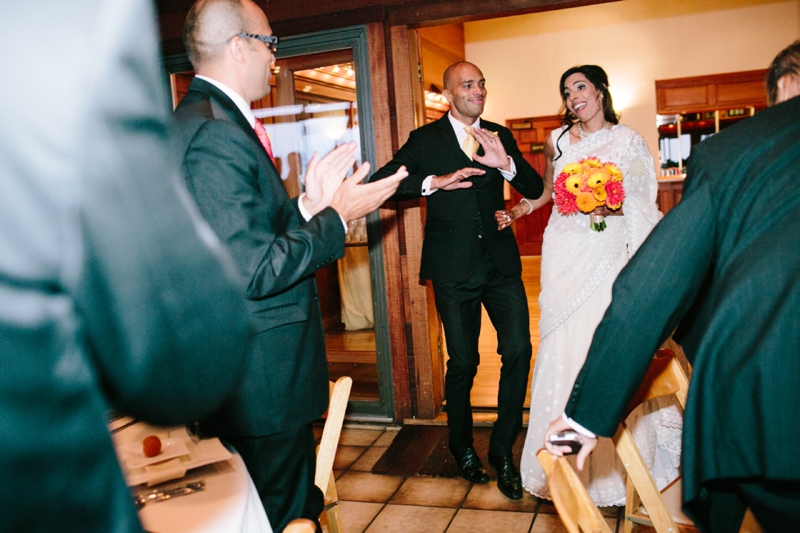 Tumeric Restaurant did all of the catering, which was served family style to each of the tables. I've worked with them before, on Bhumi and Mayur's Half Moon Bay wedding, so I can say with confidence that their food is absolutely fantastic. So delicious, fresh, full of flavor… I love Indian food and this was exceptional.
Plus, the desserts. Brad and Semira opted not to have a cake or cake cutting and instead ordered dozens and dozens of mini tarts, pretty cream puffs, and lovely macarons for their guests to enjoy. Douce France did a fantastic job on these – so pretty and delicious. Thank you! 
And then we rolled right into a beautiful first dance. Brad and Semira had a lovely and romantic dance that they had choreographed and practiced ahead of time.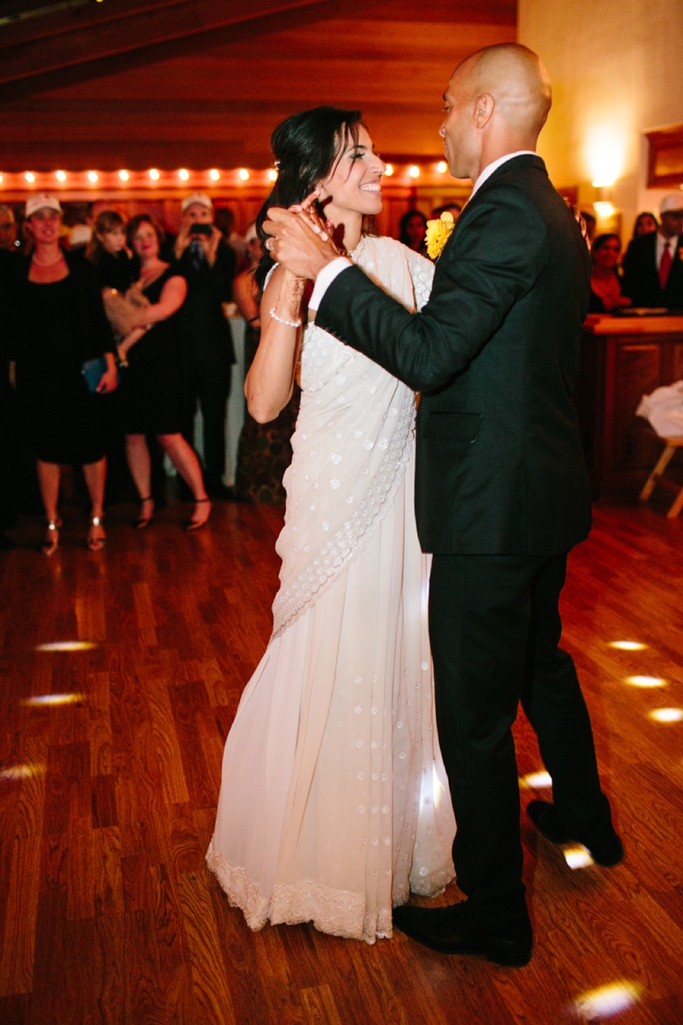 And then they broke out in a fun, fast paced dance! It was so much fun and guests died of happy laughter and surprise! While this is pretty rare (and always adored by guests), I did have a similar exciting first dance at Katherine and Mike's La Nebbia Winery Wedding; they too had a choreographed surprise for their guests and it was so much fun!
I especially loved that Brad and Semira segued right into dancing with their friends and family – they set the stage for a really great nice of dancing and partying!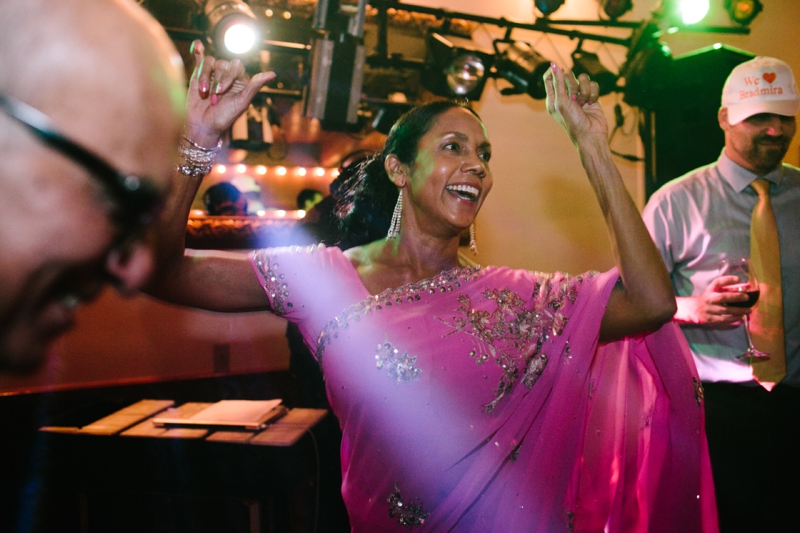 And those two, and their friends, really can dance! It was such a blast. Seriously!
That's it, folks! Thanks again to Brad and Semira for an absolutely fantastic evening! Congrats again, you two and many wishes for a long and happy marriage, full of adventure. :) xo
See more weddings I've photographed right HERE and see Info + FAQ about having me photograph YOUR wedding right HERE.
Vendors: Photography – Simone Anne, Venue – Thomas Fogerty Winery, Caterer for Service – Thomas John Events, Food/Catering – Tumeric Restaurant, Coordination – Events by Satra, DJ – Dan at Big Fun DJs, Flowers – Passiflora Designs, Dessert – Douce France, Photobooth – Night Owl Photo Booth, Hair & Make-Up – Les Amis Salon, Transportation – Teacher with a Bus and San Francisco Mini Bus. Thanks to all for making this a great day!