Simone Anne is a San Francisco wedding photographer who specializes in creating work full of emotion, joy, and candid moments that happen naturally throughout your day. She has spent ten years working with couples to create photos that really feel like it felt to be at your wedding and works with you to deliver a keepsake gallery that you'll love for decades to come. You can browse more of her engagement photography and wedding photography, as well as jump to other redwood grove weddings and outdoor wedding photography.
Phil and Aileen's unconventional berkeley wedding was an absolute pleasure to be a part of. An intimate affair, this day was a celebration of their love with only their closest family and friends in attendance. And it was beautiful.
I started in Phil and Aileen's Berkeley apartment, where they were getting ready and hanging out. Phil had brought back coffees from their favorite local coffee shop, just down the street, and Aileen was getting her hair done by her soon to be sister-in-law. Their apartment was lovely, full of natural light and personal touches.
Aileen's dress hung on the door, a simple gown that looked stunning on her.
Their wedding rings. Hers of hammered silver and his a simple silver band. 
The diamond ring that they sealed their engagement is a family heirloom. It meant a lot to the both of them that they would have it as a tangible symbol of their love forever.
Aileen's sister helped her into her gown.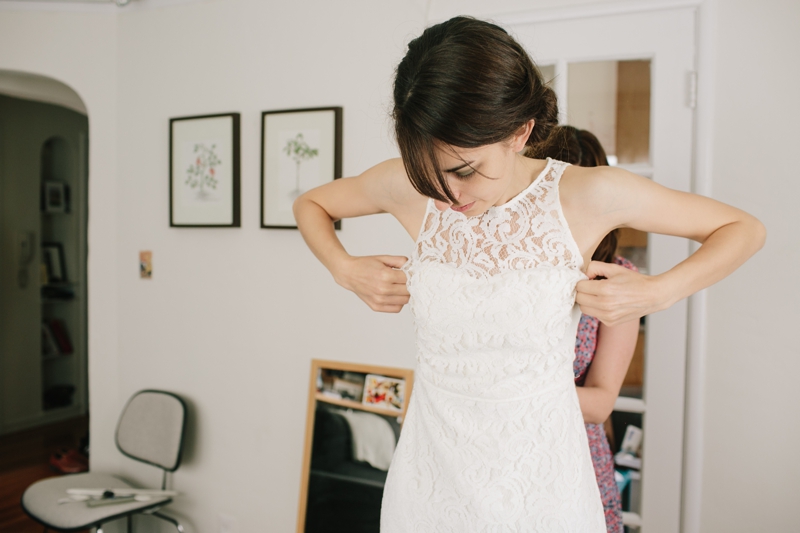 Phil had seen her in the dress before, but watching his fiance put it on for the last time as just his fiance was still quite a moment and helped make it feel like everything was really happening. Today!
I loved their apartment so much; I knew I had to take advantage of the perfect styling and gorgeous light for a few portraits in their home together before we left for the ceremony. Even after all of the stunning photos we took in the redwoods and eucalyptus trees, these simple snaps remain some of my favorites from the day.
Also, can we talk about that lovely bouquet and the way they matched it to Phil's tie? So perfect.

After a few snaps and lots of smiles, we piled in the car and headed to the ceremony. A beautiful, redwood filled corner of the Berkeley Tilden Botanic Garden.

Love this one. <3 
The ceremony was sweet, intimate, and personal. Officiated by two of their good friends, they said their vows surrounded by everyone they love and only people who love them back, deeply. Add to that the gorgeous cathedral of the redwood trees and we had a meaningful and absolutely beautiful wedding ceremony.
We stayed in the redwoods for some lovely family photos.
We snuck in some traditional ones.
And also some less traditional ones. :) 
Nephews are pretty cute, right? 
One thing that I love about small, intimate weddings, is that I really have time to get personal images of every single guest. These family photos were a ton of fun and will be treasured by both the Phil and Aileen as well as their family. 
After I spent some time with them and their guests, I took some time with just the two of them. First, we stayed in the redwood grove for a minute. I loved this spot.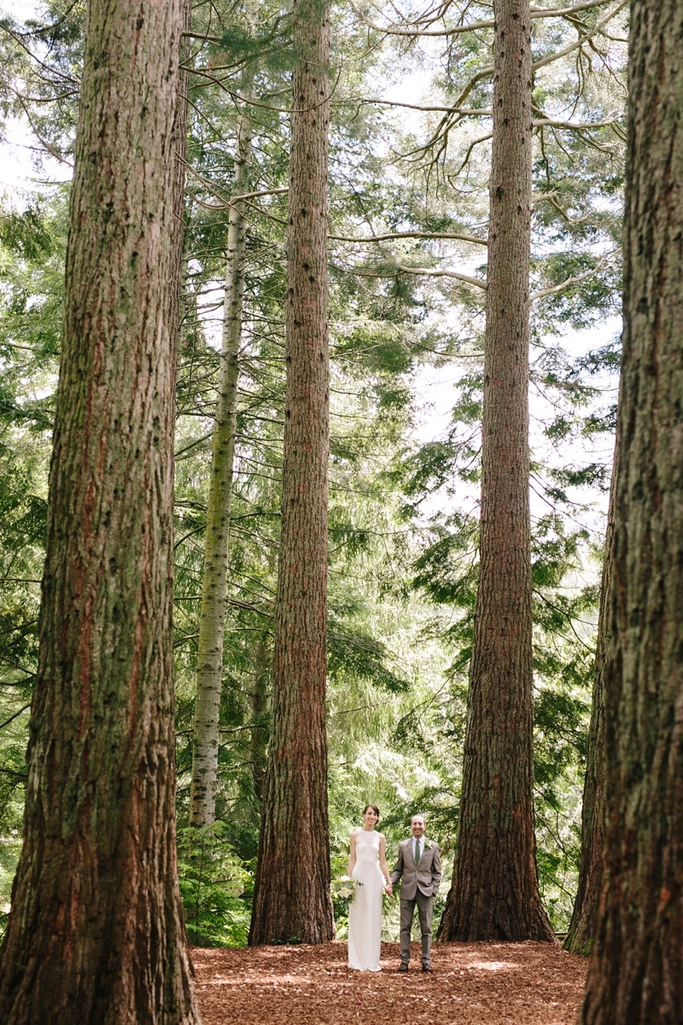 Isn't that a stunning bouquet? I love the details of the succulents against Aileen's gorgeous dress and the green of the garden grove.
Such a lovely bride. 
In such a lovely dress!
After a moment in the redwoods, we wandered around the Berkeley Tilden Botanical Garden for some more variety in the images. I've photographed in this garden a few times and I always love it – it's well taken care of, full of interesting plants, and also has a lovely bunch of wild spots, too.

So sweet.
Seriously though, how cute are these two?! It was such a small and relaxed day that we had pretty much as much time as we wanted for photos and the whole entire time they just couldn't stop smiling at each other and the world and everybody. They were the best set of people to hang out with.
After the Tilden Berkeley Botanical Garden we popped outside the park for a few more photos in the eucalyptus trees.
So cute, am I right?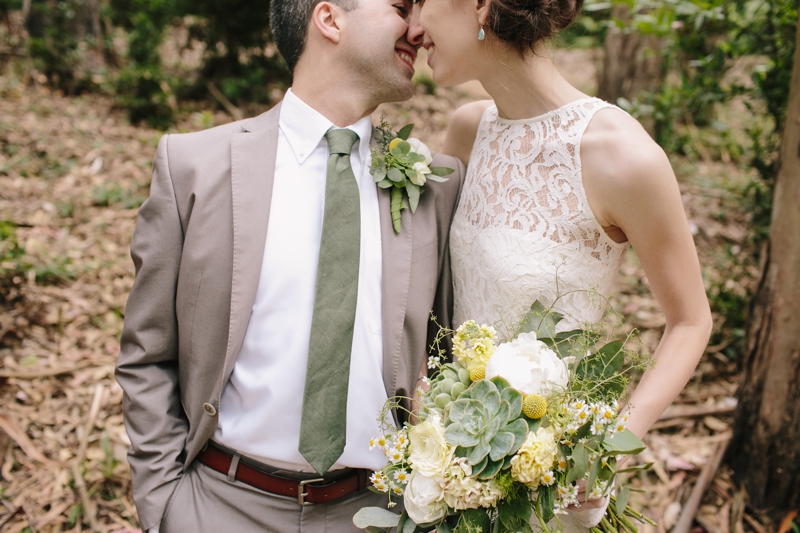 After we finished pictures, we headed back to the house they had all rented together in Berkeley, called The Farmhouse.

It was a beautiful home, full of lovely Berkeley details and tons of light. I could totally see myself living here happily!
There was plenty of wine and everybody worked together to get the dinner on the BBQ and the sides on the table. Yum!
Phil had the wonderful idea to get an old school photo of each and every guest. He used a vintage Polaroid Land Camera and everybody had a lot of fun seeing how different shots came out. I loved this idea and it was so much fun to have beautiful prints taken by the groom the day of the wedding for their guest book. 
I think the best part of the celebration was that it was just a perfect afternoon and evening for the two families to hang out. There was no schedule, no rush, and lots of catching up over a glass of wine. Totally perfect.
There was a big table in the back yard where everybody hung out and a large fire pit that everybody could sit around (and that got nicer and nicer as the sun set in the evening).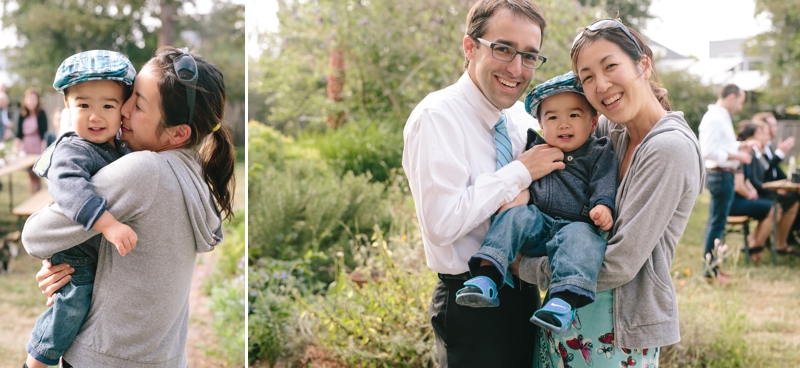 The spread was… AMAZING. So much good food. Because they had most of the meal catered, Phil and Aileen used this meal as a perfect way to introduce their families to some of their favorite restaurants in Berkeley. It was so fun!
Pop goes the champagne before the toasts! 
The toasts, said over champagne and dinner, were heartfelt and full of love. After each parent gave their blessings and wishes for a wonderful marriage to their children there absolutely was not a dry eye in the house. Seriously. It was lovely and so meaningful and there were hugs all around after everybody finished up.
Aileen and her Momma.

As the evening wore on, the littlest guest got sleepy and had to be brought up to bed. He knew the party wasn't over though and he was certainly not happy about missing the rest of the evening. haha! ;) 
Phil and Aileen, thank you so much for having me along to document your beautiful day. I loved everything about your wedding, from the intimate ceremony in the trees to the time we spent photographing just the two of you, to the party in the backyard of the Farmhouse in the evening. It was an honor to be there to celebrate and take photos on such a perfect day. Thank you for having me and best wishes for a very wonderful life together. xo!
For more weddings that I've photographed, browse my blog HERE. I'm available to photograph weddings in California and around the world.