Westin St Francis Wedding
Nick and Meredith's Westin St Francis wedding was the epitome of class and really embodied the iconic, black tie wedding. I loved their day! It was truly breathtaking from the moment it started right up to the end.
In the morning, Meredith and her bridesmaids got ready in their San Francisco home. The apartment is spacious and full of light. The ladies popped champagne, snacked on cheese and crackers, and reminisced about Meredith growing up and their memories together. It was a perfect start to the day: Relaxed and full of anticipation.
I loved the fantastic robes that Meredith gave all her ladies to wear in the morning.
Meredith wore Oscar de la Renta and it was absolutely breathtaking. We couldn't get enough of it before she wore it, when it was still on the hangar, but we were also completely in love with how it looked on her, of course. She looked like a queen!
While Meredith got ready (Rachelle captured that), I headed over to see Nick. When I arrived at the Westin St. Francis where they were getting ready, I was greeted by the most stunning view of San Francisco. You could see the bay, Coit Tower, the Fairmont with it's iconic American flag, and even the Golden Gate Bridge.
Nick was busy getting ready, learning to tie the bow-tie on his tux, and giving his sweet and beautiful dog plenty of pats. (Although she had to be loved at arm length since she has wonderful, white hair and the gents were wearing pure black tuxes…)
Here's Nick looking extra sharp, ready to go and meet his bride for a First Look…
Now, that's a VIEW! & part of why you have a Westin St Francis wedding!
We drove over to meet the ladies in the Presidio, a wonderful part of San Francisco with gorgeous open space and a stunning grove of trees. Nick is well known among friends for his vehicle and his love of driving it off road! That's his sweet dog right there.
When Meredith showed up, we all caught our breath a little bit. Here she is heading in to say hello to her soon-t0-be husband…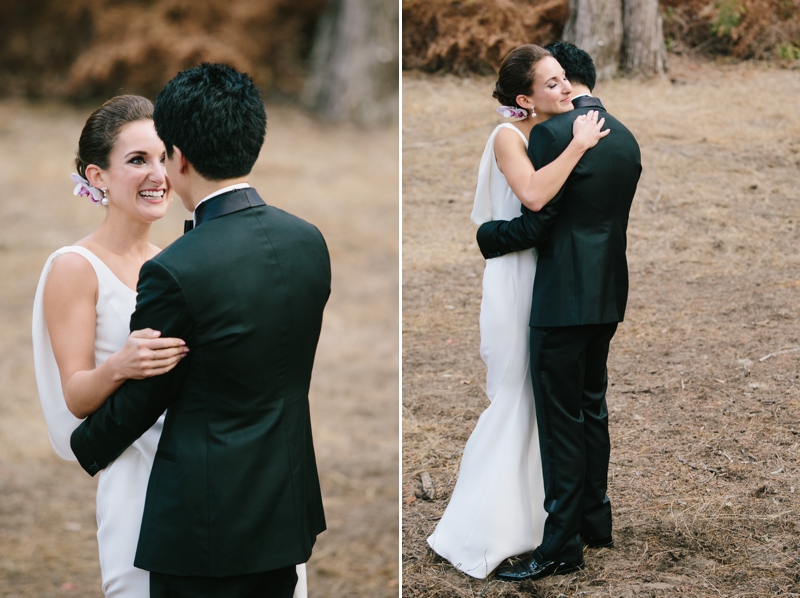 I just cannot get over how much I love these images taken in the trees. It is so beautiful in this part of San Francisco and Meredith and Nick looked amazing in the woods in all of their finery.
Gorgeous flowers!
I loved the bright bridesmaid dresses. The girls really stood out against the forest and contrasted Meredith so perfectly.
The ceremony at the Westin St. Francis was amazing. They have a gorgeous ballroom upstairs that has a full set of floor to ceiling, paneled windows. It's absolutely breathtaking and with all of the flowers and decoration, the room looked like a total dream.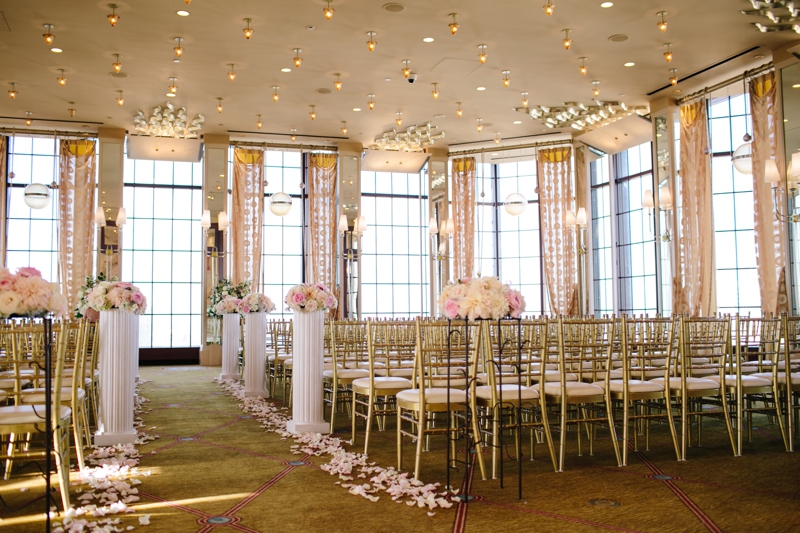 Meredith walked in to a beautiful string quartet for her Westin St Francis wedding.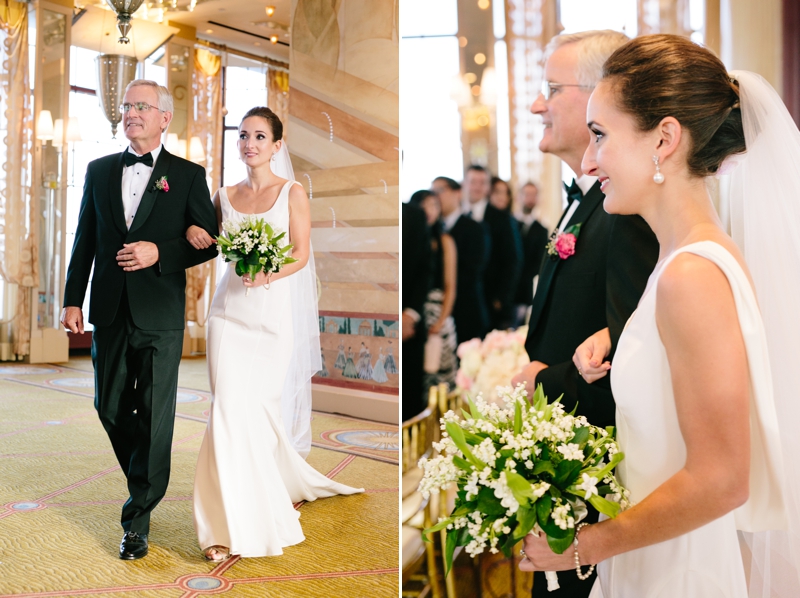 Nick's dog almost stole the show during the ceremony when she fell asleep on Meredith's dress during the vows. It was the sweetest moment.
This moment is the sweetest… Meredith and Nick were just so excited to be married to each other.
After the ceremony, we headed out onto the streets of San Francisco for some romantic, urban photos. It was a lot of fun watching them walk around San Francisco, the classiest couple we saw. It was also fun to have everybody we passed shout "Congratulations!" at them and lots of people even clapped. It was such a city experience and these two couldn't stop smiling.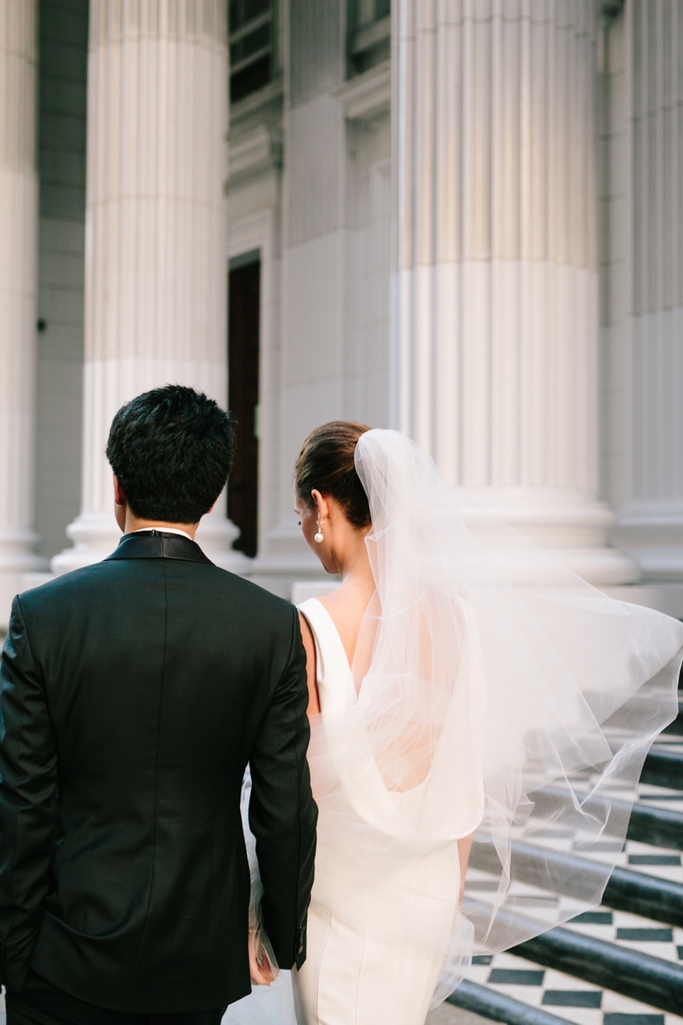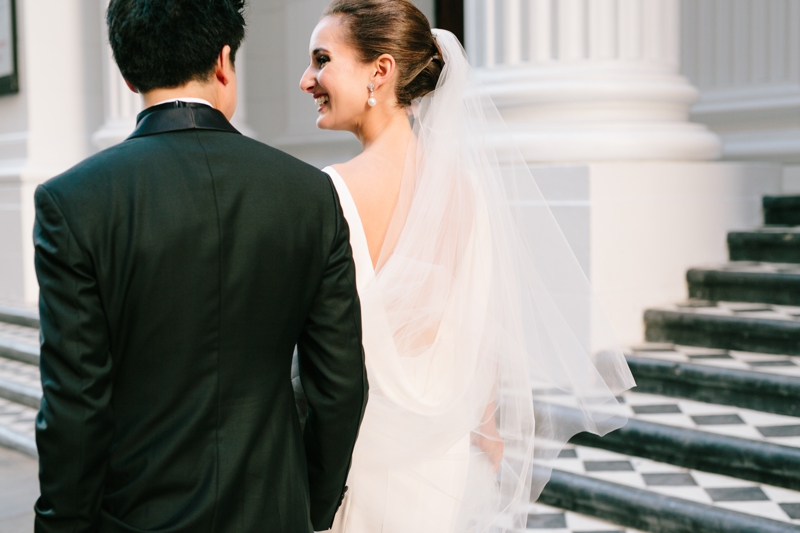 Then we headed back inside for cocktail hour. The cocktail hour was in a separate room from their Westin St Francis wedding while they re-made the ceremony room into the reception room. Also graced with tons of windows, it was the perfect place to watch the sunset over the city.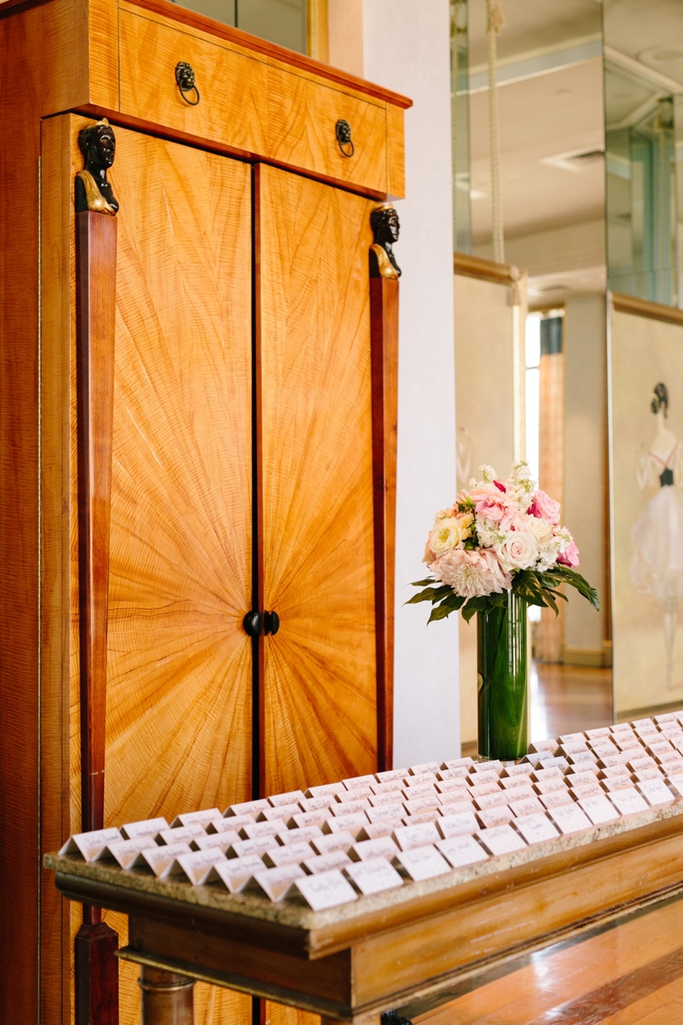 Here is Meredith's mom, looking exceptionally classy and regal. Loved her!
All the guests looked amazing in their black tie attire. I don't know if I had ever photographed a black tie wedding before, but now I can't get enough. They're stunning!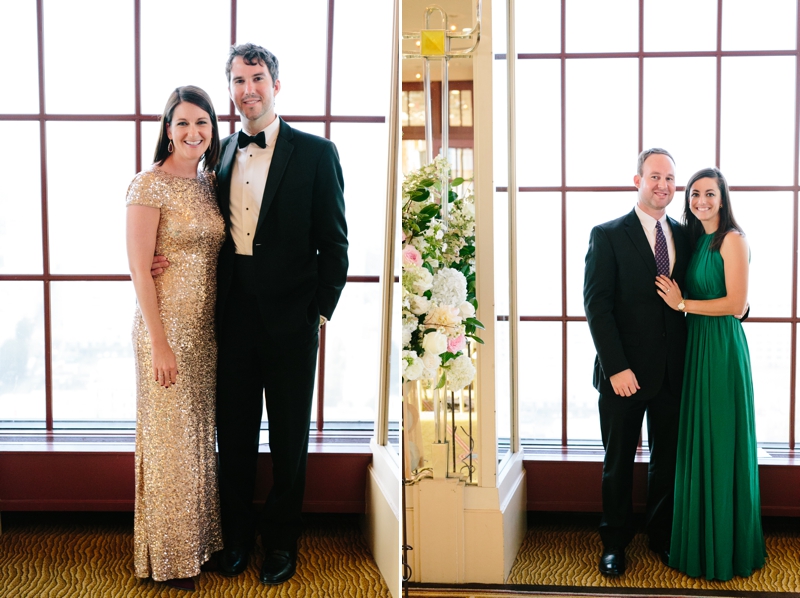 And then back to the reception hall. Look how amazing this place became! It was insane to see how quickly it transformed into a romantic, amazing reception venue.
Nick and Meredith were announced in as Mr. and Mrs. and then they swung right into their first dance. It was absolutely beautiful and they waltzed around the room to a full band, which was fabulous.
I love the first dance moment, with everybody watching them and loving them as they dance around the room looking amazing.
So sweet.
The toasts, spaced out between the courses of the meal, were touching and personal.
And funny!
Holy moly, what a cake! This beautiful castle of dessert was both gorgeous and delicious. Definitely a winning combination.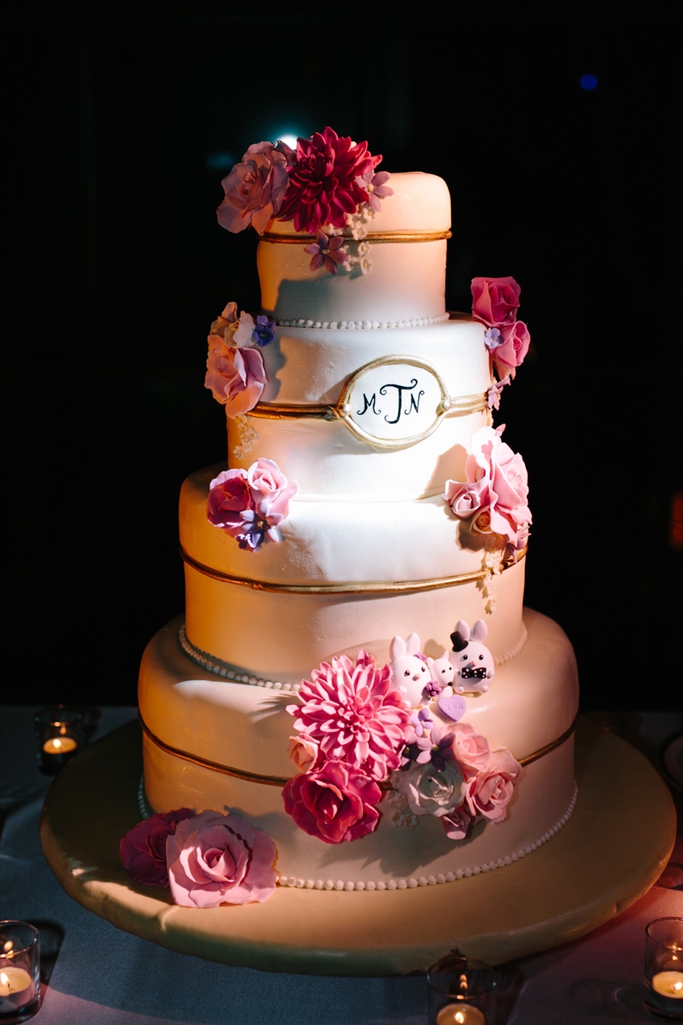 Meredith's dance with her father brought tears to my eyes. It's always one of the most emotional moments during a wedding day for me.
And then the band, San Francisco based Party Band Pop Rocks, took over the show. These guys are FANTASTIC and if you're looking for a live band for your wedding, I highly recommend them. They're absolutely phenomenal at rocking the room, getting everybody up to dance, and keeping the party going all night long. It was so much fun having them there!
This wedding was wonderful. Nick and Meredith were so beautiful and handsome all day long and the smiles they couldn't keep off of their faces are the perfect sign for what a wonderful day it was. Nick and Meredith, I wish you both the happiest of marriage and loveliest of lives! xx
The Westin St Francis
The Westin St Francis in San Francisco is located at 335 Powell St, San Francisco, CA 94102.
Browse More Classy San Francisco Weddings Here Westin St Francis Wedding Vendor Team
Vendors: Wedding Planner: Brittany Payton of A Savvy Event, Videographer: Cinematt, Florals: Floramor, Band: Pop Rocks, Hair & Makeup: Belle by Marine
See more weddings I've photographed right HERE and see Info + FAQ about having me photograph YOUR wedding right HERE.