Yosemite Wedding Photographer
Looking for my Yosemite elopement guide? Check out the complete guide to eloping in Yosemite National Park right here!
One of the greatest pleasures in the world that comes from being a Yosemite wedding photographer is getting to see the sunset over the Sierra Mountain range from the famous Glacier Point with one of the couples I work with. Half Dome stands tall on the horizon and the mountains stretch out beyond the iconic rock, catching the last light of the day in a soft and beautiful alpenglow on the mountains.
R&L headed up to Glacier Point for their first visit on this trip and we celebrated their wedding and their marriage with a gorgeous pink and orange sunset and an epic view of the mountains from above. When we arrived, Half Dome was bathed in golden, late afternoon sunlight (the *dream* for a Yosemite wedding photographer!), with just a bit of soft color in the sky. We explored the area (I've been here many times and it was my pleasure to help share this place with them), appreciated the view, and received many well wishes from other guests on vacation here at the top of Yosemite Valley. They appreciated the view and hung out with each other and I captured gorgeous photos of them in this spectacular place.
It was beautiful when we arrived and it only continued to get more and more beautiful: As the sun dipped below the horizon the sky turned pink and orange, lighting up R&L and the epic mountain range beyond in stunning colors.
I couldn't be more excited to share these Yosemite wedding photos with you today. It was a stunning spot to celebrate such a big milestone as marriage in their lives and I couldn't have been more honored to be their Yosemite wedding photographer.
Enjoy the photos!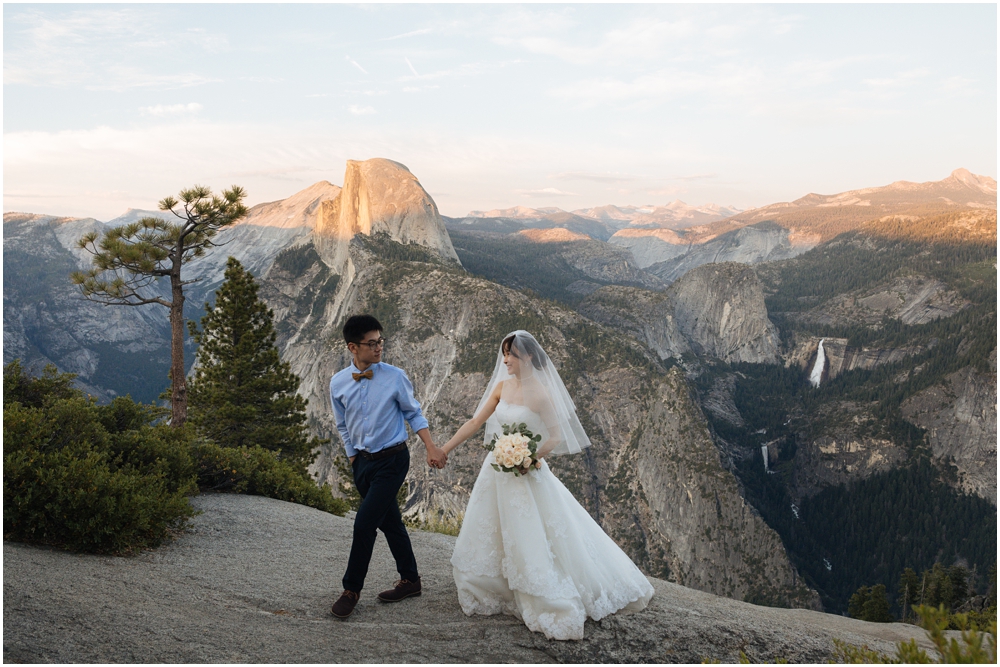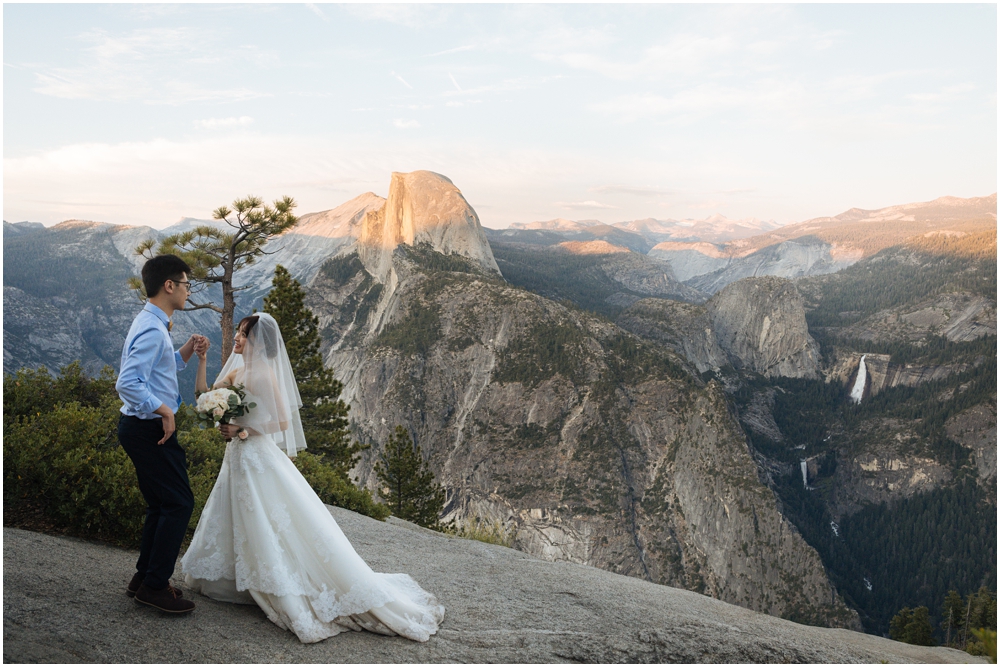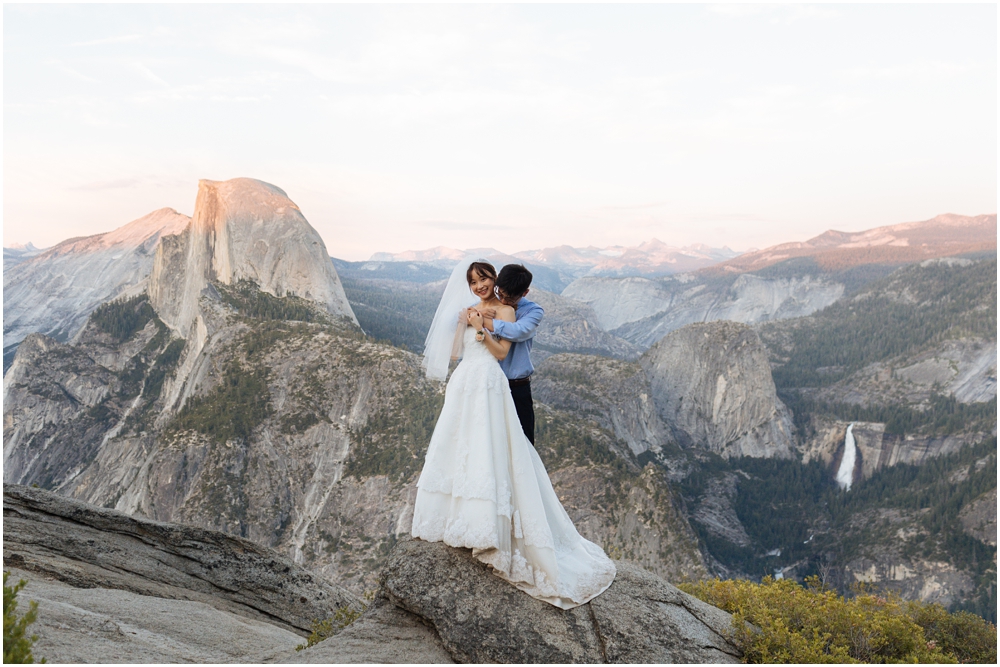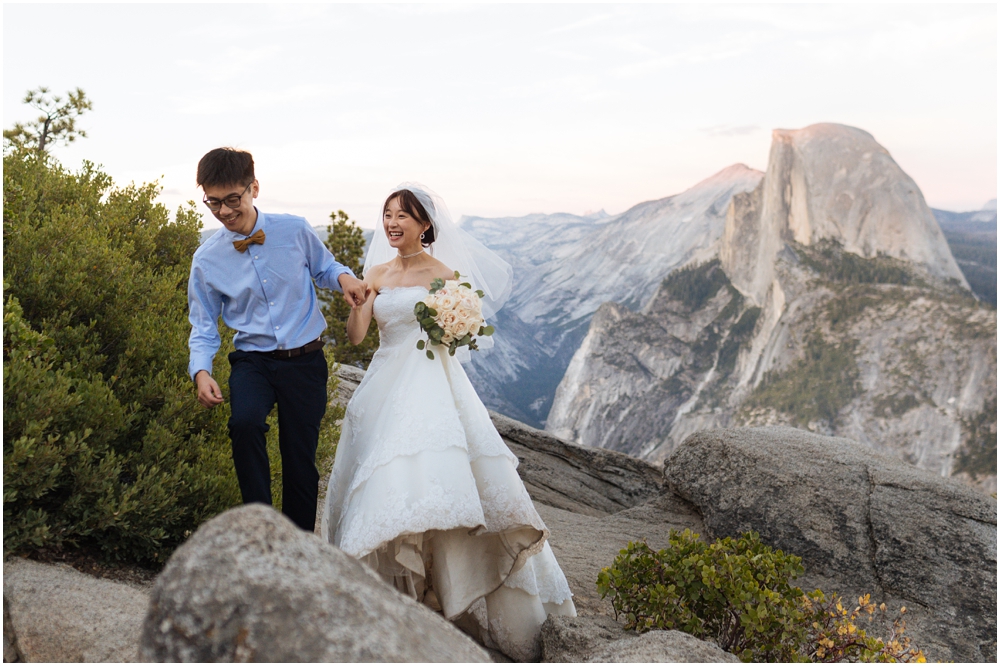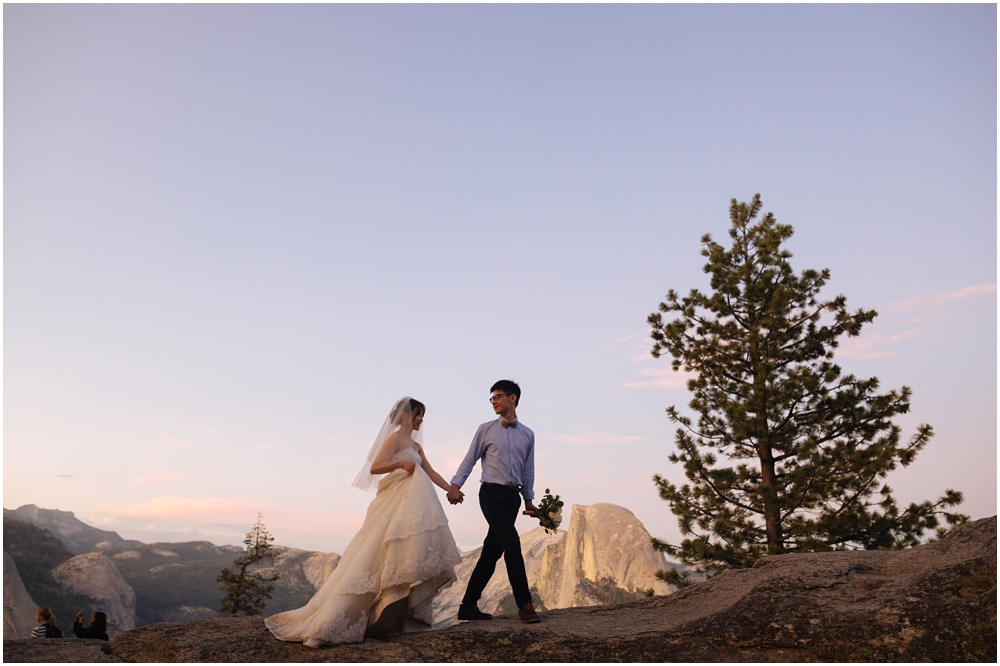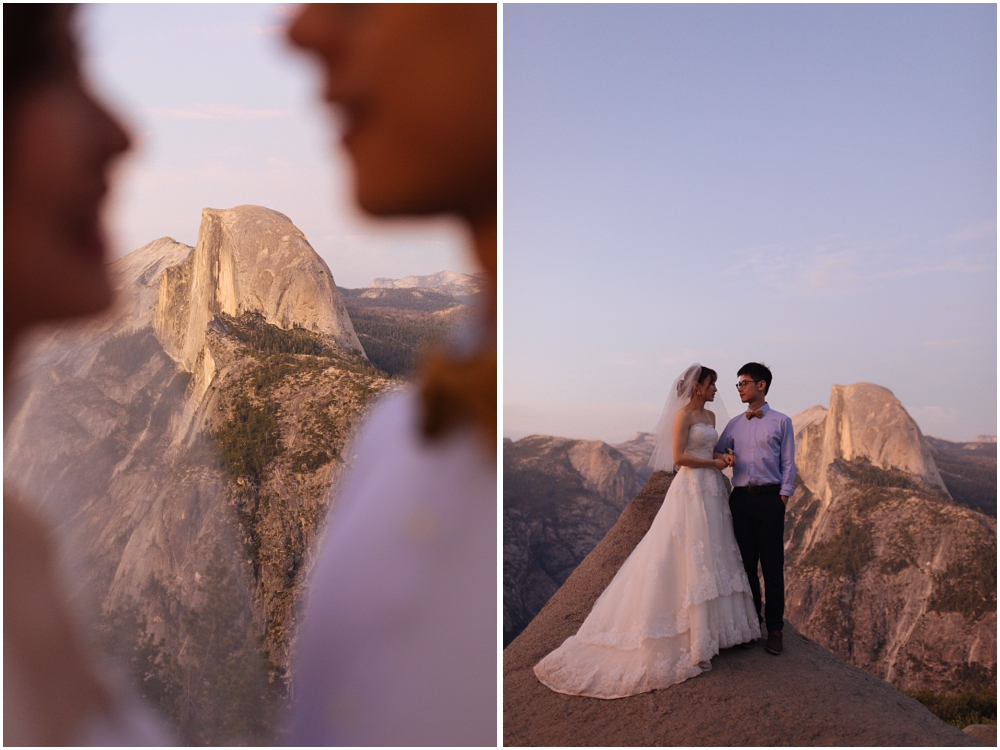 Planning for Wedding Photos at Glacier Point
Glacier Point is about a one hour drive from Yosemite Valley, or a one and a half to two hour drive from the West entrance to the park (along the 120 through Manteca from the Bay Area, passing through Groveland on your way up to the entrance). It's a gorgeous spot and easy to access with a car: You can drive right up to these epic views, no hiking required.
Because of the snow at this elevation in the winter and the long road (and difficulty of plowing this much road up here), this road is not open year round. It's a seasonal road, open in the summer time, but highly dependent on the level of snow each year. Some years the road opens in April, some roads it opens as late as June or even early July. If you're planning to have a Yosemite wedding or do your Yosemite wedding photography at Glacier Point with this epic view, it's safest to plan ahead for a July or August session.
If you're interested in this location for Yosemite wedding photos earlier or later in the year, you totally can make the plan, you just have to be willing to be flexible. (Yosemite Valley in the snow is also absolutely beautiful and would be a gorgeous place for winter Yosemite wedding photos.)
You can check the condition of the road and whether or not it is open right here.
Glacier Point Winter Access
If you're interested in getting married in Yosemite at Glacier Point in the Winter, you totally can! You can even have the entire place to yourself! The access is much more difficult though and the scene will be completely different. Glacier Point in winter is accessed by a 10.5 mile each direction hike, in snowshoes or cross country skies. You can read more about this difficult but rewarding trail on AllTrails right here. I'm not a cross country skier, but I would absolutely love to do this as a snowshoeing trip with an adventurous couple interested in once in a lifetime and absolutely stunning Yosemite wedding photos in the snow… with an epic view. You'd have the place to yourself (or almost) and it would be an epic place to overnight for a sunrise or sunset wedding photo session with Yosemite in the snow at dawn or dusk. Wow!
Yosemite Wedding Photo Permit
Yosemite weddings and Yosemite wedding photos require a permit to be permitted. Anybody seen taking photos by a ranger can and will be requested to show their permit. Simple wedding photos like this one require a single day, one time use permit organized through the Wedding and Photography Permit Office in Yosemite National Park. It costs $150 and because of processing times, it is recommended to start the application process about two months before the session, although sometimes closer to the photos or the wedding can also be accommodated.
When you apply for a Yosemite wedding permit, you are essentially applying for a Yosemite elopement permit, which allows you to have your wedding in Yosemite but then writing "Wedding Photos Only" onto the permit. From there, you are assigned a time slot and location for your wedding, but the permit grants you additional access to the entire park for wedding photos throughout the entire day. You would need an additional permit for an additional day of wedding photos.
You can read more about the permit process for Yosemite weddings and wedding photos here.
More Yosemite Wedding Photos to Browse
See more photos from Yosemite National Park here with these Yosemite Valley wedding photos, down by the Merced River where the trees shade the sun, the granite mountains rise out of the valley, and the meadow is the main focus. So beautiful!
These Evergreen Lodge wedding photos are also a treat. Evergreen Lodge is located just a couple of miles outside of Yosemite National Park, in the trees, and is a beautiful place for a Yosemite wedding. I've loved being a part of ceremonies in the forest here and receptions on their main lawn, below the evergreen trees. Rush Creek Lodge, also right outside the Yosemite National Park boundary, is owned by the same team and also hosts weddings.
Yosemite Wedding Venues
Elope in Yosemite!
Eloping in Yosemite is SUPER EASY and super fun! There are a million gorgeous spots to say your vows, insane views and pretty places to snap photos before or after you're married, and as many or as few crowds as you're interested in.
Elope in Yosemite Wedding Cost
There's a $150 photo and permit fee to get married in the park, plus a Yosemite National Park entrance fee ($30 for one vehicle for seven days with in and out privileges, or $80 for a US National Parks Pass that will get you in and out of every single one of our national parks for the entire year). Other than that, everything is up to you! Your wedding budget will be travel costs to Yosemite, a place to stay or camp (I send a list of recommendations for where to stay to every Yosemite client I work with!), your outfits, hair and make up, food, photography and videography, an officiant, etc.
Evergreen Lodge
Evergreen Lodge is located just a few miles outside of the Big Oak Flat (Western) entrance to Yosemite Park, which means it's about an hour to Yosemite Valley, about two hours to Glacier Point. It's a super comfy hotel with great places for getting ready, a few different and super cute spots for ceremonies, and an excellent outdoor grass/patio area for dinner, toasts, and dancing. It's the perfect spot to host your Yosemite wedding if you want to have more guests than an elopement and a sit down dinner, dancing, etc. It's not *inside* the park and I don't recommend scheduling photos inside the park on your wedding day if you get married here, but it's the perfect spot to pair with Yosemite wedding photos: Get up to Glacier Point for sunset the day before or after your wedding (you could have a first look there the day before you get married, for example, or just head up there the day or two afterwards for an epic sunset or sunrise view with your new husband/wife/whatever).
Learn more about getting married at the Evergreen Lodge through their site here: Evergreen Lodge Yosemite Wedding Venue
Browse photos from a past Yosemite wedding at Evergreen Lodge that I photographed here: Evergreen Lodge Wedding Yosemite
Evergreen Lodge Wedding Cost
Similar to Rush Creek Lodge (the sister property), the rental fee is ~$5,500, meals are ~$50/person, drinks are $9/each for cocktails, $21/person for wine, and kegs of beer can cost $500. For a 75 person wedding, with rehearsal dinner and meals for that, plus a dance floor, bartender, bridal getting ready room and much much more, you could be looking at a cost of about $25,000 for a 75 person wedding here, inclusive of food and most services (but not photography).
Rush Creek Lodge
Rush Creek Lodge is the sister property to the Evergreen Lodge and owned by the same people. I can say a lot of the same things about this place: It's just a couple of miles outside of the park's western entrance at Big Oak Flat, it's a perfect spot for an excellent wedding with dinner, reception, etc., it's easy access to the park for Yosemite wedding photos the next day or before your wedding, and it's super cute and cozy and nice!
Learn more about getting married at the Rush Creek Lodge through their site here: Rush Creek Lodge Lodge Yosemite Wedding Venue
Rush Creek Lodge Wedding Cost
Rental Fee is $5,500, meals are ~$50/person, drinks are $9/each for cocktails, $21/person for wine, and kegs of beer can cost $500. For a 75 person wedding, with rehearsal dinner and meals for that, plus a dance floor, bartender, bridal getting ready room and much much more, you could be looking at a cost of about $25,000 for a 75 person wedding here, inclusive of food and most services (but not photography).
Yosemite Valley Chapel
Reserve your date at the Yosemite Valley Chapel by calling the phone number here: Yosemite Valley Chapel Wedding
The Ahwahnee in Yosemite National Park
Learn more about getting married at The Ahwahnee through their site here: The Ahwahnee Yosemite Wedding Venue