Mammoth Elopement Photographer
I am SO excited about these Mammoth elopement photos! I absolutely love the Eastern Sierra mountains and getting a chance to photograph a couple in them is always a dream. These two were the best: Y and L spent the day before these photos hiking to the top of a peak in Bridgeport, California, then spent the night in their truck home on wheels (adventure mobile!). We met up before dawn to get ready: Changing into the pretty dress, plus I put together a simple hairstyle for Y (we hung out at my campsite with headlamps and hairspray).
There were a few star photos in the yellow aspens which I love the most. I want to photograph more couples with the stars! Star photos and astrophotography is a personal hobby of mine and getting to combine that magic with my love of and job of photographing couples was a true dream. This was a bit of a last minute add in before we headed out to photograph them eloping in Mammoth, but I am so happy with how it turned out and cannot wait to photograph more couples with the stars on their adventure photo shoots in Mammoth and elsewhere in the Sierra mountains.
From there, we headed up the watershed to a pretty spot just outside of Mammoth, California, that I scouted for them. I actually help all of my couples scout their perfect locations and many have never been to and never knew about the spot we eventually photograph them in. Whether you're eloping or just looking for pretty couples photos, you don't need to know where exactly we'll go! Somewhere epic, somewhere in the mountains, somewhere along the coast, or somewhere in a pretty city on your list for epic photos? Guess what, I'll help you brainstorm your dream spot and then take it from there, finding and suggesting exactly the right location for you to elope. It's a super fun part of the process and inspiring and exciting you with pretty locations is part of my job!
Anyways! We caught a stunning sunrise on the mountains: Super super pink alpenglow! There were yellow fall leaves on the aspens that lit up as the sun rose. The lake was perfectly still and gave us a magical reflection.
Was it cold? Absolutely! Mammoth is freezing at sunrise in October and this morning was no joke. These two wanted photos without their jackets and totally braved the weather for it: There are some hand warmers hidden away for emergency finger warming, plus warm pants on under Y's dress. They ended this elopement photo session by heading into Mammoth for hot breakfast (and blasting the heat along the way).
After an epic, alpenglow sunrise in the morning, we headed back down into the aspens for some stunning Fall portraits, really taking advantage of this magical season and making the most of all of the prettiness.
I loved everything about spending the morning with Y&L, hearing all about their mountain adventures, and celebrating their love in one of their favorite places. I am so excited for you to see these images and cannot wait to capture you and your best friend! <3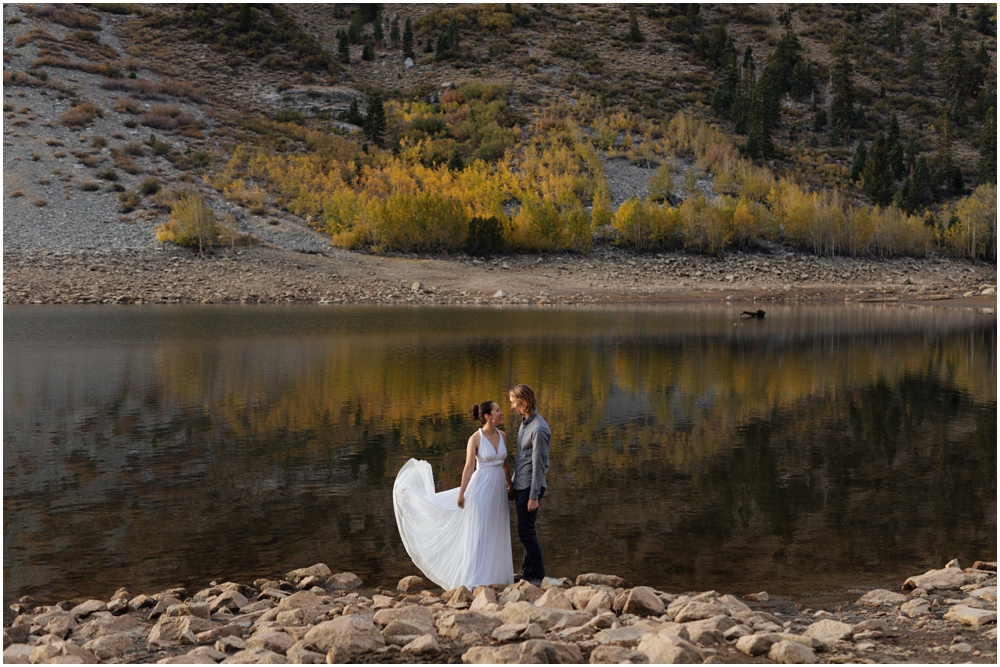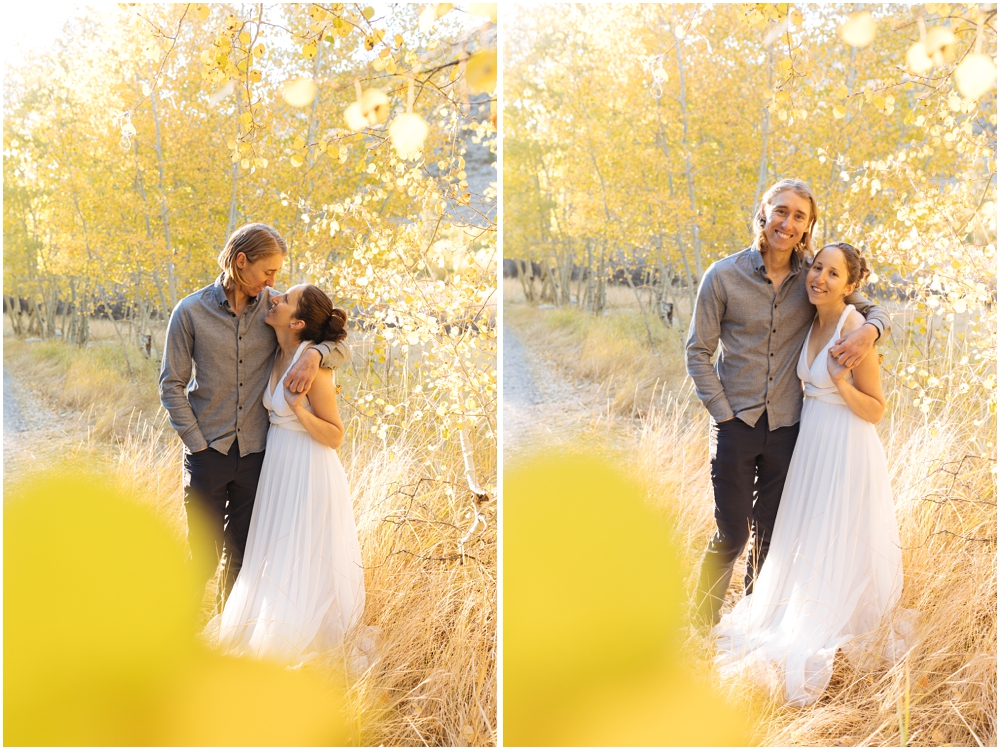 Browse more Elopement Photos Here
I love photographing elopements in Mammoth, California, and elsewhere! Click through below to browse other elopements that I've photographed, from Yosemite National Park to Lake Tahoe and along the California coast. I capture weddings, elopements, and engagement photo sessions everywhere: California and beyond! I travel regularly, love the mountains, geek out over exceptional sunsets, and more. I cannot wait to capture your beautiful session! Mammoth, California
Mammoth, California, is located on the East side of the Sierra Mountains. You can read more about Mammoth on their tourism board's website here.