Half Moon Bay Golf Links Wedding
I am so excited to share Aparajita and Jawahar's Half Moon Bay Golf Links wedding with you today! This couple is so sweet and we had so much fun celebrating their marriage. I am so glad I was there to document the day! :)
We started at the Half Moon Bay Lodge, where Aparajita got ready with the help of her sister, her friends, her mom, and her husband-to-be's mom. It was a lovely way to start the morning.
Aparajita had lots of beautiful bangles and I was so excited by the color and beauty of her wedding sari. It looked stunning on her! Doesn't she look like a queen?
I was particularly obsessed with her gorgeous engagement ring and beautiful wedding band. I love the detail and design of the band! Wow.
And one with the stunning pink peony from her bouquet… Amazing! One thing that I loved was that Aparajita and Jawahar walked down the aisle to get married together! It was a sweet moment. And not only did they come in to their wedding ceremony together, but they actually danced all the way in! Such a fun start to a lifetime together.
So much happiness.
Here's the lovely ceremony site with the ocean as a background. Simple and stunning.
Sealed with a kiss!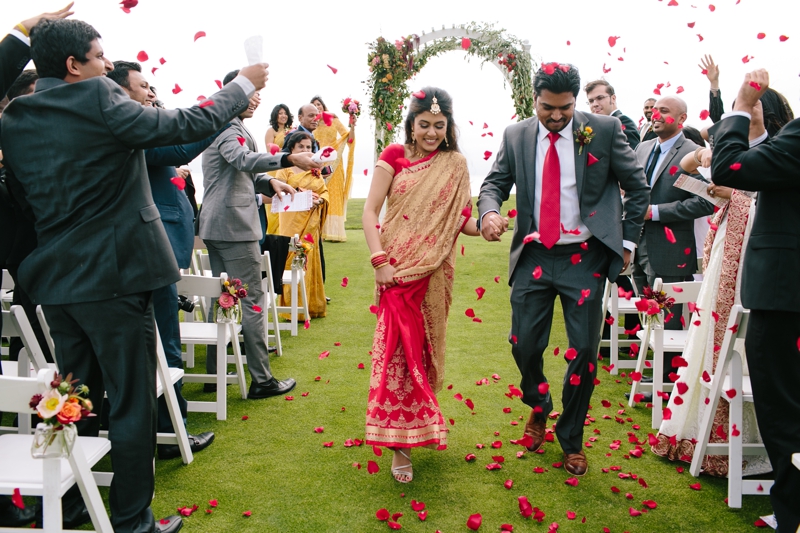 I loved this exit, with the thrown flower petals. It's always fun when guests have a tangible way to show their excitement and share in the celebration. I definitely recommend giving your guests something fun to throw as you exit down the aisle!
Here are the lovely ladies! I couldn't get over how beautiful they looked – everything from their saris to the flowers came together perfectly.
Gorgeous! Of course, the venue is pretty dang stunning, too. I love this view of the ocean!
After the ceremony, we headed down to the beach to get some beautiful images of the bridal party. I love these photos – their colorful outfits and flowers really stand out against the backdrop of the beautiful, overcast day at the ocean.
And then I sent the bridal party off to hang out so I could get some lovely images of the couple by themselves.
They are so sweet together and so happy. I love these!
Gorgeous girl! You made such a stunning bride, Aparajita.
And those flowers! Holy moly! Incredible.
Jawahar looked pretty handsome himself!
I love the way the ocean looked. So dreamy.
A few sweet ones of the newlyweds on the bridge. Love this spot.
And then we headed up to the 18th hole to get some with the ocean in the background.
After pictures, it was time for the party!
This cake makes me laugh. haha!

The toasts were full of sweet moments and lots of love.
And the decor, keeping with the gorgeous flowers, was absolutely lovely.
The dancing got started with a beautiful first dance by the couple.
And then they were joined by their friends to dance the night away!
Aparajita and Jawahar, thank you both so much for having me along to celebrate with you! I had a wonderful time and wish you all the best for a marriage filled with love and happiness.
Vendor list: Photographer – Simone Anne, Venue – Half Moon Bay Golf Links, Getting ready location – Half Moon Bay Lodge, Videographer – Seafoam Films
Half Moon Bay Golf Links
The Half Moon Bay Golf Links is located at 2 Miramontes Point Rd, Half Moon Bay, CA 94019, right next to the Half Moon Bay Ritz Carlton and sharing an entrance and driveway. It's a beautiful spot for a wedding, with a ceremony site overlooking the ocean and a nice reception hall for cocktail hour, dinner, and dancing.
Browse more Half Moon Bay Weddings
For more weddings that I've photographed, see HERE. I'm available to photograph weddings in California and around the world.