Barndiva Wedding
Polly and Troy's Barndiva Wedding in Healdsburg, California was a stunning, dreamy, and romantic affair. I loved everything about this day, from the beginning, getting ready with their good friends, to the end, when they danced the night away with big smiles on their faces.
I started with the guys, while Robin was capturing Polly and the ladies getting ready at the Hotel Healdsburg. Troy looked really sharp in his tux and fancy shoes. I knew immediately that this guy knows how to dress well!
The guys spent a significant part of the morning brushing up on their bow-tying skills in the mirror. Special thanks to YouTube for coming in with the save on that! ;)
The h2hotel in downtown Healdsburg is absolutely beautiful. We were lucky with all of the space in this beautifully designed space… plenty of room for the guys to spread out in as they got ready!

Here are some of the guys (including Troy's dad on the left there!) helping Polly's dad get all spiffed up for his daughter's wedding. I loved that he was the lucky one who went back and forth between the ladies and the gents. He got to see his daughter in the morning, spend some time getting ready with the guys, and then headed back to see his baby girl in her wedding dress. It's really nice when the two hotels where the bridal party and family get ready together are only a block away!
Polly and Troy exchanged gifts and cards before their wedding, too. Troy sent Polly a beautiful piece of jewelry and Polly sent Troy an amazing coat he had been eyeing from Burberry. Lucky guy!
As if that weren't enough, she also tracked down the wine they enjoyed on their first date, back in 2011, and labeled a bottle for their one year anniversary, five year anniversary, and ten year anniversary. SO sweet!
The guys headed downstairs for photos, but first, they stopped at the h2hotel's famous bar, The Spoon Bar! The bartender served up some beautiful, fruity, spicy shots… She even gave me one! I don't normally drink at weddings, but this seemed like a special occasion and I was happy to cheers to Polly and Troy with the guys! :)
Here's Troy looking dapper and SO ready to see his bride.
Everything about how excited he was in these moments led up to what I can only say was one of the sweetest and most emotional first looks I have ever had the pleasure of photographing… SO cute.
(But first… the boys' boutonnières!)
Here is what the groomsmen wore…

And here's what adorned Troy's jacket. Looking good!
And then Polly arrived, in the most amazing, dreamy dress you have ever seen. She's a stunning woman and this dress only lit her up even more. She looked absolutely radiant as she headed in to see her soon to be husband for the first time this day!
Troy was blown away by the dress and SO happy to see Polly. He immediately teared up, pulled her in for a hug and a kiss, and simply could not stop saying how absolutely AMAZING she looked. He was right, of course, but it was so sweet to see. So sweet.
See what I'm talking about? xo
Polly did a few turns to show off her dress, which prompted more happy tears and excited exclamations and declarations of love. I was so excited by this response and I can only imagine how these two felt.
After the excitement had been let out a bit, we wandered around downtown Healdsburg to get some photos of the two of them alone, before meeting up with their bridal party and families for more photos.
These shots were taken back at the Healdsburg hotel where Polly got ready. Those doors are just so good! I love the color against the metal background.

Aren't these two just SO cute?! They couldn't stop smiling at each other. So in love!
Polly's bouquet was absolutely AMAZING! Seriously. I loved the mix of bright dahlias and greenery. It was perfect for a Fall wedding up in wine country (where it still feels like Summer half way through October!).

I love the way this shot shows off the detail in Polly's dress. Wow.
These shots of Polly and Troy against the living wall might be some of my favorites from the whole day.

Swoon!
And again. Polly and Troy were SO good together and so easy to photograph. You really get the sense of how much they love each other and how easy it is for them to be together. I loved it!
We met up with their bridal party for some great shots. I loved all the space we had at the Hotel Healdsburg.
Some beautiful bridesmaid bouquets…

I really loved how they complemented the dresses without being exactly the same (just like the dresses were mix and match, so were the bridesmaids' bouquets!).
Polly gave each of her maids this lovely pair of earrings and they set off the whole ensemble absolutely perfectly. Just the right touch of gold and glam sparkle without being overboard!
So pretty!
I snagged a few shots of the ladies with all of their flowers.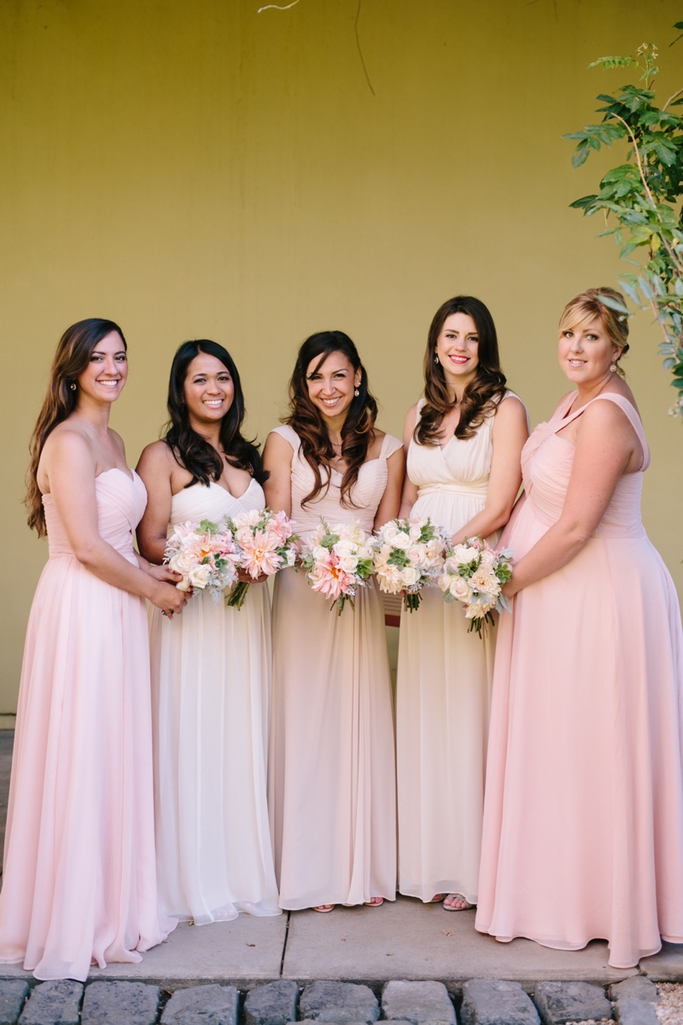 And all of their beautiful dresses, mixed and matched! Two (!) of Polly's maid's were married and pregnant. It will be so much fun for them to look back at these wedding photos and remember how they were pregnant at one of their best friend's weddings!
Polly, you were such a dream.
When we finished portraits, it was time to get them married! They did a simple and beautiful set up for the ceremony at Barndiva (which is a FANTASTIC place for a wedding!) – just these vintage gates decorated with flowers. The chairs for the ceremony were set up under the trees and the trees were lit up with sweet twinkle lights. It was romantic and intimate. (And not too hot at all!)
Here's Troy waiting for his lovely bride…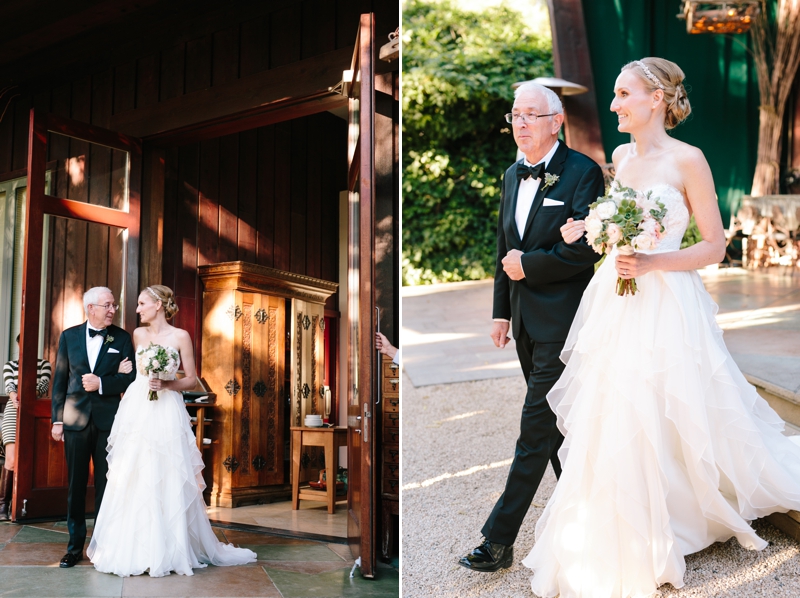 … and here she is coming down the aisle with her Dad!
The ceremony was wonderful. Personal, touching, romantic, and full of stories of Polly and Troy. I loved it and they did, too.

Their vows were the sweetest and the entire ceremony they couldn't keep their eyes off of each other. It was the best.
Woohoo! Congrats, you two! :)
Barndiva did an amazing job with the reception area set-up. It looked SO good out here!
There was a quick cocktail hour in the gallery, but they these two were introduced as Mr. & Mrs. to loud cheers and happy exclamations!
Look how lovely the dinner area was with all the twinkle lights at dusk… It really felt like the most magical and dreamy dinner party you could have ever imagined. Is this not the most romantic Barndiva wedding reception look ever?
Here's the view looking back at Barndiva. So hip, right? This place serves AMAZING food and drink – guests were SO happy all evening. I also really LOVE the T –> M sign… A lovely little added twinkle and personality.
Hey, cuties! :)
I loved this sweet little cake that Polly and Troy cut, decorated with flowers from Polly's bouquet, if you can believe it! They also had an amazing dessert bar, complete with chocolate ganache brownies, chocolate mousse cups, blueberry cake, and more. Yum!
The toasts were absolutely fantastic – they had Polly and Troy alternately tearing up with laughter and then tearing up with sweet sentiments and happiness. The perfect combo.
I really loved Polly's hair! So chic and it held juuust right all night long.
After the desserts were mostly consumed, coffee was sipped, and toasts were raised, the entire party headed inside. The inside of Barndiva is a fantastic and interesting art gallery with a large dance floor in the middle. With art on the walls and music setting the mood, Polly and Troy had the sweetest first dance.
How about that dress on a spin!
So sweet!
Polly finished with a dance with her father and then they all got the party started! Such a fun way to end this Barndiva wedding.
Polly and Troy, thank you SO much for having us along to shoot your wedding! It's easy to see how happy you are when you are together. I wish you all the best for a wonderful life filled with happiness and good fortune!
Barndiva
Barndiva is located at Studio Barndiva, 237 Center St, Healdsburg, CA 95448 in Downtown Healdsburg.
Browse more Wine Country Work: Healdsburg and Beyond!
Healdsburg has so many gorgeous spots for weddings! Whether you opt for a Barndiva wedding or another gorgeous spot, browse venues and photo galleries below! Browse my wedding photography portfolio here and wedding photos on my blog here. A few weddings you might love if you loved this one: Meritage Resort wedding with an epic first dance | Kirigin Cellars wedding with a horse and carriage! | An intimate and sweet Berkeley Botanical Garden wedding | A super sweet Quail Lodge wedding in Carmel