Haas School of Business Grad Photos
Erica and I met up last week on the Cal campus to photograph her UC Berkeley graduation photos and, honestly, I couldn't be happier with the results. We had a gorgeous sunny day (the kind that really makes you never want to graduate from this magical little haven), and Erica totally rocked her beautiful red dress (and heels!) all over campus.
Of course, we started with Sather Gate. It's pretty much a rule that you can't graduate from Cal without taking a photo under Sather Gate. I did it, you did it if you went to Cal (or ever visited), and now Erica has frame worthy photos of her under this iconic gate. (It actually used to be the entrance to Cal, back in the horse and carriage days.)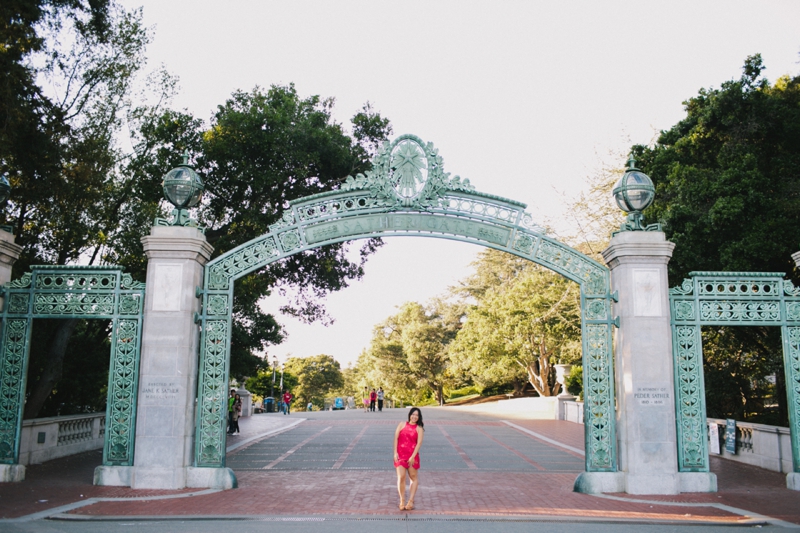 This rule of "musts" also applies for the Campanile. The dramatic lighting in this shot makes it one of my favorite campanile photos to date. Cannot go wrong with a stunning sunset, red dress, and the Cal campus!
We headed down the hill towards the Valley Life Sciences Building (VLSB is its common moniker) just to chase this light. And, whoa! So pretty.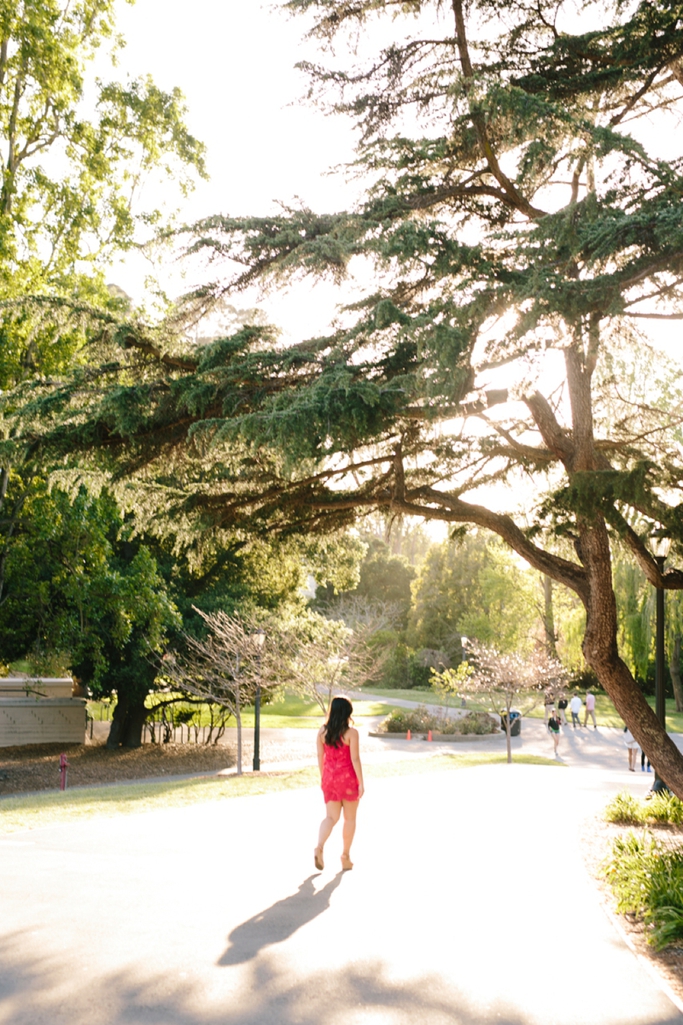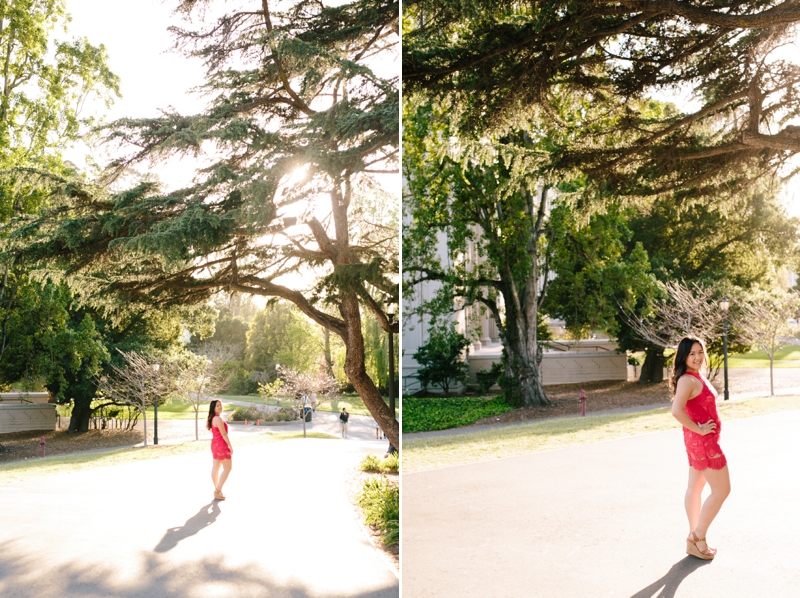 Here's a great professional shot. Erica, I expect to see this on any professional social media accounts you use. I love it because it's relaxed, pretty, and powerful. (I always try and get a good LinkedIn headshot for my senior sessions to use going forward!)
We also headed to the Hearst Mining Building, but mostly because it's got to be the prettiest building at Cal. I myself had a fair number of classes here as well and I have to say, it's just as lovely inside. So collegiate, don't you think?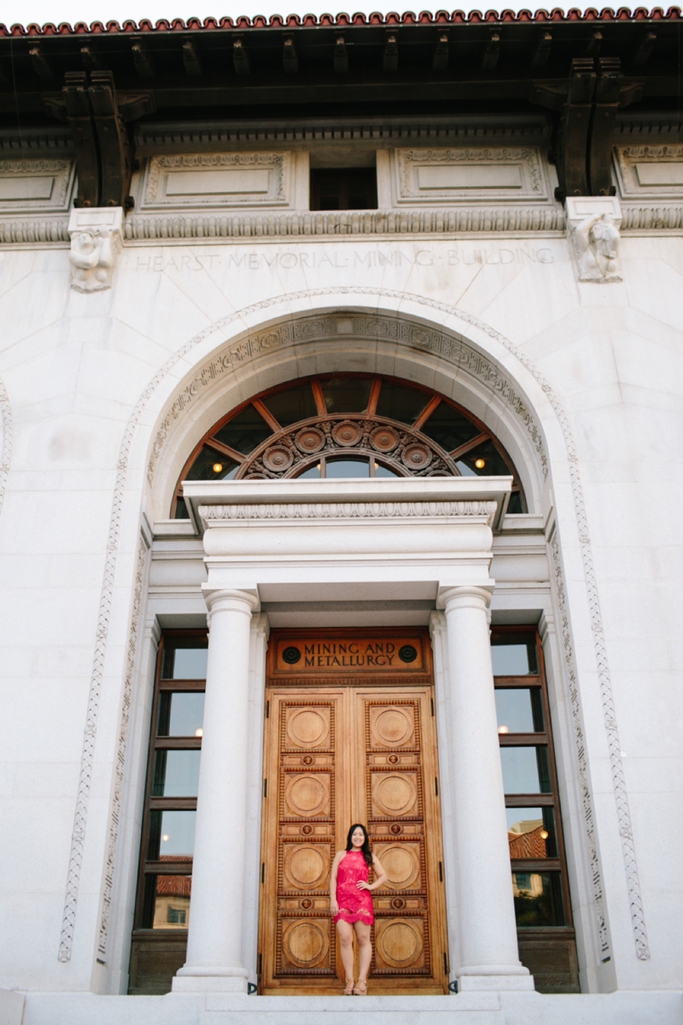 We also had absolutely the prettiest light here and these relaxed portraits with the white stone behind her are such flattering images, don't you think?
Fierce!
Erica was a total natural in front of the camera and it shows! Doesn't she look like a model in these shots? I can't get over those legs that go on for days! Work it, girl! (Also loving all her pretty outfit details: The brown shoes and gold details set off her hair just right, especially in the sunshine.)
Last but not least, we headed up to Haas. Erica is soon to be a business school graduate and we wanted to mark the occasion with images taken at her actual school within the Cal campus.
First stop, lilacs.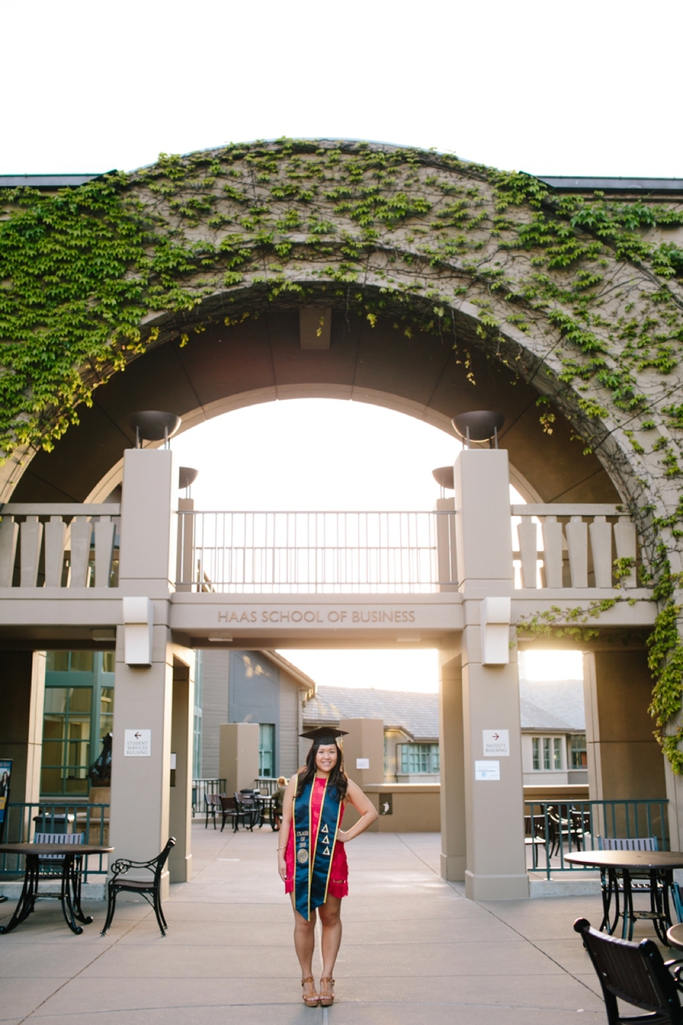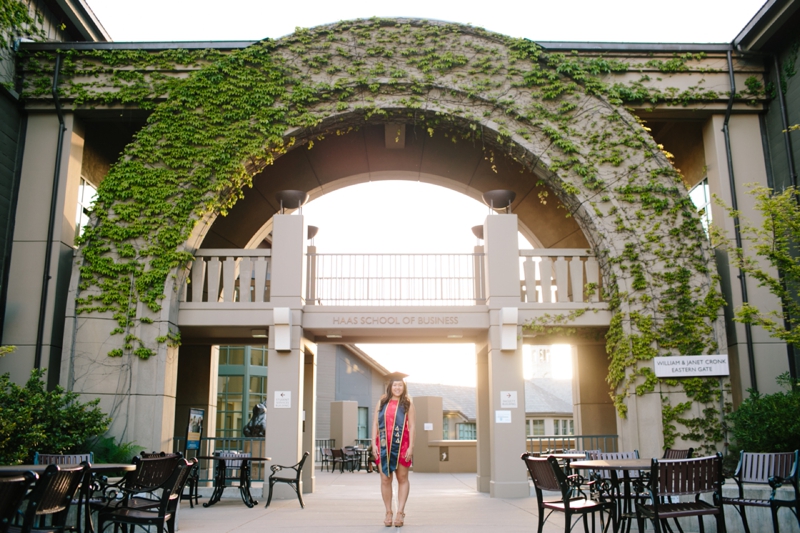 Second stop, the entrance arch. Are you even kidding me with the ivy, the golden sunshine, and that outfit? Yay graduation!
Erica opted not to wear her gown, since they aren't the most flattering things, but I love these images with her cap and sash.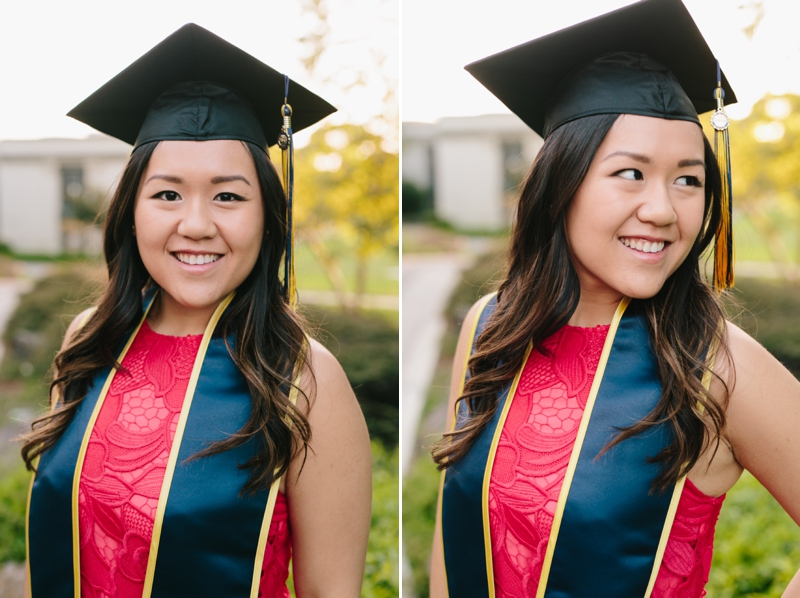 Gorgeous!
Last but certainly not least, we circle around to Doe Library, which is probably my absolute favorite building on campus, if I had to pick just one. Take the beauty of Doe and add the loveliness of a historic library, and you've got this. Did you know that all of UC Berkeley's libraries combined make it the 4th largest university library in the US? (Harvard, Yale, and the University of Illinois at Urbana-Champaign are the only three that beat us out. Hey now, Stanford! ;) )
While we walked around campus before this, we spotted other groups of students getting their photos taken in front of campus, but when we got there as the sunset really set it, we had it all to ourselves. I'm really happy about this… we got the best light AND to take plenty of time here! Win-win.
Erica, thank you so much for being such a dream to work with and so much fun to hang out with and photograph. Have an amazing rest of your semester, soak up everything about Cal and your time here, and then enjoy the heck out of graduation, a new job, and your move to San Francisco. I can't wait to see what you do!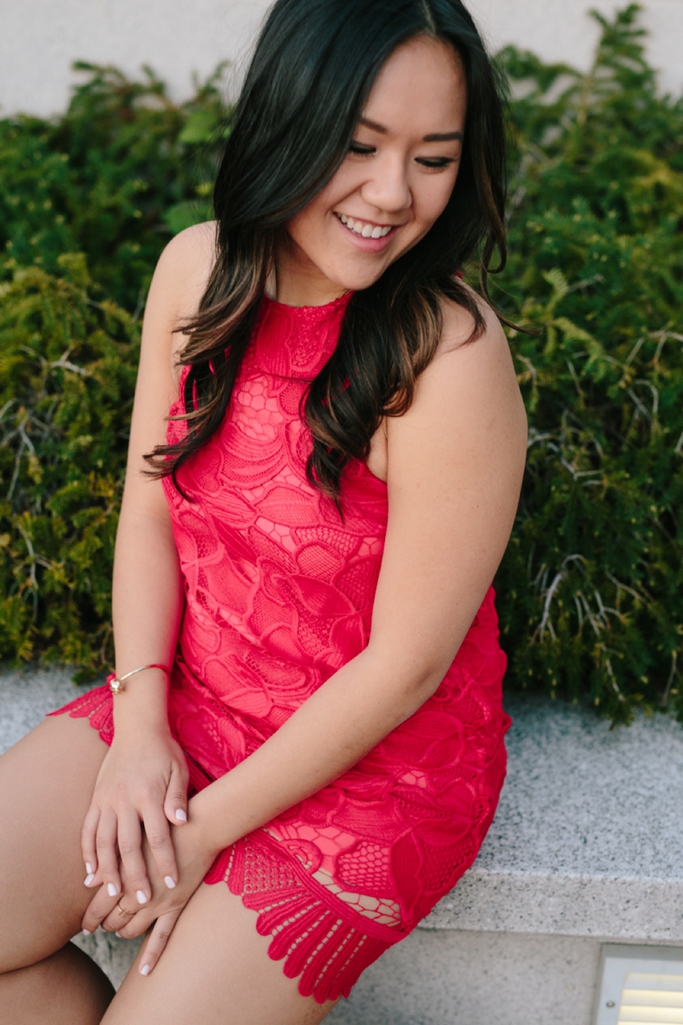 Go bears!
To see more Graduation Photos that I've taken, click HERE. I actually started this business while I was at Cal and so I have many many graduation sessions. I love them all and think so many reflect the true Cal spirit of the seniors that I've been priviledged to work with.
p.s. HERE is a UC Berkeley engagement session that I love and a Cal themed marriage proposal. omg.