La Nebbia Winery Wedding
I am SO in love with Katherine and Mike's La Nebbia Winery Wedding… Literally everything about this day was absolutely perfect and I couldn't be happier for them.
I started the morning with Mike and his groomsmen, where many minutes were spent learning how to tie a tie. It was fun hanging out with them in the morning (they got ready at the Coastside Inn in Half Moon Bay) and I was so happy with how dapper they turned out. Mike, you clean up well! ;)
From there, I headed over to the ladies, where Katherine was almost ready to get her dress on. They had a gorgeous, moody ocean view from the Cypress Inn on Miramar Beach and they popped champagne, enjoyed the view, and reveled in the last moments before Katherine put her wedding dress on. There was so much excitement in the air!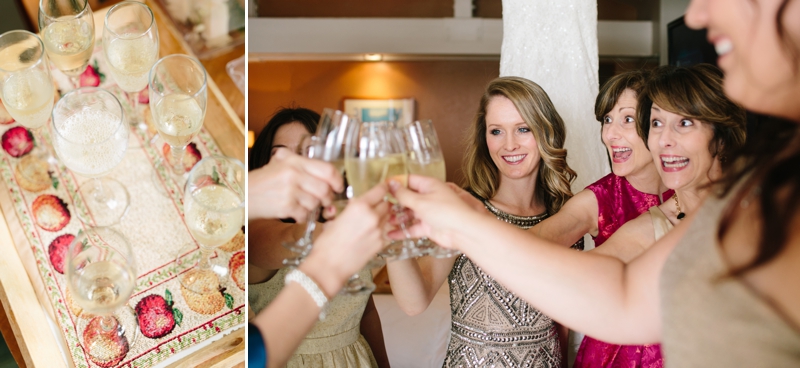 Here's Katherine, looking stunning (as usual). I loved her beautiful, deep blue robe. It was the perfect thing to set off her hair and make up in the morning, before she got her dress on.
Special thanks to Jenny Rico at the Aqua Beauty Lounge in Half Moon Bay for Katherine's hair and make-up. She looked absolutely radiant and her hair stayed 100% perfect all day and night long. She really rocked it!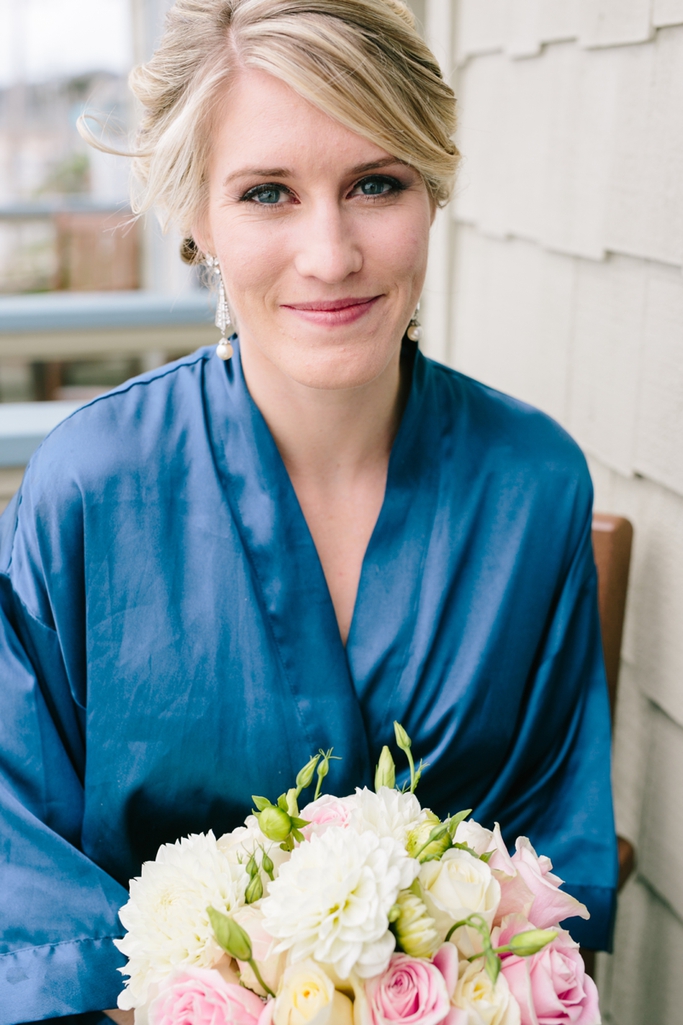 … and they she put her dress on! It is SUCH a pretty one and she looked so relaxed, happy, and of course, gorgeous in it.
That's Katherine's lovely Mamma helping her get her dress on right there. Katherine and I actually grew up together – we ran cross country together in high school and her mom taught me PE in 4th & 5th grade. It was SO special to be there on this day with their family. I always love wedding days, but they are even more exciting (if that's possible!) when you've known the people involved for so long. Love you ladies! xo
Katherine and Mike opted for a first look so that they could have more time to take photos before the wedding… and more time to celebrate with friends and family who had come from all over the country for their wedding.
I absolutely love the first moment a couple sees each other on their wedding day. Katherine and Mike's moment was exceptional. They had been dating for over five years when they got to their wedding day and had been through thick and thin, moves, jobs, and every day life. They were SO ready to be married, so in love, and so happy. It was definitely wonderful to see these two best friends see each other for the first time on their wedding day.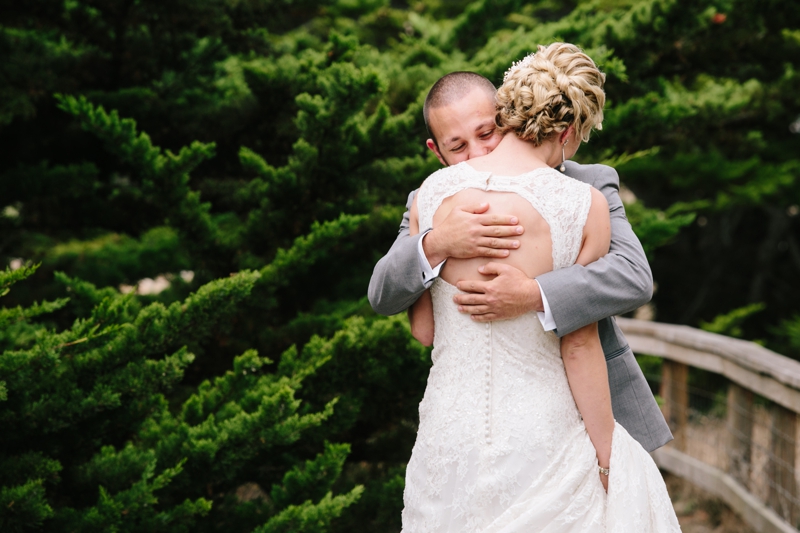 And then we got family photos in! On the left is Katherine with her sister and her Momma; on the right is all the siblings!
A few more of Katherine and her Mom. These two have a really wonderful relationship. They're some of the sweetest and kindest people I've ever met, too.
The gentlemen looked great, too! I loved that Mike had a slightly different suit than the rest of the guys. And the single rose was such a wonderful bout.
The maids' flowers were lovely, too! Such simple, gorgeous blooms. Special thanks to Repetto's Flowers in Half Moon Bay for the flowers. They looked absolutely fantastic with the gold color scheme!
So sweet.
I love this shot, with Katherine's dress all laid out behind her. So gorgeous! :)
These shots in the trees are some of my favorites. Aren't those cypress trees something else? I think they're absolutely beautiful, and a total treat to photograph in, no matter what the weather is. Seriously.
Last but not least, here are some of my favorite romantic shots of Katherine and Mike. Love you guys!
Katherine, you looked so beautiful and relaxed on your wedding day! xo
More stunning flowers! A quick shout out to Larkin Evans. A Half Moon Bay local, she teaches art at Half Moon Bay High School. She's also a friend of Katherine and her family's. She did ALL of the flowers – WOW. She's the sweetest, kindest person, and she's insanely talented, too! Amazing.
In honor of her father, the late Olympic wrestler, Katherine wore a ribbon and memento from his time in Melbourne on her bouquet. It was such a sweet touch, and an absolutely wonderful way for her to remember her father and keep him with her on such an important day.
Seriously, I can't get over how amazing this updo is! A perfect bridal hairstyle.
Katherine and Mike especially requested this shot… I love it because it shows off her bouquet and the back of her dress and their love. It's so fun when couples who completely trust me to capture the beauty of their day also bring an idea or two to the table!
And then we headed to La Nebbia Winery, where the ceremony and reception were held. This is a gorgeous, intimate venue. The ceremony was held in the rose/flower garden, and it was absolutely lovely. I would happily shoot here again! A beautiful place to get married.
Here is their sweet ceremony, full of love, meaningful vows that they wrote themselves, and some happy laughter, too. The best!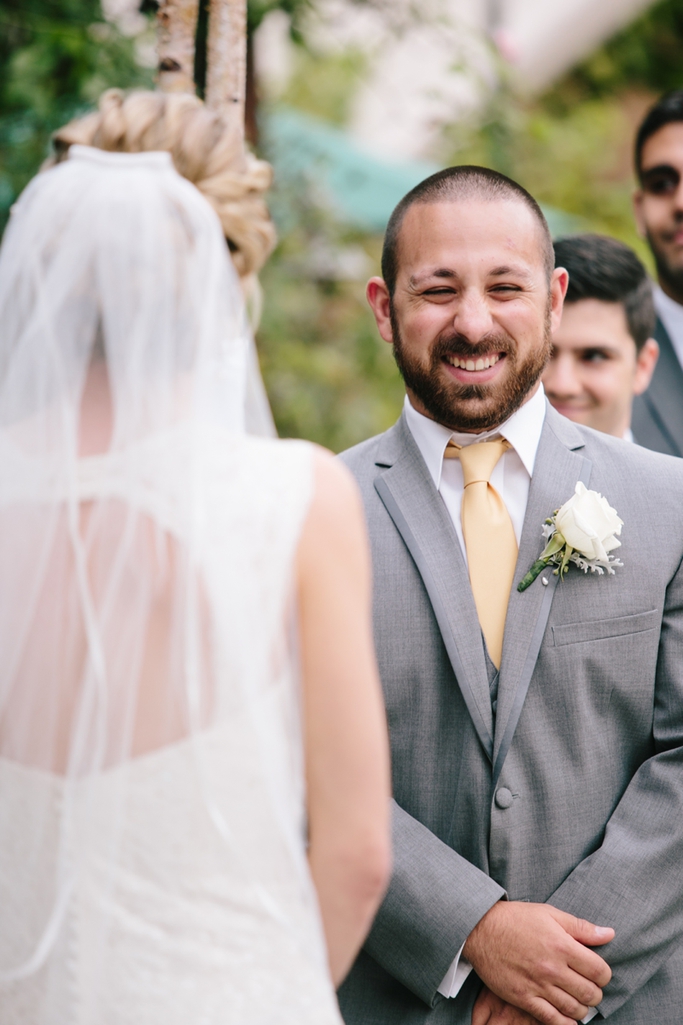 YAYY! Congrats!
And here's the happy couple in their fun photobooth. They had guests take their own photo booth photos and post them to social media. Such a fun idea for a low key photobooth.
Also, special thanks to bridesmaid Johna Vasquez for her amazing work on all of the signs and lettering in the wedding. She's actually a professional and you can hire her for your own wedding, if you'd like! She did a beautiful job.
And a few favorite portraits snapped right after they became husband and wife! I loved photographing them in front of this kind of living wall at the winery. It's lovely!
Since we'd already finished portraits, they headed right into their cocktail hour and spent the whole time socializing and celebrating with friends and family. It's so wonderful to spend time with people from all walks of your life and I loved seeing them have the time for this!
Plus, they had a beautiful set up, with gorgeous tables and the sweetest twinkle lights adding a nice glow to everything.
I also want give a special thanks to Mallory Lynn Weddings, who did the coordination for this beautiful ceremony and reception. She did a wonderful job getting everything set up, including flipping the ceremony site into a wedding reception in the evening, and kept everything on track and totally beautiful. Thank you! xx
This first dance, at dusk, in front of all of their closest family and friends, and lit up by twinkle lights was definitely one of my favorites. Plus, Mike and Katherine had planned a fun surprise for all of their guests. After a few minutes of a sweet, more traditional first dance, the music seemed to mess up, flip into something high energy, and these two busted out a fun, choreographed dance.
Their guests were shocked, excited, and totally into it. It was SUCH a fun surprise!
Such a beautiful evening. (Also, everybody should invest in twinkle lights for their wedding reception.)
How about this super cute cake? These two had this sweet cake for cutting (and eating), and then a bunch of cupcakes in different flavors (including some of the cake flavor) so that guests could try a bit of everything. These were SO good. Cake and cupcakes were from Born, Bred, and Buttered in Half Moon Bay, and they were SO DELICIOUS. omg, seriously. It's one of my rules that at every wedding that I photograph, I try the cake… This one was delicious and the baker was so sweet. (Hah! Pun intended!) I highly recommend her for a Half Moon Bay wedding or a peninsula/Bay Area wedding. :)
The night ended with lots of great dancing, a fun Jewish hora dance where they were lifted above their guests on chairs, and lots of laughter. It was SUCH a fun and happy night.
All in all, this was an absolutely amazing wedding. Wonderful people, gorgeous photos, and lots of sweet moments. Katherine and Mike, thank you SO much for having me there to celebrate your day with you and capture the memories for you to remember forever! xo
p.s. I can't believe I didn't get this in earlier, but definitely want to share: Katherine is a really really great wrestler. She was a 2008 University World Champion and a third place winner in the 2012 US Olympic Trials. Her sister Sara (her Matron of Honor!) was a 7 time US National Team member and third in both the 2004 and 2008 US Olympic Trials. She's currently coaching Katherine in Colorado Springs; they're total wrestling rockstars! They also keep a fantastic blog, so check it out HERE! (& keep an eye out for these ladies at the next Olympics!)
Vendor Credits: Photography – Simone Anne Photography, Cake – Born, Bred, & Buttered in HMB, Hair & Make-Up – Jenny Rico at Aqua Beauty Lounge, Getting Ready Spots – Coastside Inn and Cypress Inn, Ceremony and Reception Venue – La Nebbia Winery, DJ – Mike Calpito from Big Fun DJ, Flowers – Arranged by friend Larkin Evans with flowers purchased from Repetto's Greenhouse Nursery, Wedding Planner – Mallory Lynn Weddings, Chuppah – Miracle Chuppah, Signage & Lettering – Johna Vasquez, Catering – Lori Hoffman of California Girl Catering, Dress Alterations – Kathy Conroy of Moss Beach, California
La Nebbia Winery
La Nebbia Winery is located on Highway 92 at 12341 San Mateo Rd, Half Moon Bay, CA 94019. It's just as you head into Half Moon Bay from San Mateo along Highway 92, right before you reach the pumpkin farms and nurseries after coming in over the coastal hills.
It has a great outdoor space for a small to medium wedding, with room for the ceremony, cocktail hour, and tables for dinner (your staff will have to "flip" the ceremony site into the dinner reception spot during cocktail hour). Nestled off of the road, it has the farm and hills beyond as the backdrop and is a truly lovely spot for a wedding.
Browse more Winery Weddings
See more weddings I've photographed right HERE and see Info + FAQ about having me photograph YOUR wedding right HERE.